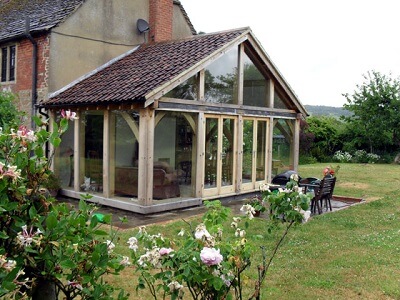 With the many different options for your home extension, it can be tricky to tell the differences between a greenhouse, conservatory, orangery, sun room and a garden room. One thing they all have in common though, is that they can add substantial value onto your home which is a huge benefit for the future should you come to sell the property. With this additional financial perk ahead, you also get the luxury of using and enjoying an extra room in your home. These types of extension allow you to truly feel the benefits from the outdoors whilst still being protected from unpleasant weather and wind.
It is important to bear in mind that your extension should always tie in with the existing structure of your home, rather than simply appearing to be stuck onto the side of the building. Ensure that it is complimentary to the exterior of your home, potentially in a similar material or one that ties in with your existing scheme. For example, an aluminium structure may not compliment an authentic red-brick cottage style home as these two looks would clash and the extension would appear too modern.
All materials have benefits and downsides, as timber will eventually need repainting and ongoing maintenance to ensure it stays presentable. UPVC can also discolour over time and with extensive UV exposure. Aluminium won't fade, rust or peel if it is correctly powder coated making it the most suitable material for an extension of this type. If you really want the natural effect of timber, then aluminium can be coated or coloured to simulate wood grain. This is a great compromise as it gives you the weight-bearing benefits and minimal upkeep in the long term.
Bi-folding doors can also be a great feature in your garden room as they create a seamless view of your garden when fully opened and still allow plenty of light into the space when closed. If you have a large garden room it can be a great idea to have an entire wall made up of your bi-folding door as this can massively increase the room size and help bring a sense of the outdoors into your home. These types of extensions also create impressive areas for barbeques, parties and other social events as there is room for all of your guests and activities.
A garden room with a solid tiled roof can give you the light, airy feel of a conservatory or orangery whilst maintaining the energy efficient benefits of a standard home extension.  A conservatory is likely to have entirely glazed walls and roofing, making it easy to see into the room. A garden room is usually part-glazed with a tiled roof. These structural differences have a big impact on how well insulated the room is, meaning that a conservatory can sometimes be more expensive to try and control the temperature. This is because they can become overly hot in summer months and leech heat from your home during winter. Garden rooms do not suffer from these problems due to their more solid construction.
Another big difference between an orangery or conservatory and a garden room is that the latter can be a completely independent structure. This means you can have it located in another area of your garden to give an additional separate space to your main house. The option of having it attached to your home or freestanding gives you a lot more design choices and decisions on the structure and aesthetic of your project.