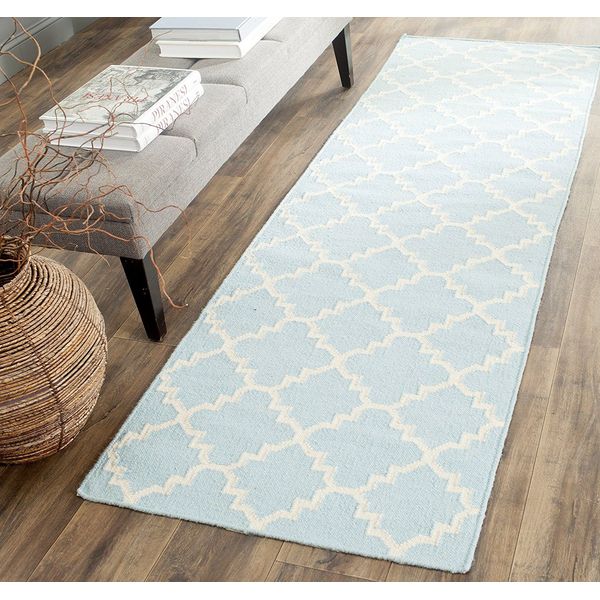 Safavieh Hand Woven Dhurrie Rug, Light Blue and Ivory
Features of this product:
Size: 5′ x 8′
Flat-woven
Made in India
Handmade
Material: 100% wool pile
If you are looking for a rug that gets the job done without looking overly plain, you should give this one a shot. It features a light, greenish-blue base color, which is complimented by white patterns that look similar to netting. The rug is flat-woven and handmade, which provides it with the utmost amount of durability and appearance. It measures 5-foot by 8-foot, which would be a good size to have on your doorstep or in your home's entryway. To take durability to a whole new level, the rug is constructed from 100% wool pile.


---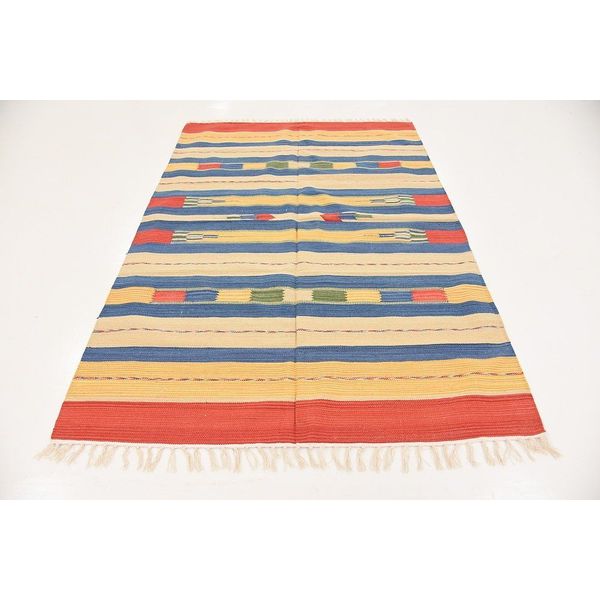 Unique Loom Flatweave Kilim Dhurrie Rug
Features of this product:
Made in India
Hand woven from cotton
1/6″ thick
Dimensions: 4'7″ W x 6'7″ L
If you have been looking for a rug that stands out without looking gaudy, you can end your search now by purchasing this work of beauty. You can choose from four different base colors, which include green, cream, corn and cream and dove and cream. The patterns on this give it a modern and sophisticated appearance. You will also really love the feel and level of durability the flatweave dhurrie material has to offer. To top things off, you will be able to choose from the dimensions of 3' by 5', 5' by 8' or 8' by 11'.


---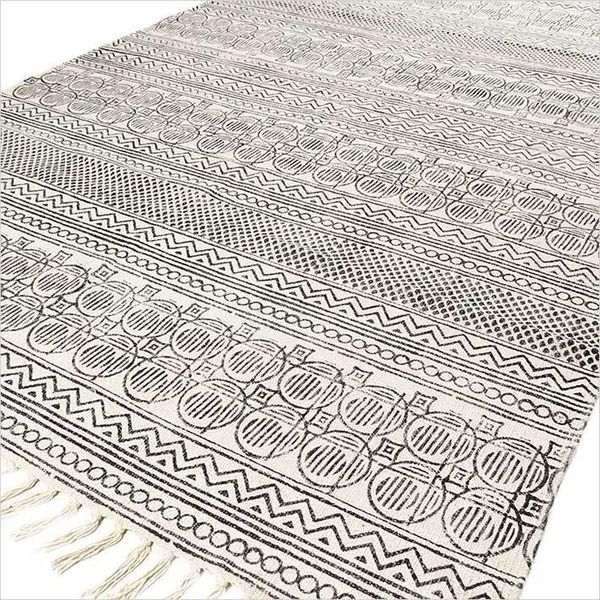 Eyes of India Dhurrie Rug
Features of this product:
Size: 5′ X 7′
May require rug stopper (sold separately)
Block printed by hand
100% hand-loomed cotton fabric
This is the perfect rug for those of you who are looking for classic styling, but you also demand the utmost amount of durability. A neutral color background gives this a simple and classic appearance. The symmetrical, yet abstract patterns do a great job of spicing up the rug's background color. You will find that the 5-foot by 8-foot dimensions will give you a great deal of practicality as you will be able to place this rug nearly anywhere in your home without it looking too big. This NuLoom dhurrie suzani rug is constructed from 100% wool, and it is constructed in India.


---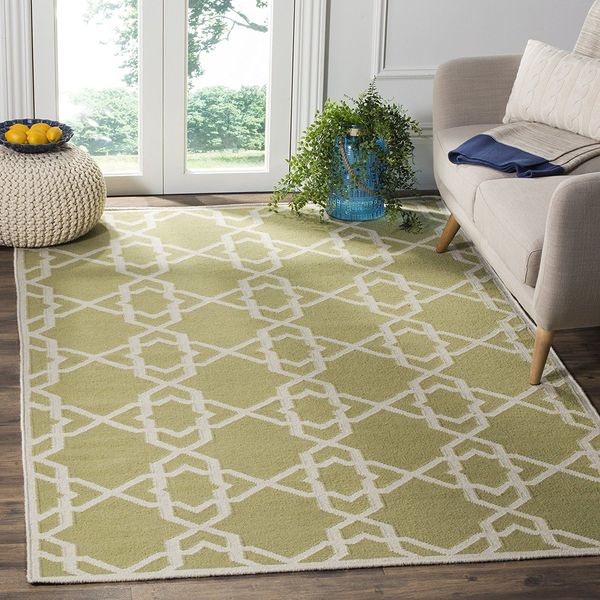 Safavieh Olive and Ivory Wool Dhurrie Rug
Features of this product:
100% Wool
The handmade, hand-woven construction adds durability to this rug, ensuring it will be a favorite for many years
Each rug is handmade with pure, premium wool and has a cotton backing for added durability
This transitional, dhurrie style rug will give your room an elegant accent
This rug features an olive background, and displays stunning pattern in shades of ivory
This rug measures 3-feet by 5-feet
Upon first glance, there is just something about this rug that catches your eye. Its olive green base color definitely puts a unique twist since it is not a color you see on a daily basis. To complement the olive green background, electric-like, white patterns are used to make the rug really stand out. With handmade and hand-woven construction, this is one rug you can bank on having around for years to come, which is great because this rug looks too unique to throw out after a year or so. For extra support and durability, the manufacturer has also included a cotton backing.


---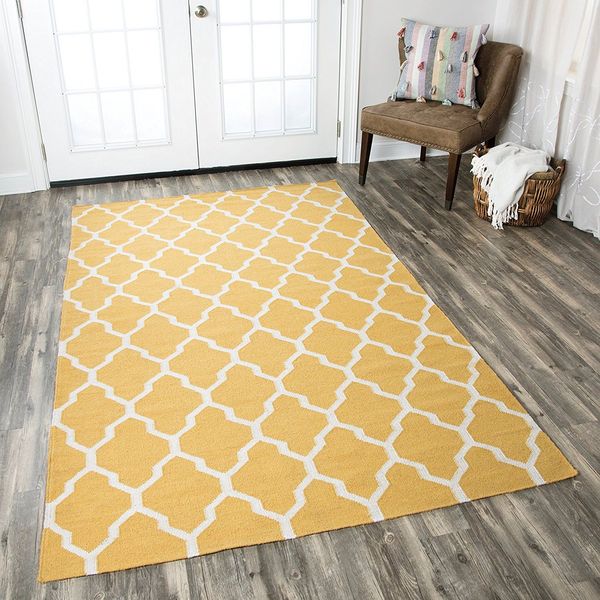 Rizzy Home Yellow Dhurrie Rug
Features of this product:
100-percent wool blend
Pile height is 5 mm
Face weight is 1.85
Style is Transitional
Construction: hand woven dhurrie
When it comes to choosing a rug that looks great and has durability to match, this is a great one to consider. It features somewhat of a tan-shaded background, which will allow it to compliment various colors of furniture, carpeting and other décor. The white lacing-like patterns layer adds a nice touch to this rug without overpowering the rug itself. A high level of durability is achieved with this rug thanks to the 100% wool blend, and its 5mm pile height. Go ahead and welcome your company into your home as they will love being greeted by this lovely rug.


---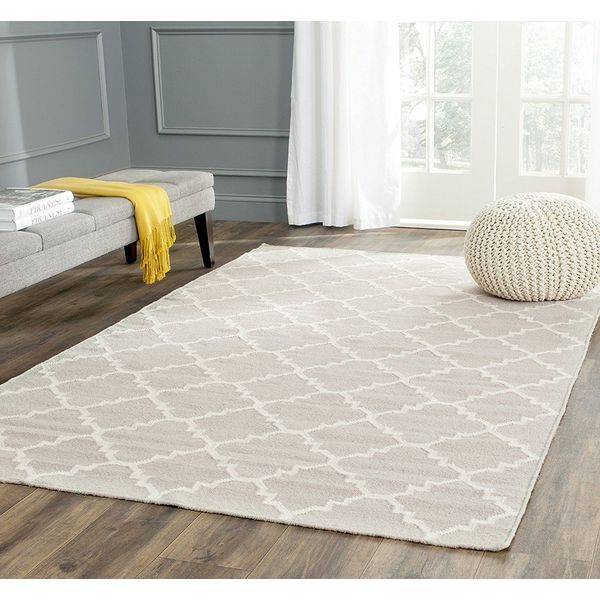 Safavieh Contemporary Dhurrie Rug
Features of this product:
Style: Contemporary
Shape: Rectangle
Type: Flat Woven
Material: Wool
While it is far from being the flashiest rug on the market, there is certainly nothing plain about this rug. A deep, chocolate-like-tone is used for the base color, and this deep color does an excellent job of accenting the piece. The deep base color also makes the white, net-like patterns look like they are jumping off the rug into midair. You can also rely on having this rug around for years to come because of the flat woven, 100% wool materials used in its construction. Regardless of where you place this rug, you are going to love the way it looks.