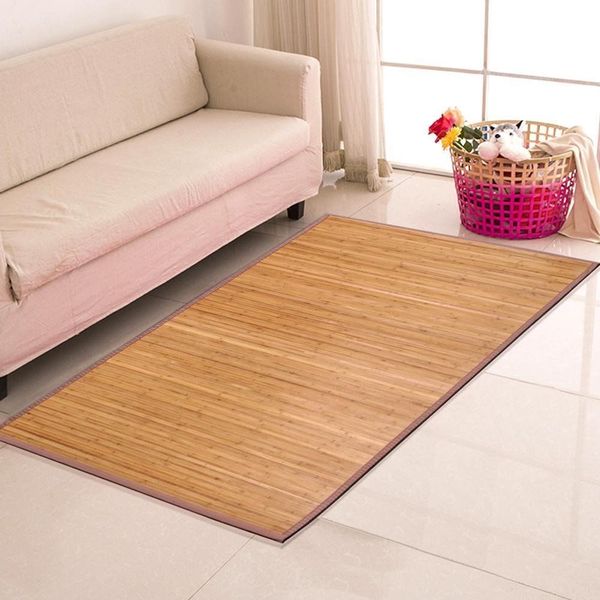 Yaheetech Bamboo Area Rug
Features of this product:
Dimensions: 6′ L x 4′ W
Recommended for indoor use
Nonwoven ventilated anti-slip rug pad backing
If you need a rug that has a nice looking appearance, and a high level of durability, this is a great option to consider. You will find that this rug features a black frame with a dark color of bamboo fiber material that composes the primary surface area. Since it is made from 100% bamboo fiber, you will never have to worry about any cheap polishes coming off of it and diminishing the look of this area carpet piece. The 5-foot wide by 8-foot long dimensions will allow you to get a lot of use out of this bamboo rug.


---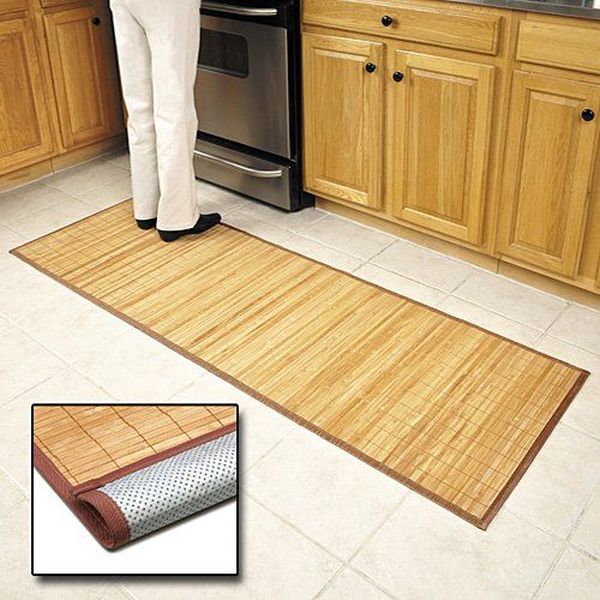 Bamboo Mat
Features of this product:
Six foot bamboo runner protects and dresses up expensive floors
Ideal at front or back door
A beautifully practical solution
Non-slip latex backing keeps this mat in its place
Bamboo mat size 24 x 72
Whether you are looking for a mat to place at your entryway or one to put near the sink when chopping fresh vegetables, you should check this one out. You will find that this rug features a light brown surface area, which is perfectly complimented by the slightly-darker border shade. The rug also features a non-slip latex backing, which will help to prevent nasty slip and falls on a wet, hardwood floor in the kitchen. The mat is 2-foot wide by 6-foot long, so your guests will have plenty of room to wipe their shoes off, or they can also have a place to stand when preparing their burgers.


---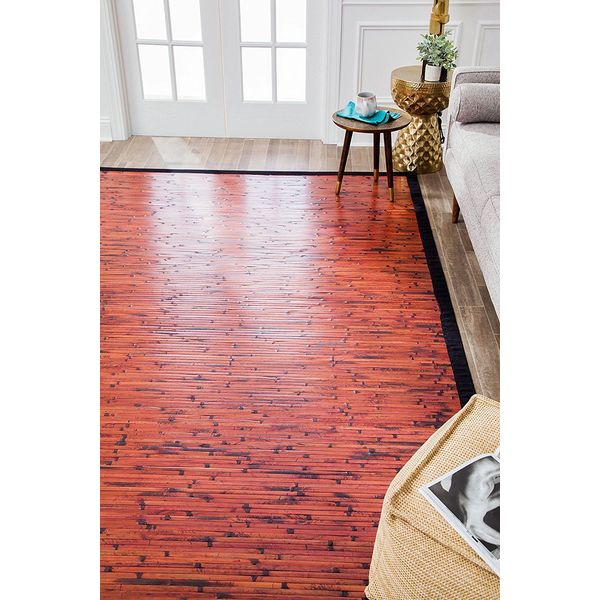 Anji Mountain Natural Bamboo Rug, Cobblestone
Features of this product:
Dark brown and mahogany color
100% Moso bamboo
Patented, ventilated, non-skid eco-soy backing
Mitered cotton borders
Slight color variations may occur due to the unique, natural qualities of the bamboo
This bamboo floor and shower mat looks like it was borrowed from an executive suite at a luxurious hotel. This mat is constructed from 100% bamboo, which gives it a sophisticated look, and the feel is literally second-to-none. By picking up this mat today, you can say goodbye to stepping out of the shower onto that damp and musty towel as you dry off to start you day. The unique design of this mat makes it slightly elevated, which allows the water to evaporate, leaving you with a fresh, clean surface to stand on while drying off.


---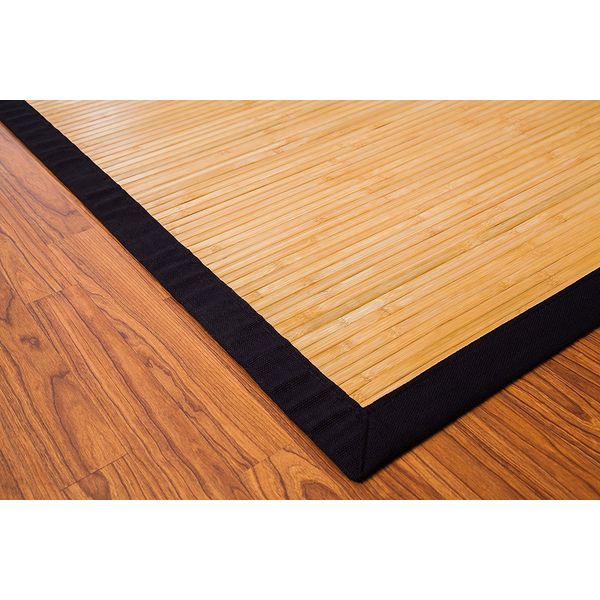 Anji Mountain Bamboo Rug
Features of this product:
100% Bamboo
Traditional bamboo rug adds a touch of organic, practical beauty to any space
Made exclusively of renewable, durable bamboo; Non-skid backing keeps rug in place and cushions; 100% polypropylene borders resist dirt and wear
Rustic, narrow bamboo slats in lime green with tan border
Spot clean with a damp cloth and water; Recommended for indoor use
Size: 4-foot by 6-foot
For those of you who are passionate about nature, you are going to love what this bamboo rug has to offer. It features a lime green surface area with a tan border that does an excellent job of accenting the true beauty of this rug. One really cool thing about the border is that it is constructed from 100% polypropylene, which has a natural, dirt-repelling property. You can easily keep this rug looking its best by going over it with a damp cloth. The 4-foot wide by 6-foot long dimensions allow it to be placed practically anywhere.


---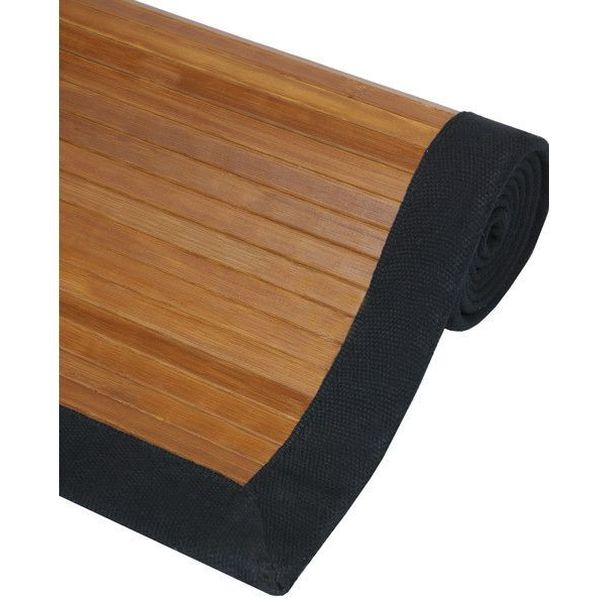 Oriental Furniture Bamboo Rug, Burnt Bamboo
Features of this product:
Comes in 3 rich, beautiful colors and 3 classic convenient sizes
Durable kiln dried bamboo slat
Wide black canvas finished edges
Latex rubber slip proof backing
Solid and substantial underfoot
If you are looking for an executive-looking rug to match your stunning furniture and home décor, this would be an excellent rug to consider. The rug has an ancient appearance with its light colored surface area, which is highlighted by a black border. Greek-like patterning is also featured on the surface area, which does a great job of bringing the rug to life. This bamboo rug is handcrafted for precision, so you can count on it lasting for years to come. A non-slip backing is also included, which is the only thing that will keep this rug from literally sweeping your guests off their feet.


---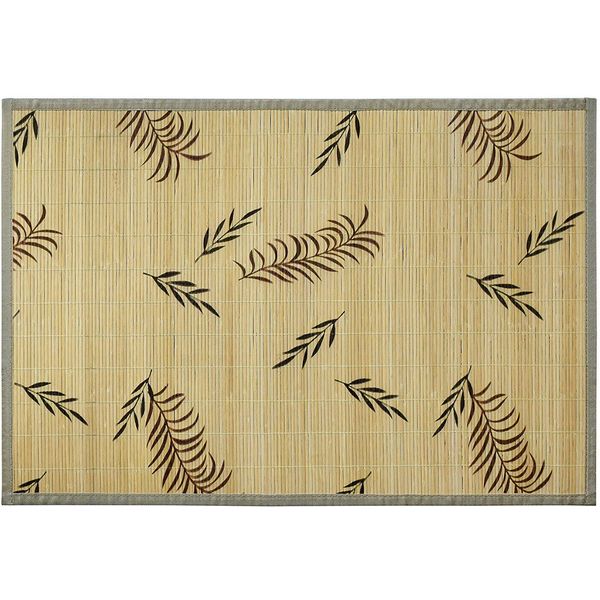 GBHome 100% Natural Bamboo Rug
Features of this product:
Dimensions: 17″ x 24″
Bordered with cotton twill on all 4 sides
100% non-toxic bamboo
Stain resistant and easy to maintain
Low profile – lays flat under doors
Bring the beauty of nature right into your home with this awesome bamboo bath mat. It is a greenish color, which gives it the natural bamboo look you have been craving for years. The mat is constructed from high-quality, allergen-free vinyl, so it is a great alternative for those of you who like the look and feel of bamboo, but your allergies say otherwise. The bath mat measures 30-inches long by 17-inches wide. If you need any other reason to purchase this breath-taking bath mat, you should also know that it provides a nice massage for achy feet and legs after a hard day at the office.