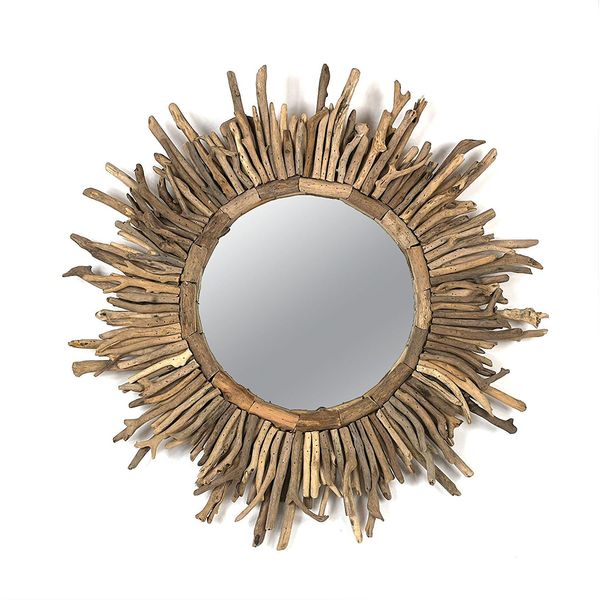 Creative Co-Op Round Driftwood Sunburst Mirror
Features of this product:
Modern style
Requires picture frame hooks for wall mounting
Dimensions: 26″ x 2.5″ x 26″
Bring the peace and beauty that only nature has to offer into your home with this driftwood mirror that comes from the Cape Craftsmen mirror collection. The mirror is constructed from natural driftwood, which is found floating in a body of water, that is layered to abstract perfection. While this is theoretically a store-bought mirror, there is nothing store bought about it. The mirror would look great when placed in any room in your home. Best of all, you can make this stunning and highly useful piece of nature yours for a price that cannot be beat today.


---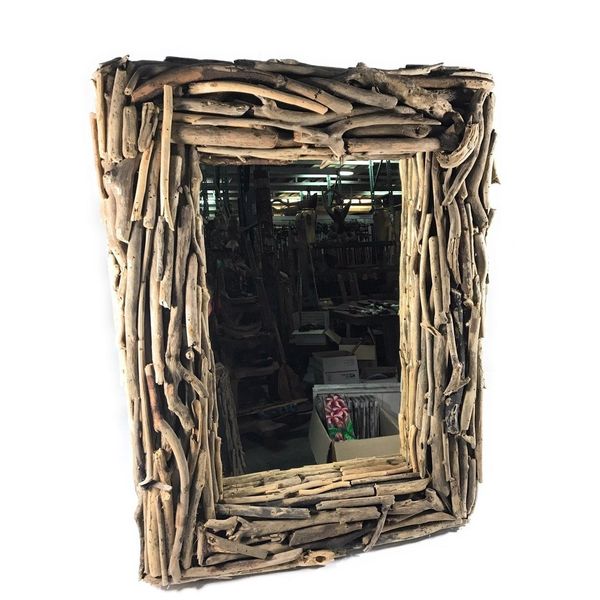 tikimaster Rectangular Driftwood Mirror
Features of this product:
100% handmade
Size 32″ x 24″, mirror size 22″ x 14″
Style: beach/cottage
Nature fanatics will love this Lazy Susan natural driftwood mirror. The mirror is handcrafted from natural pieces of driftwood found floating ashore from the various bodies of water throughout the world, this is one incredible looking mirror. The various pieces of wood used in the crafting of this mirror are hand selected and carefully inspected to ensure the highest level of quality. The tree house appearance of this mirror has a "deck" that also just so happens to serve as a miniature shelf for smaller accessories you would like to display. Make this truly unique mirror yours today.


---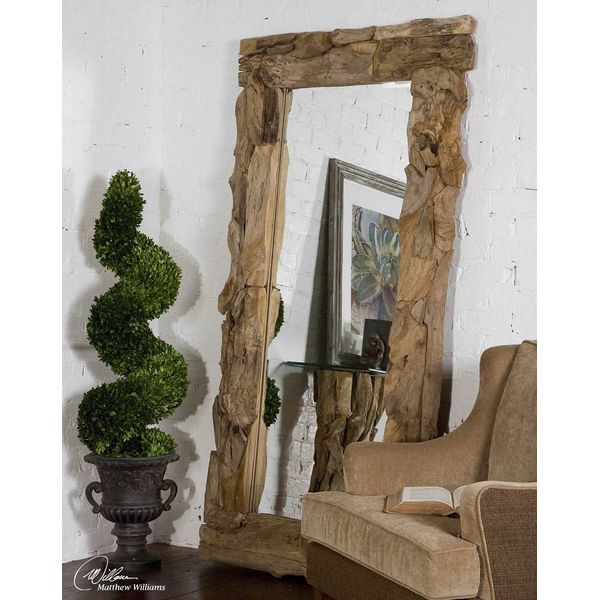 Extra Large Driftwood Leaner Mirror
Features of this product:
Material: Natural teak wood and teak roots, mirror glass
Size: 39″ x 79″ x 4″
Mirror Glass is 24″ x 64″
Can be hung vertically or horizontally
Hopefully, you do not go by the old saying, "two's company, three's a crowd" because you will have far more than three people gathering to check out this lovely piece of nature. The pieces used to construct this mirror are natural wooden roots that are carefully selected by the manufacturer. This ensures the best possible appearance combined with the utmost amount of durability. The frame is also hand constructed, which gives it a look that simply cannot even be duplicated by another person using the same type of wood. This is one mirror you have to consider.


---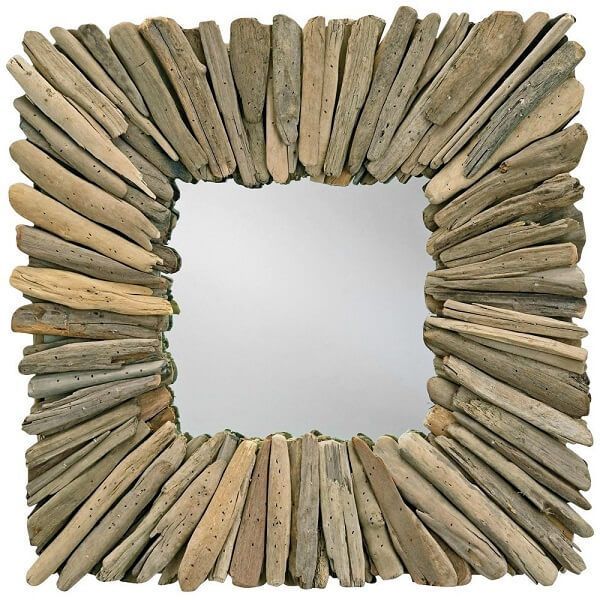 Currey and Company Square Natural Driftwood Mirror
Features of this product:
Natural driftwood evokes an earthy tone and feel
Colors and hues of driftwood may vary from mirror to mirror
Weight: 13lbs
Why opt for boring and traditional décor when you can enjoy the beauty nature has to offer with this mirror? Upon first glance, you can tell that this mirror was not mass assembled at some factory by someone who is there to simply collect their daily wages. Instead, it was assembled using the highest level of quality by people who appreciate the beauty of the outdoors just as much as you do. Due to the hand selection and crafting process, you will find that no two of these mirrors will look the exact same as the color tones will vary slightly.


---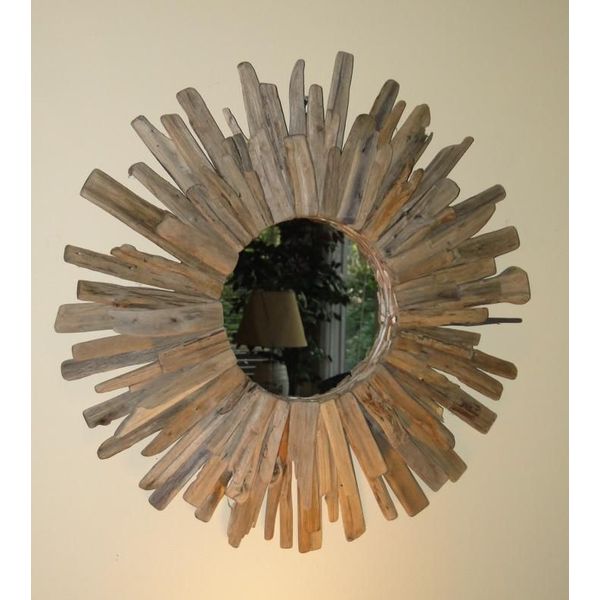 Nature Starburst Beach Round Driftwood Mirror
Features of this product:
Natural wood aesthetic
Large 29″ overall diameter
Mirror glass is 10″ diameter
If you enjoyed the concept of the 24-inch round driftwood mirror, but you preferred a squared look, this is one well worth a second look. Just like the round model, this mirror also comes from the Cape Craftsmen mirror collection, and it is handcrafted from the finest driftwoods found throughout the world. Passionate artists blend the pieces together by hand to form the stunning layered design this mirror has to offer. With a slight rotation of 45 degrees, you can get even more bang for your buck by turning this mirror into a diamond shaped mirror.


---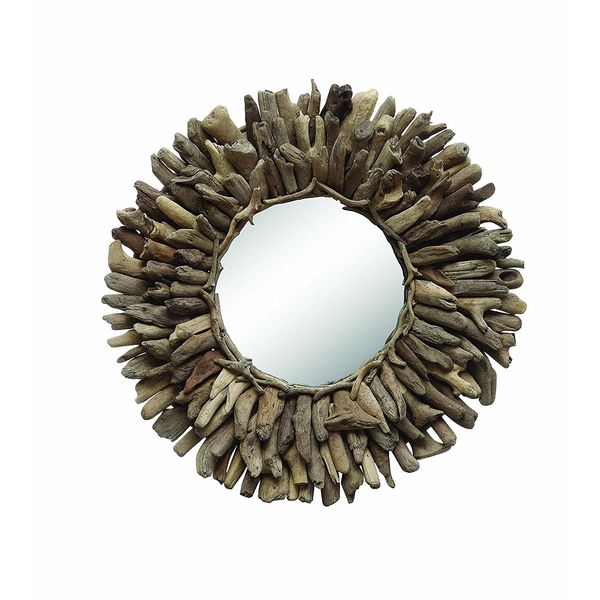 Creative Co-Op Round Driftwood Framed Mirror
Features of this product:
Driftwood framed
Traditional style
Dimensions: 27″ x 3″ x 27″
Although the pieces of driftwood used in the construction of this mirror are slimmer than those used with the other mirrors, the durability remains the same. Only the highest quality and blend of driftwood pieces are used to piece this mirror's frame together. The pieces are all assembled by hand, which will give each mirror a slightly different look. The two starfish accents  compliment the mirror's frame by adding an additional taste of nature's beauty.  If you love the outdoors, you do not want to miss the opportunity to make this mirror yours today.