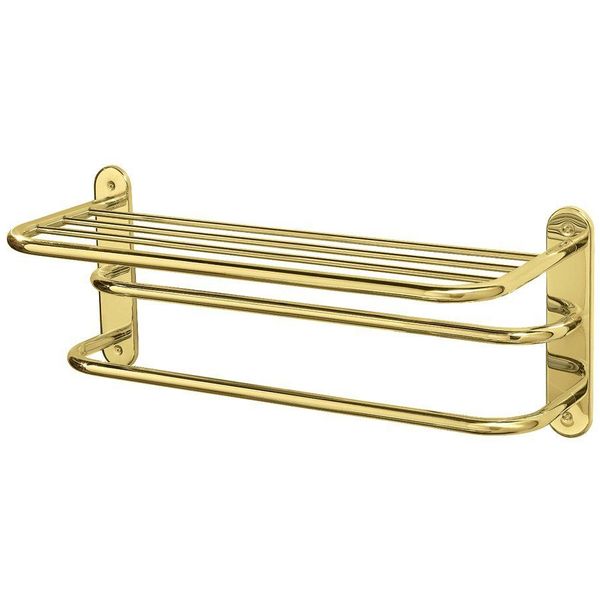 Moen Inspirations 18-Inch Polished Brass Towel Rack
Features of this product:
Polished brass finish offers a bright, highly reflective look for timeless style
Concealed screw mounting
Towel Bars posts are die cast from highest quality zinc alloy
Rod is aluminum
Limited lifetime warranty
The Mona Lisa of Moen Inspirations, this perennial classic brass towel rack never truly goes out of fashion. It's the ultimate simple, generic, design, and does exactly what you expect it to – no more, no less. It'll hold two or three towels from here until the cows come home (or until they agree to leave). When you're looking for nothing more beyond the simple essentials of life, this reliably unexceptional model will be an adequate companion for the aftermath of another interminable day. Reach for the average with Moen Inspirations today!


---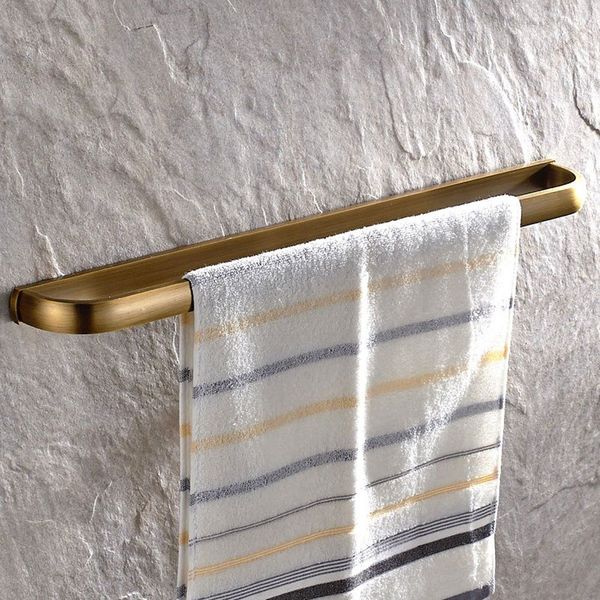 Leyden Antique Brass Towel Bar
Features of this product:
Material: Brass
Wall mounted
Antique bronze finish
Dimension: 22.6″ L x 2.2″ W x 1.6″ H
Shower time, and the living is easy! Yet more brass, this time with more of an art deco feel. Double towel rack design lets you hang twice as many towels as before. Now, you can hang up two big towels, and a little one! No matter how you mix and match towels, bath soaps, fur coats (not such a good idea, actually), etc., you can rest assured, the Brass Double Towel Bar will always be your knight in brassy armor when it comes to your towel racking needs!


---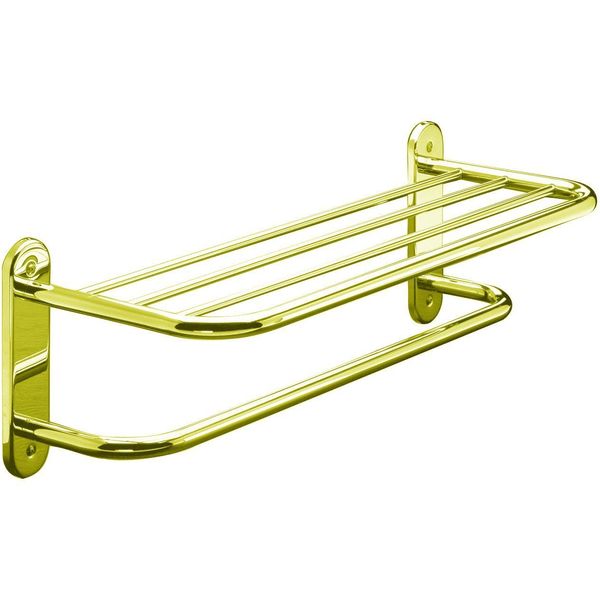 Taymor Hotel 24-Inch Polished Brass Towel Shelf with Single Bar
Features of this product:
Mounting Hardware and Instruction Include
Fully Assembled
Overall Size: 26-1/8-inch W by 8-1/2-inch H by 9-inch D 3/4-inch Tubing – 2-1/8-inch Back plate
Material: Plated Steel Manufacturing Source: Imported
Wipe with a clean damp cloth, do not use abrasives
We've never actually been to the Taymor Hotel, but it puts us in mind of some slightly frowsy Midwestern bed and breakfast type joint, complete with beautiful brass towel shelfs such as the one pictured above. It's shiny, and if you squint a little, you can easily picture it in action during a hot chorus of "76 Trombones". It's a single bar unit, which means it's not such a good idea to overburden it with company. But for a few small hand towels or one big one, hey, the Taymor is your man.


---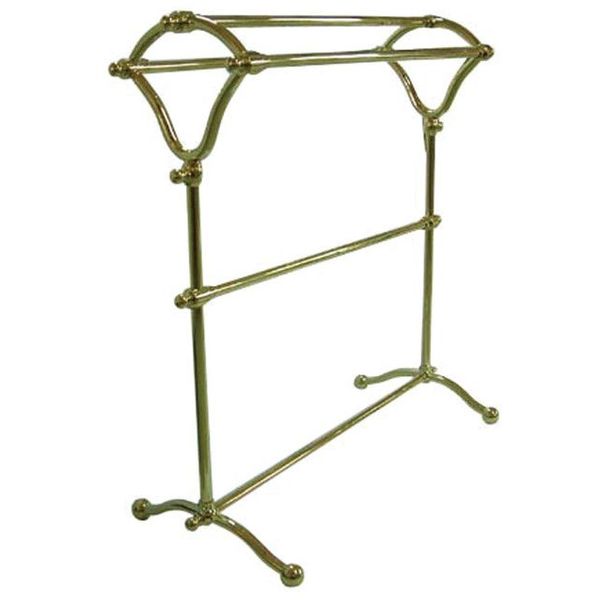 Kingston Brass Pedestal Brass Towel Rack
Features of this product:
Polished brass finish
Scratch, corrosion and tarnish resistant finish
Dimensions: 30.5″ H x 28″ W
Triple towel bar design
This one's got a bit more abstract design to it. We're not sure what it's supposed to be emulating but, regardless, it holds a whole lot of towels. We think it's set up to enable your favorite towels to dry faster, courtesy of the drip dry effect. Beyond that, we're just not sure. Score one for weird science! Regardless of its strange, heads or tails, design, it'll certainly hold quite a few towels and other essential shower time implements, so why not give it a spin? At least, we think it might spin, if you jostle it some.


---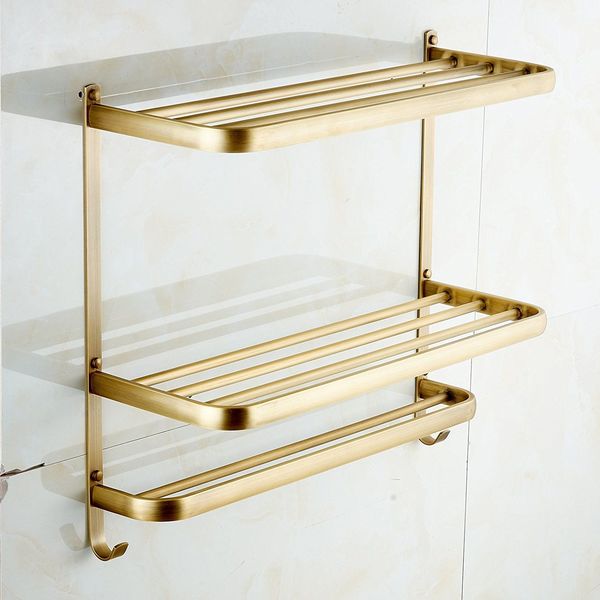 Rozin Dual Tier Brass Towel Holder
Features of this product:
Solid brass material
Antique brass finish
Dimensions: 23.2″ L x 25.5″ H
Distance from wall: 8.2″
Complete with wall mounting accessories
Now, this one's got pizzazz! We're pretty sure it's shaped this way for a reason. Smooth, serpentine, design; the perfect blend of style and functionality. Just sling your bling on to its serpentine head, and let the Gatco do the rest! Its unique, patented, S shape allows it to perform many exciting new functions, all of which are so new to us that we can't think of any at the moment. It'll definitely take your breath away! Also, your power to describe things.


---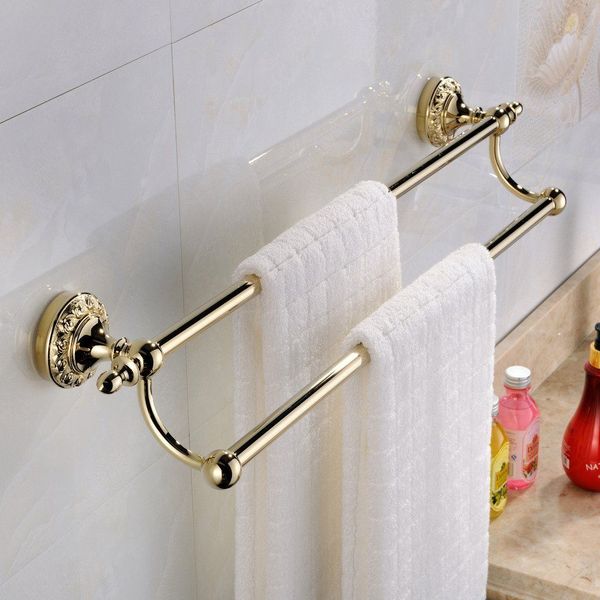 Leyden Wall Mounted Double Brass Towel Bar
Features of this product:
Type:Towel Bar
Dimension:23.62″ x 5.5″ x 3.9″
Material: Brass
Finish: Ti-PVD
Wall mounted
Pretty sweet looking model, a bit like an inverted trumpet actually. Fine brass finishing and fittings guarantee long lasting shiny quality. When you're tired of hanging towels on it, you can probably blow a sweet chorus of "Swanee River" through it. Oh, and it's super inexpensive. You can hang pretty much anything on this baby – towels, clothing, etc. – and it will dry with bold, brassy, style! Think of the Gatco as the mezzo soprano of the brass towel rack world. Just take our word for it, woncha?