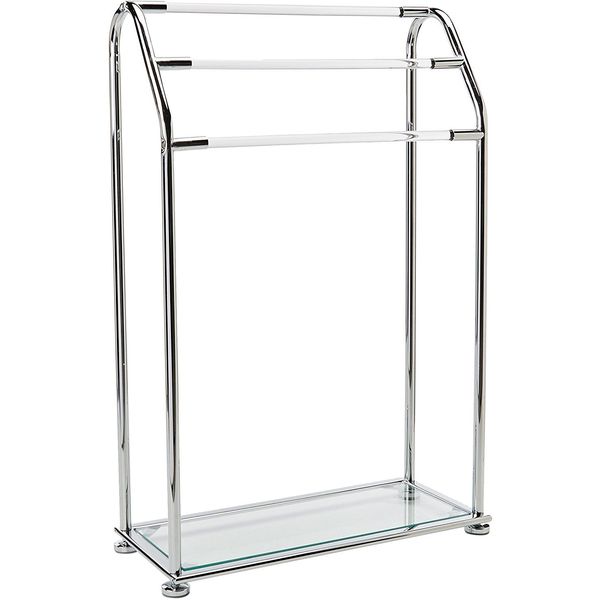 Organize-It-All Acrylic 3-Bar Free Standing Towel Rack with Bottom Shelf
Features of this product:
Chrome finish
Tempered glass shelves
3 Towel bars
Easy to clean
Extra storage
This chrome finished, free standing towel rack is a beauty, which will undoubtedly satisfy all of your towel-suspending needs! Need a handy place to store the towel you snap your fiancée on the behind with, when her Mermaid Princess routine gets just a little too precious and cloying? Snap her right back to adulthood with the towel you've stored right on the top shelf of this handy free standing towel rack! For the best in poolside bullying and argument starting needs, this towel rack is here for you!


---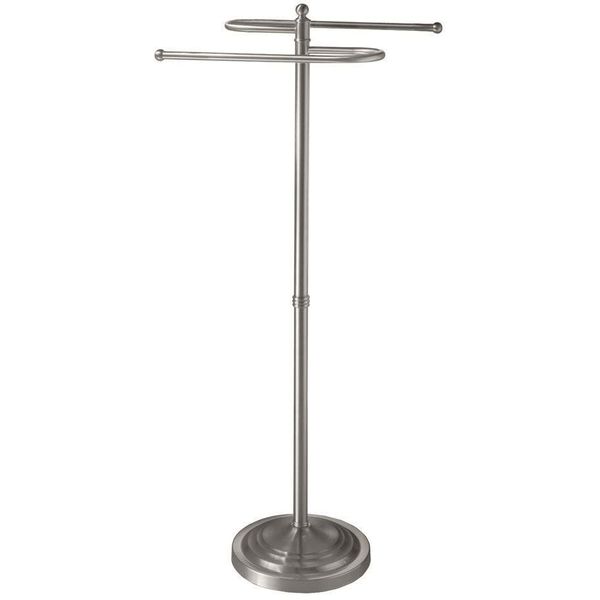 Gatco Satin Nickel Free Standing Towel Rack
Features of this product:
Simple Design
Floor Standing Towel Stand
Hand polished Satin Nickel finish
Simple Style
Manufacturer's Limited Warranty
This excellent satin nickel free standing towel stand is a real beaut, ain't she? She's got a sweet, swivel topped, S shaped rack on top, and she's built to carry some major freight! You'll hang your towels, coats, hats, shoes, the family pet, and whatever else you need to hang on her rack, and then stand in awe of the load she can handle! In slightly less sexist terms, we can report that this excellent new free standing towel rack comes equipped with a satin nickel finish, and a manufacturer's warranty that will guarantee it against all possible defects and malfunctions. Sheer class! If you'd prefer, you can use it as an outdoor towel rack, however if that's what you're looking for then you should check out our poolside towel rack page – you'll have much better luck finding what you're looking for over there!


---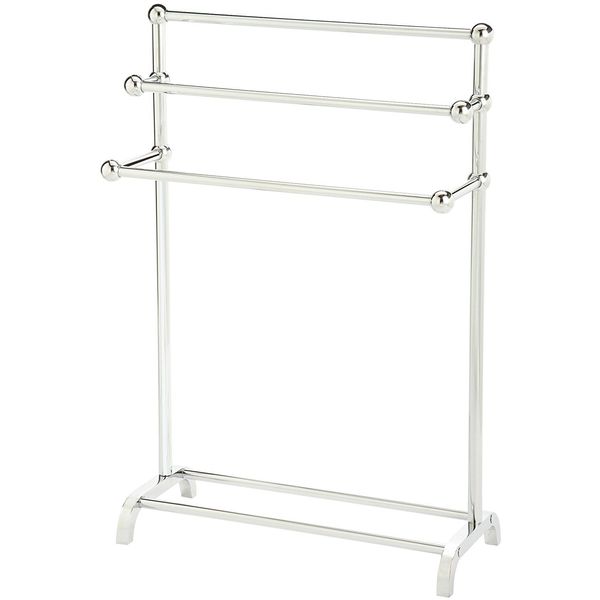 Taymor Chrome 3-Tier Free Standing Towel Rack
Features of this product:
Easy to assemble, no tools required for assembly, assembly instructions included
37-inch high, 25-inch wide, 10-inch deep. Weighs 18-pound
Wipe with a clean damp cloth, do not use abrasives
Chrome finish over plated steel
Packaged in a full color retail box
The Taymor is precisely the sort of triple tiered free standing towel rack that you'll need to withstand the major load of towels, hand towels, and other accessories that company at your poolside is sure to bring with it. So, no matter what sort of innocent or illicit doings you and company are engaging in poolside, know that the Taymor understands your needs, and accommodates them without comment or judgment. This deluxe, fully warrantied, model will accessorize your pool in shiny chrome convenience, with nary a peep to the press!


---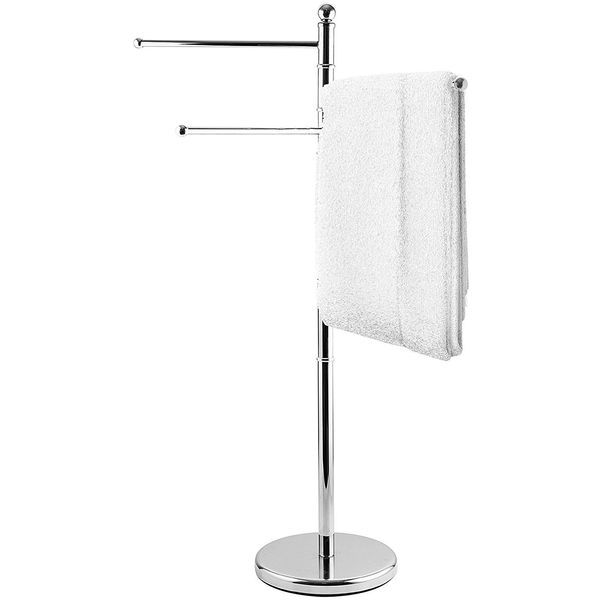 MyGift Stainless Steel Free Standing Towel Rack
Features of this product:
Made from high quality stainless steel
3 swivel arms that keep towels separate
Weighted design prevents tipping
Approximate dimensions: – 39.5″ H X 13 L" (towel bars) X 11″ D (round base)
It's rough, simplistic, and Spartan, and it does its job without complaint. This double decked free standing bronze towel rack comes complete with two levels of towel storage. Perfect for your poolside needs, whatever they may be. Its sturdy bronze construction enables it to stand patiently on your counter top, awaiting its duty with complacent, calm resolve. So, do a victory lap in your pool as you celebrate the events of the day, and know that Ol' Bronzie will be there to store your towels when you finish. Better than a woman? Certainly less drama!


---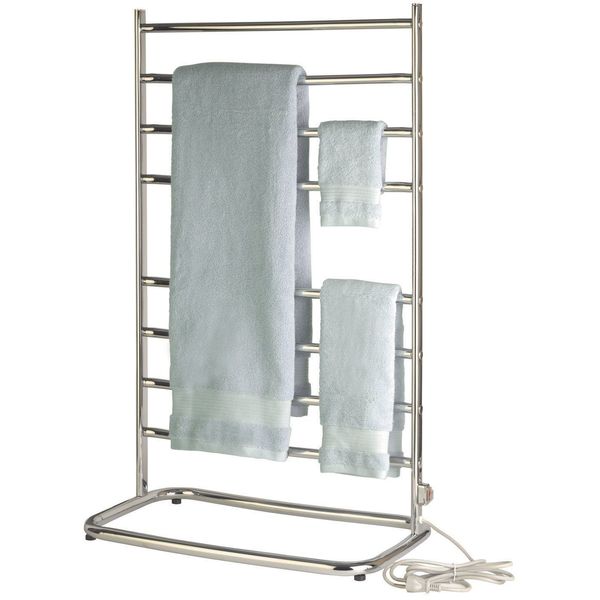 Warmrails Hyde Park Heated Free Standing Towel Rack
Features of this product:
Large Freestanding unit. Great for entire family.
Minimal assembly required.
Keeps towels dry, warm, and fresh. Great for drying delicates, hand washables and swimwear. Save on unnecessary laundry loads. Great for year-round use!
24 1/4-by 13 3/4-by-39-Inches
For Warmrails Customer Service please dial Toll Free 1-877-927-6724.
This deluxe edition free-standing towel rack is one of the finest of its kind. Eight freestanding stainless steel racks will accommodate a plethora of towels and assorted poolside accessories, and enable the whole family or skinny dipping gang to dive right in, unhindered by nagging concerns of where to find a handy towel to dry off with, afterward! Who knows what sort of Hollywood debauchery you and the others can dive into, secure in the knowledge that a free standing towel rack will be your trusty safety net! Warmrails has your back!


---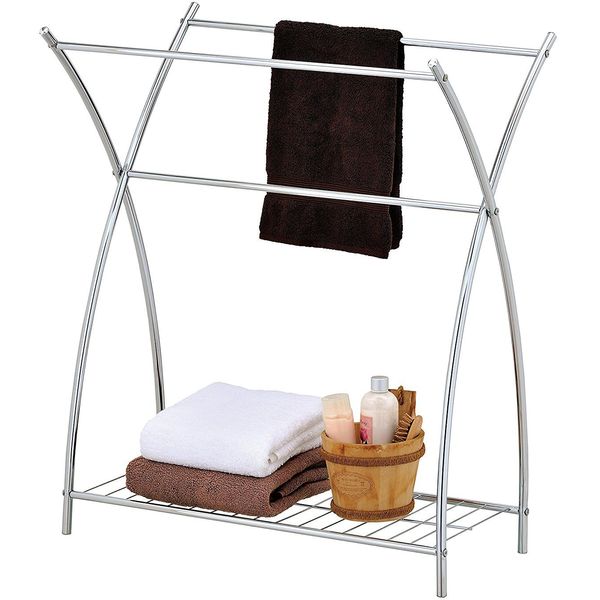 MyGift Chrome Freestanding Towel Rack with Wire Shelf
Features of this product:
Designed to take up minimal space
Chrome plated
Approximate dimensions: 33.25″ H X 25.75″ W X 18.5″ D
Another fabulous Gatco gangsta, this 3 armed bandit will be the freestanding towel rack you will be sure to rely on, for its sturdy, comfortable, service, and reliable, unobtrusive presence. It's simple and unadorned, and hardly a beauty, but there's something to be said for its knight like devotion to its duty, which is sure to last a life time, or darn near. Your towels will never know a safer temporary home, as you relax and frolic in your pool. This free standing towel rack is surely the St. Bernard of towel-holding sentinels!


---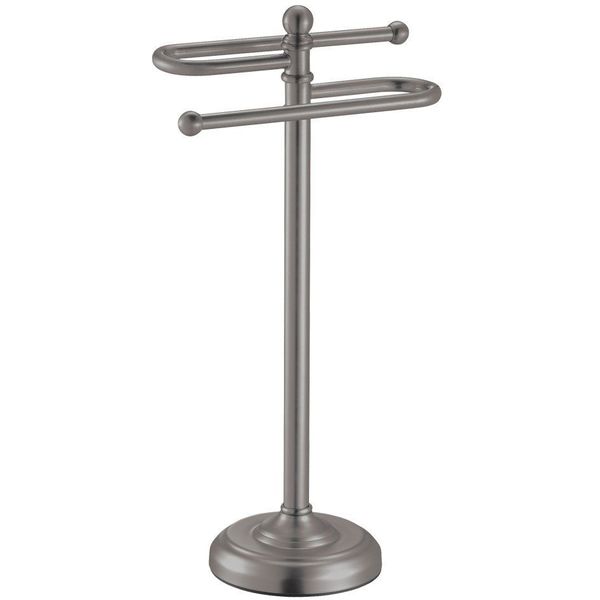 Satin Nickel Counter Top S-Style Standing Towel Holder by Gatco
Features of this product:
Simple, traditional design
Hand polished Satin Nickel finish
Simple Style
Manufacturer's Limited Warranty
This Gatco free standing towel holder is another in the Big "S" swivel headed range of towel-suspending furniture, which seem to have a firm grip on the imagination of revelers, for whatever reason. Perhaps it's simply one of those designs which seems eternally fresh and "hip"? Perhaps its S shaped towel storage capacity makes an ironic statement, suitable adjusted with accompanying nameless mirth, for lovers of Fellini films? Maybe some people just find an S-curled towel unbearably erotic? In any case, it'll keep your towels dry!


---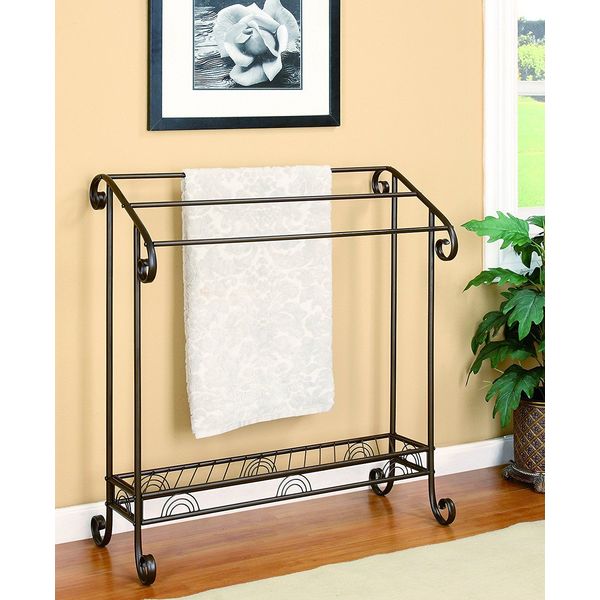 Coaster Home Furnishings Dark Brown Free Standing Towel Rack
Features of this product:
Dark bronze finish
Dimensions: 33″ W x 15.25″ D x 36.75″ H
Easy assembly required
Truer words were never utilized in the history of the advertising industry. This free standing towel bar is indeed narrow, and made of metal. It's fashioned in the shape of a ladder or, if you squint at it, a random strand of DNA. It'll hold a few of your favorite towels, and perhaps a bathrobe or two. It's a sturdy, reliable, model, festooned with festive Victorian style curlicues at the top and sides. One thing's for sure: it'll keep your cloth bits high and dry. Comes with complete instructions, in case you can't figure out how to hang a towel on it.


---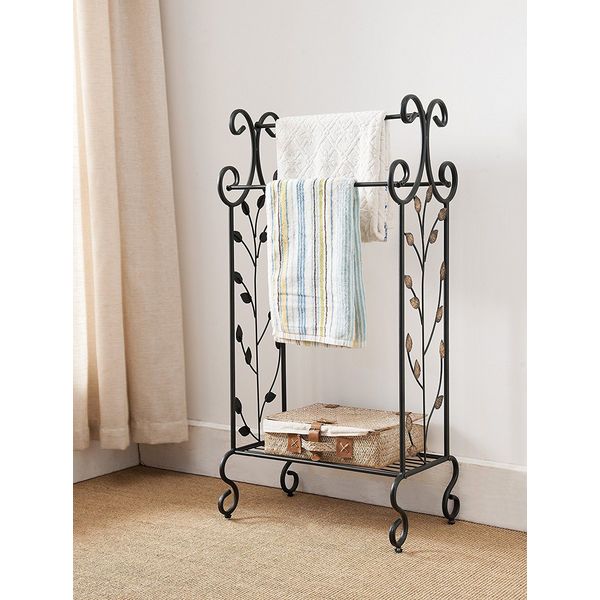 Kings Brand Furniture Black Metal Free Standing Towel Rack with Shelf
Features of this product:
Black metal with gold leaf
Three towel bars
Dimensions: 19.75″ W x 12.25″ D x 39.5″ H
Simple assembly required
This fascinatingly fashioned free standing towel rack makes claim to the heritage of a noble Moroccan pedigree, which is interesting, since it resembles the skeleton of a mailbox more than anything else. Still, its fanciful name belies a sturdy, fully functional, exterior, upon which your towels will hang in quiet confidence, safe from random splashes and accidental spills. The Neu Home Morocco Towel Rack is truly a modern bath towel hanging beauty, and deserves your respect. Remember, Luke Skywalker was raised in a desert.


---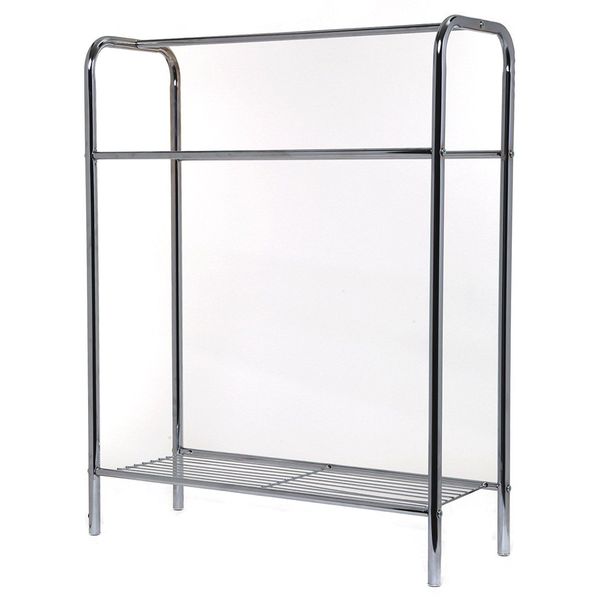 Home Basix Towel Stand with Shelf
Features of this product:
Mirror polished
Chrome finish
Clean and contemporary look
Great for any bathroom
Ahh, yes, the Home Basix Towel Stand with Shelf! This excellent new free standing towel rack needs no introduction. Millions of users the world over have sang its noble praises in extravagant terms. Its creator was knighted, its stockholders rewarded with fortune, and its owners enlightened with the knowledge of a truer understanding of how the universe truly works. The secret to a long, happy, successful, and productive life begins with a dry towel awaiting you as you emerge from the shower, ready to face the new day. Zen stuff here.


---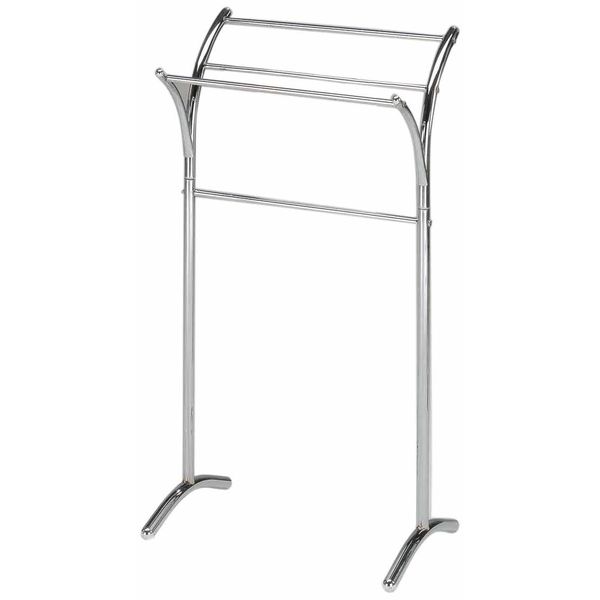 King's Brand Chrome Free Standing Towel Rack
Features of this product:
Chrome finish
Dimensions: 19.3′ x 13.4′ x 36.2'H.
Simple assembly required
Looking a bit like an overgrown dental implement, this excellent new chrome finished free standing towel rack will certainly add a touch of functional, industrial grace to your bathroom. Its clinical, no nonsense, exterior will hang your towels in unsmiling fashion, perhaps daring them to drip upon your stainless, Orwellian floor. Buy a couple of these beauties and use them to store all of your poolside and bathroom accessories, for use in that Room Where There Is No Darkness. Comes with full manufacturer's warranty, written in invisible ink.


---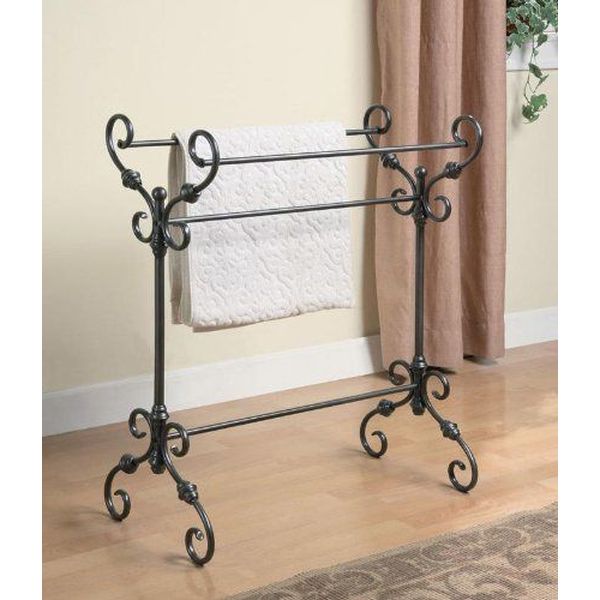 Wildon Home Metal Free Standing Towel Rack in Black
Features of this product:
Metal construction
Black finish
Dimensions: 32" H x 28.5" W x 14" D
It's metal, it's black, and looks a bit like a couple of fireplace poker thingies welded together by a not so ingenious Victorian era blacksmith. But this free standing towel rack has one thing going for it: it's made of metal and probably won't break. Not that we advise you to put this to the test. It's got sharp curlicue thingies at both ends, and is designed for holding your towels, no for accidentally causing injuries. You're too old to be reenacting Jackass stunts that were pointless to begin with. But you're never too old for warm, dry, towels!


---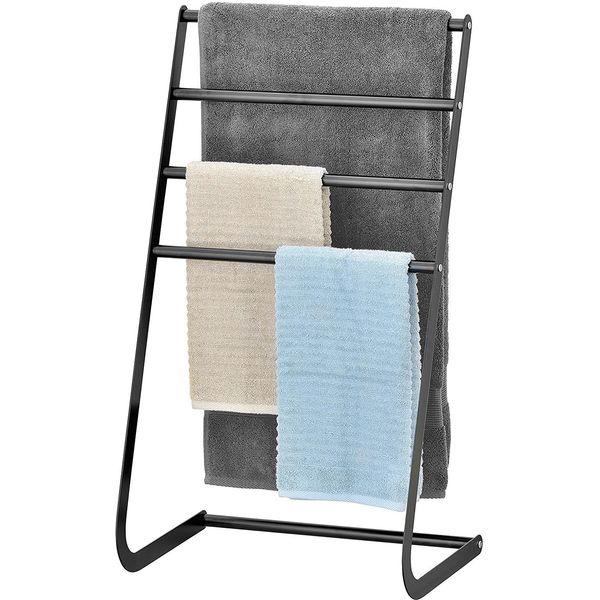 MyGift Freestanding Metal Towel Rack, Black
Features of this product:
4 horizontal rungs
Proudly Made in Taiwan
Approximate dimensions: 18.1″ W X 32.2″ H X 12.4″ D
This particular freestanding towel rack looks almost Egyptian, for some reason. It has the look of something you'd see displayed on the wall in a Pharaoh's tomb. We're not sure why, but perhaps it simply resembles one of those ancient recliner thingies that used to hold dinner plates and chess boards and such. In any case, you'll feel like a king from a bygone era when you use this excellent towel rack to store all of your bathroom towels, hand towels, and the like. Comes with full guarantee of safety against any ancient Pharoah's curse one might accrue by purchasing this item.


---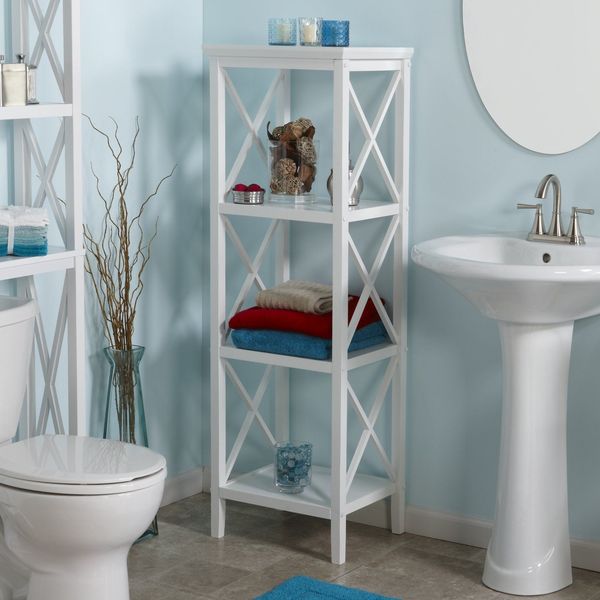 Sourcing Solutions X-Frame Free Standing Towel Tower
Features of this product:
Perfect for additional shelf space
Can be used in the bathroom or any other room in the house
Modern X-Frame design
Coordinates with matching X-Frame Bathroom SpaceSaver unit, Bathroom Wall Shelf, and/or Bathroom Stool (sold separately)
18.5-inch L by 14-inch D by 54-inch H
With a name like this, you'd expect this particular free-standing towel rack to have a fancy, high tech, look about it, and, indeed, it does. If you enjoy the aesthetic qualities of a modern cell phone tower, this model is for you. There's nothing like a sturdy, modern, tower like, towel rack to remind visitors to your bathroom of just what century they're living in, and that the best of modern progress is surely yet to come. Give your towels a paragon of optimistic hope in the future to dry out upon, and give yourself a brighter future as well!