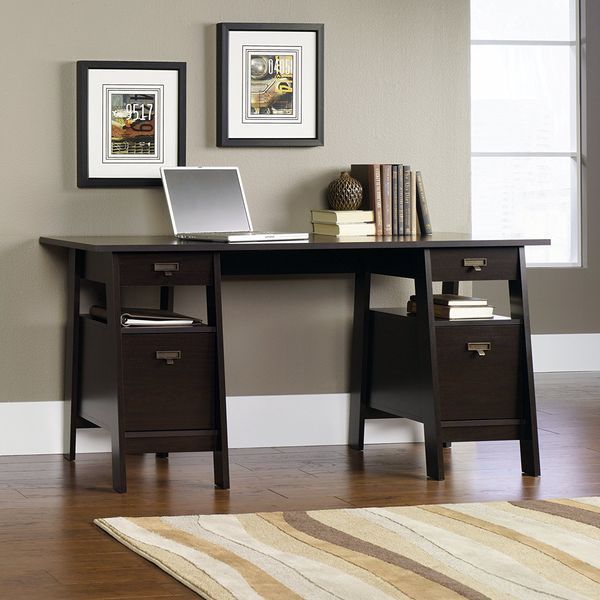 Executive Jamocha Espresso Trestle Desk
Features of this product:
Two file drawers and two smaller drawers
Grommet hole for electrical cord access
Quick and easy to assemble
Jamocha finish
Dimensions W:59″ x D:23 1/2″ x H:29″
Here is the perfect desk to make you feel like a CEO right in the comfort of your own home.  With an incredibly handsome design, this desk has a multitude of features that make it as great as it looks.  It comes with two file drawers and two smaller drawers to give you plenty of storage space for files and anything else you need to put away.  There is a grommet hole for easier electrical cord access from your computer to the wall.  It comes ready to assemble with quick and easy to follow directions so that you can start using it as soon as possible.  The Jamocha finish ensures that this piece will fit in perfectly, regardless if you put it in your home or work office.  You're going to love this desk!


---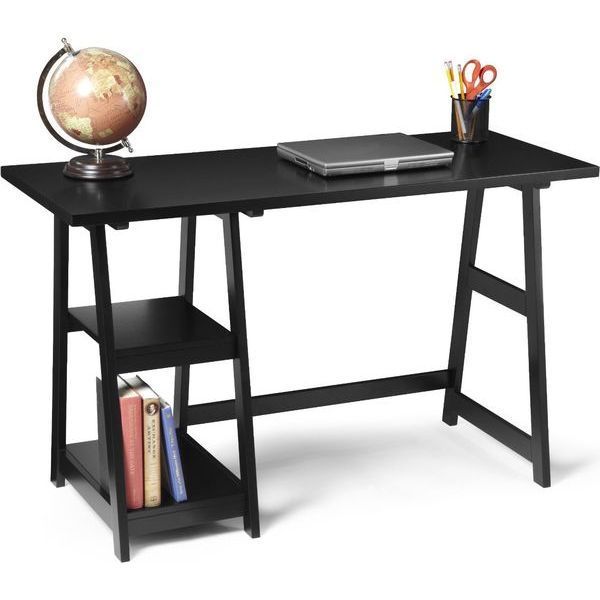 Convenience Concepts Trestle Desk
Features of this product
Easy assembly tools provided
Fixed shelves
Plenty of space for Computer components.
Fits easy with any decor
Will provide years of enjoyment
This desk has been made for anyone that just doesn't have the space for those big and fancy desks, but still needs the space to sit down and work on their computer.  Perfect for small apartments, dorm rooms or anything else you may need it for; this desk comes with plenty of space in a small package for all of your computer components.  The black finish makes it easy to fit with any décor you currently own.  Fixed shelves give you plenty of space for books or other knickknacks.  And it is incredibly easy to assemble, coming with all the tools you will need to put it together and start enjoying your space saver immediately.  This is sure to provide you with years of use and enjoyment!


---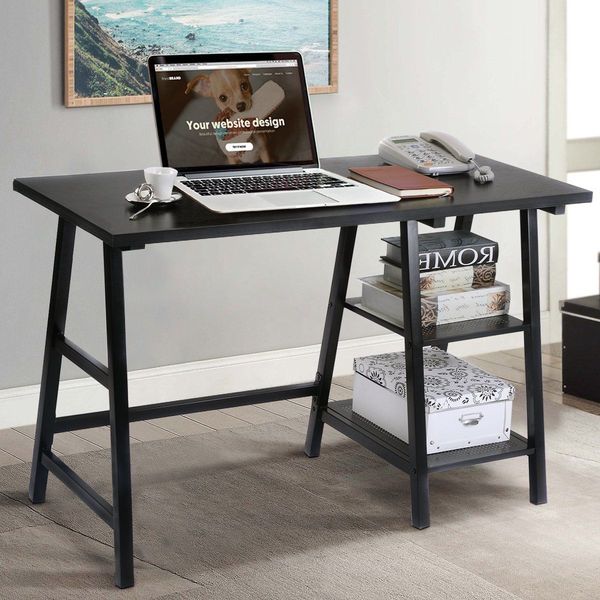 TANGKULA Trestle Desk, Black
Features of this product:
Two tiers of A-shape shelve
Materials: Iron tubes, MDF boards with PVC surface
Padded legs prevent floor scratches
Easy assembly
Here is simplicity at its best!  This smart little desk is absolutely perfect for a long list of activities and uses, from providing a stable environment for your computer usage, to a quaint, out of the way homework or work station, to just being a perfect stowaway space for extra items in the room.  It is made completely of sturdy, long lasting wood beams and finished with a brown color to easily fit into any home or office environment.  One large shelf provides more than enough space for practically anything you may need the flat, stable surface for, even if it's just to prop up some of your favorite decorations.  Some simple assembly is required, but in no time at all you'll have your new trestle desk to show off to everyone!


---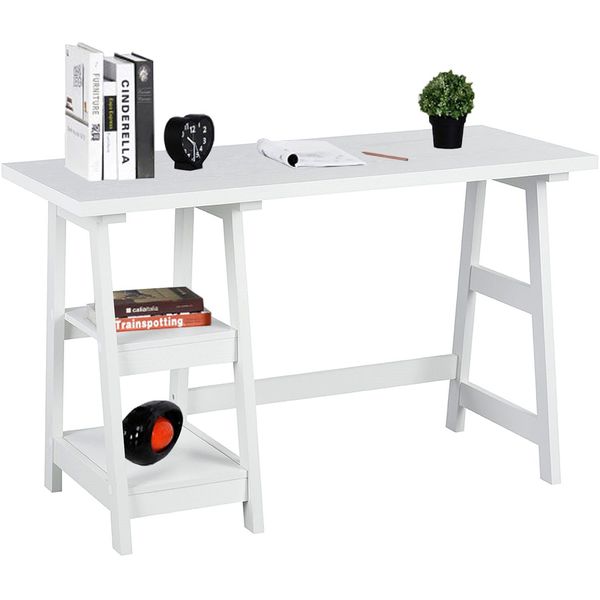 Coavas Trestle Desk, White
Features of this product:
Assembly required, instructions included
280lbs loading capacity
30mm table top with 25mm thicken panel, 25mm table legs
Smooth 3D stereo wooden table top
This desk has a beautiful, clean and contemporary design that is sure to compliment any décor, regardless if you add it to your home or office.  It is perfect for a computer table, but has so many other uses as well!  The large work surface gives you plenty of room for anything you may need to get done either on the computer or with paperwork.  And multiple storage shelves give you lots of space for books, files and anything else that you need to find a stow away place for.  Made from select veneers and solid woods, you can rest assured that this desk is going to be around for a long time to come.  It even comes with a full length keyboard pull out, eliminating the need for that space on the desk top and giving you room for other items you may need!  It is incredibly easy to assemble and with a beautiful oak finish, you'll wonder why you didn't have one before now.


---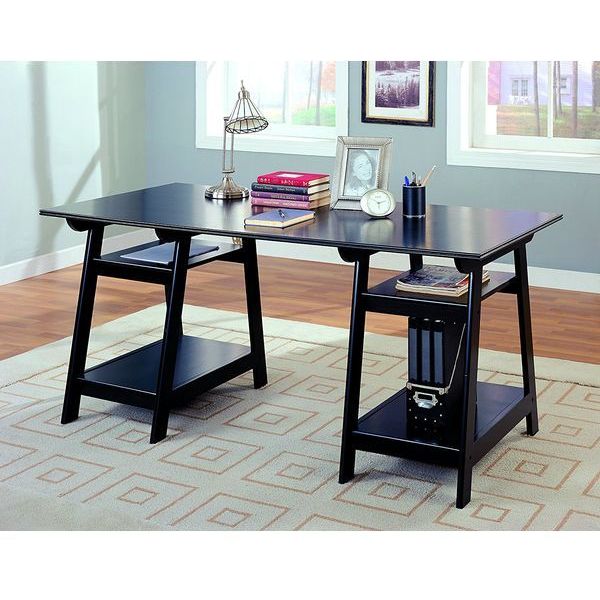 Coaster Black Wood Trestle Style Office Desk
Features of this product:
Black finish
Large working area
Four open storage shelves
May require simple assembly
Dimensions: 64″L x 30″W x 29″H
Simple, smart and effective are three great words to describe this equally great desk.  Designed for complete convenience, it has a large working area with a desk top that gives you almost more space than you'll need!  With four open storage shelves, you have even more space to put away books, files, and anything else that has just been looking for its own spot.  The black finish makes it not only look great, but easier to fit in with any décor you currently own, whether at home or in the office.  May require some simple assembly, but in no time flat you'll be enjoying your new, large, workspace with this fantastic desk!


---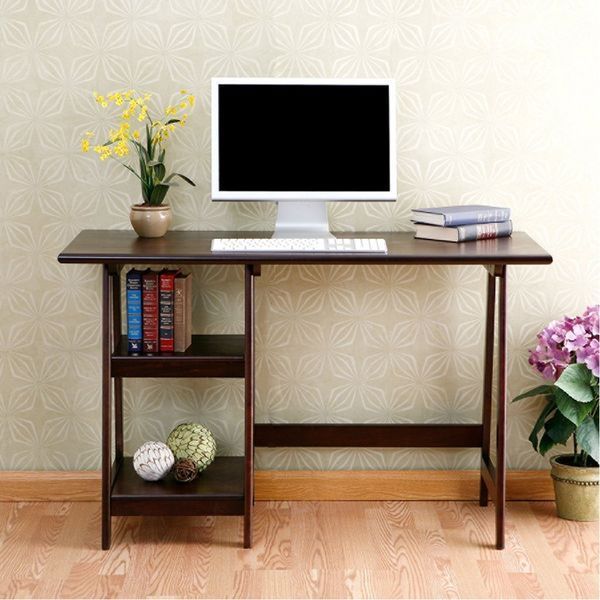 Southern Enterprises Braxton Wood Laptop Desk
Features of this product:
Bottom shelf – 13 in. w x 15.5 in. d x 11 in. tall
Constructed of mdf with veneer and hardwood legs
Sitting area is 24 in. wide
47 in. w x 20 in. d x 29 in. tall
Rich espresso finish
Here is simplicity meets durable in one fantastic desk!  This ordinary design boasts extraordinary features that are sure to make you happy to use it for years to come.  Constructed of MDF with veneer and hardwood legs, this desk has been made to not only be great looking, but durable and long lasting too.  The sitting area is 24 inches wide, giving you ample room to sit comfortably whenever you need to do some work on your laptop.  Comes with two large shelves to give you that little bit of extra space you may need for storage.  Measuring 47 inches wide, 20 inches deep and 29 inches tall, you get a lot of work space in a small desk space that is easy to fit practically anywhere.  Top it off with a rich espresso finish and you have a long lasting, great looking and fun to use desk that you're sure to love!