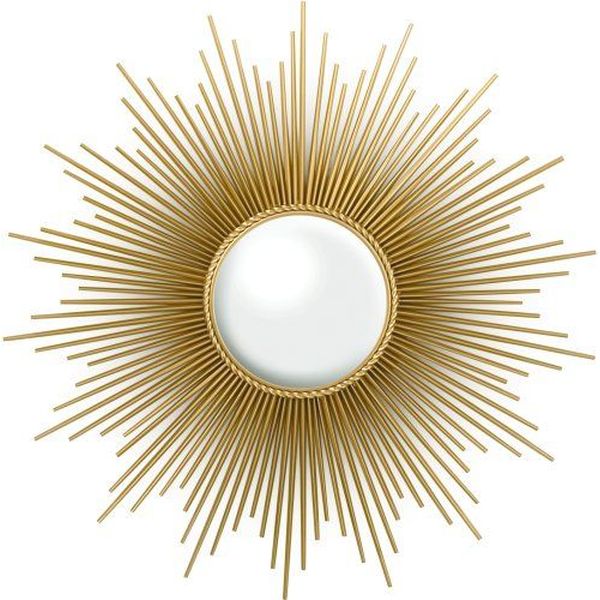 Global Views Sunburst Mirror
Features of this product:
The Art Deco styling in gold tones warms a room with WOW style
As seen in Decorating Magazine
Global Views is committed to 100% natural product manufacturing
Highest quality construction will make this a treasured furnishing for years to come
Global Views designer déco has been featured on The Apprentice, Extreme Home Makeover and The Oprah Show
As featured in the Decorating Magazine, this is one mirror that is guaranteed to catch anyone's attention. At first glance, it looks like a piece of abstract art, but upon further examination, you will discover it also just so happens to include a mirror. Global Views, the designer of this mirror, is so famous for their creations that they have also been showcased on major television shows including Oprah and Extreme Home Makeover. In addition to the very unique appearance of this mirror, you will find that it is also extremely durable. Make this yours today, and you will see why the company has spent so much time in the limelight.


---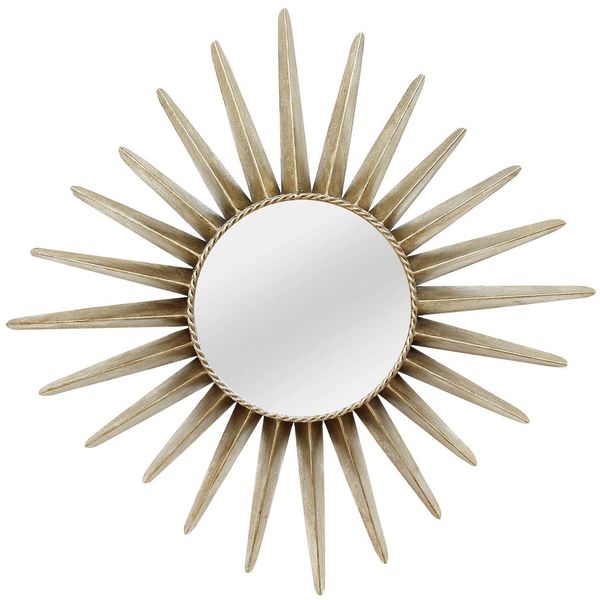 Stratton Home Decor Charlotte Sunburst Mirror
Features of this product:
Color: Bronze
Material: metal/glass
Attached keyhole for hanging
Dimensions: 1.5 x 25.8 x 25.8 inches
Bring the warmth of the sun into your home with this golden ribbon mirror. The metal used to construct the mirror is worked to look like the sun. The brass-like tone of the metal also gives this abstract mirror an extremely rugged and aged appearance, which is great for those of you who love the classic look. Although old in appearance, its artsy look will never grow old on you regardless of how long you own this mirror At the heart of the mirror's crafty design, there also just so happens to be a fully-functionable mirror.


---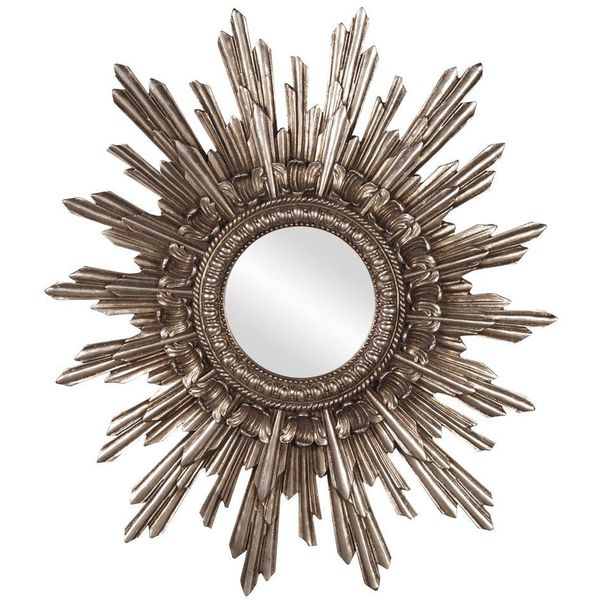 Howard Elliott Chelsea Antique Starburst Mirror
Features of this product:
Features a multi-layered sunburst effect
Finished in antique silver
Dimensions: 20″ L x 23″ H by 1″ D
If you want to add a little taste of country to your home, the addition of this sunburst mirror would be an excellent solution. The thick "rays," which are constructed from polystone give this sunburst mirror an extremely durable look and feel. The antique appearance of this mirror is so realistic that people will not believe you bought it instead of having it handed down to you by your ancestors from centuries ago. Although this mirror may not make it easier to see in the dark, it will give you a bright start to the day.


---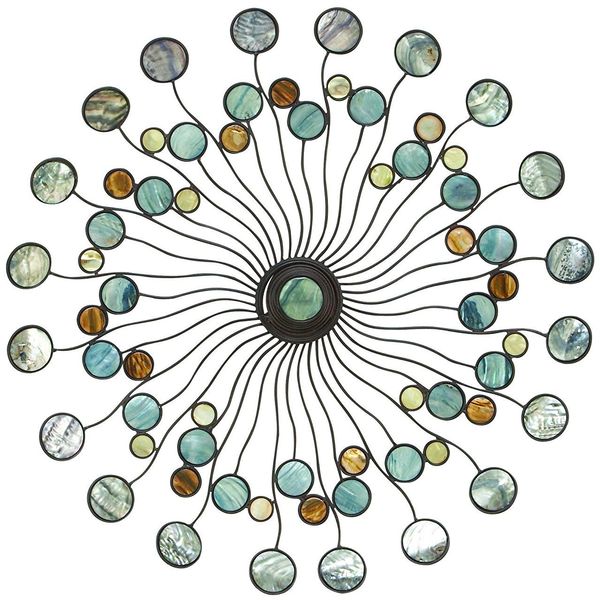 Capiz Sunburst Abstract Metal Wall Art
Features of this product:
Beautiful Wall Art
Measures 27″ in Diameter
Real Capiz Shells
Perfect for Any Large Area
If you have a passion for abstract art, you will be sure to love the appearance this sunburst wall art has to offer. Various colors of authentic Capiz Shells, which are a rarity typically only found in the Philippines, are used to make this piece of wall art stand out like nothing you have ever seen. You can hang this stunning piece of wall art virtually anywhere within your home, but it would look great above the fireplace in your family room. The piece almost looks like our Solar System set on repeat.


---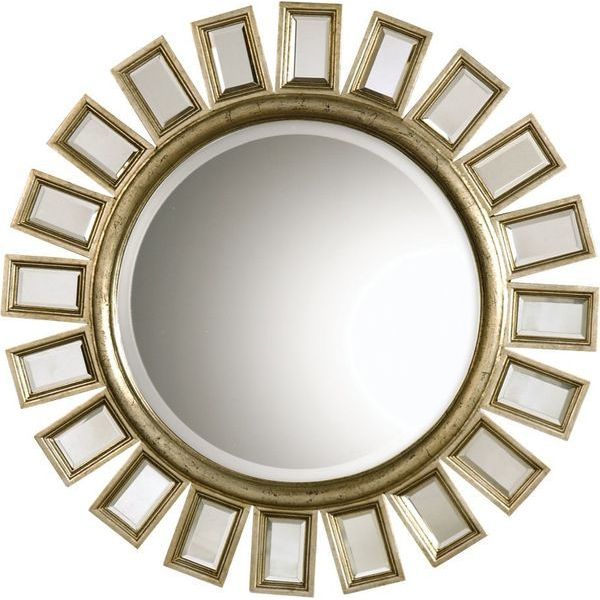 Uttermost Cyrus Mirror
Features of this product:
Wood and resin
Round beveled mirror
Accented by individual beveled mirrors
Distressed silver leaf finish with light antiquing
Overall size 34 by 34 by 1
If you are tired of ordinary wall mirrors, the uttermost Cyrus mirror is guaranteed to break up the monotony. In the center of this work of art, you will find a vanity mirror that allows you to quickly double-check your makeup and hair before heading out the door. However, the frame of the mirror is what really sets this one apart from traditional mirrors as the little beams you see are actually beveled mirrors. The wood and other materials used in the construction of this piece are firmly secured with resin to give it an even more durable appearance.


---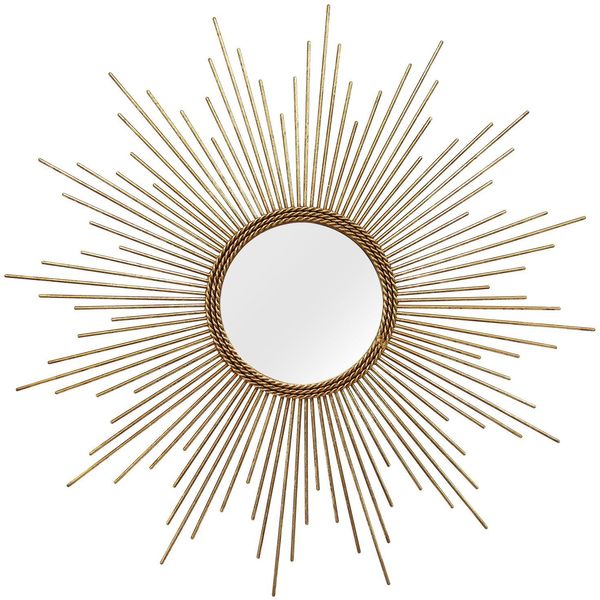 Stratton Home Decor Andrea Sunburst Mirror
Features of this product:
Color: Gold
Material: 70% metal, 15% MDF, 15% mirror
Attached keyhole for hanging
Turn an otherwise empty wall in your home into an optical illusion with this true work of art that also serves as a compact-sized mirror. Heavily-antiqued gold leaf is used to construct small rain drop shaped pieces that surround the mirror portion of this piece. From one angle, it looks like the "rain drops" are glued on the side of the mirror, but if you stare at the piece long enough, you will swear that they are real rain drops falling from the sky. This is one crafty piece that you should make room for inside of your home today.