Antique Turqouise Metal Fishy Unique Towel Rack
Features of this product:
Six handy hooks
Turquoise finish
Made from recycled drum rings.
Dimensions: 30.5″w x 20.5″h
Made in small cottage industries in places such as Honduras, Morocco, and Colombia
Err…well, the description of this little beauty is pretty much spelled out in the title. Not much to add besides (for the benefit of our blind visitors) the fact that this unique metal construction is shaped like the word "towels". With a bit of creative welding and reshaping, you could probably get it to spell out all sorts of other words but, for the sake of simplicity and domestic tranquility, you should probably just stick with "towels". In any case, a unique towel rack item which we're sure none of your neighbors has had the bright idea to acquire…yet!


---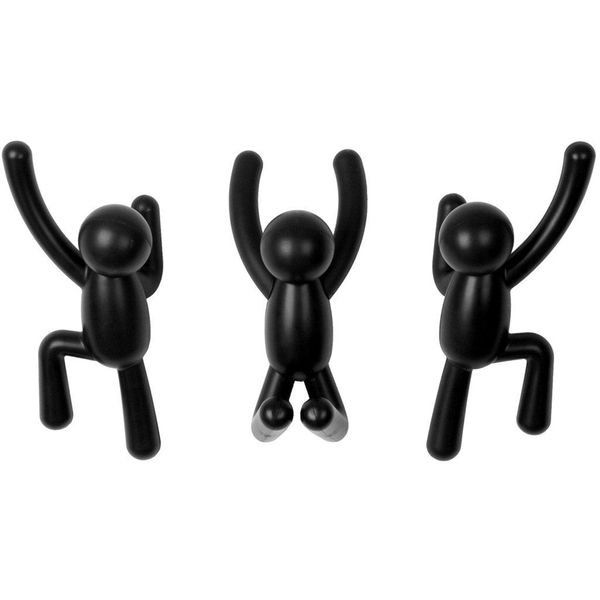 Umbra Buddy Unique Wall Mounted Towel Hooks
Features of this product:
When not in use, they serve as fun wall décorl
Each hook measures 3″ x 6.5″ x 3″
Made of durable molded plastic that
Each hook supports a max load of 5lbs
Looks a little like the Flying Spaghetti Monster if you squint at it, or perhaps a bizarre take on a ladder towel rack (though we wouldn't recommend trying to climb it). We're not sure if you get that reference but, regardless, it's got a nifty chrome polish finish, and attaches right to your shower stall wall with suction cups! Just wet 'em a little and stick 'em right on! Its no-brainer construction requires no special tools behind a basic understanding of physics, i.e. wet suction thingy adheres to smooth surface. You can likewise attach and reattach it any number of times as you go. It's a fully portable, unique towel rack, and built to last! Not recommended for other activities (you know who you are).


---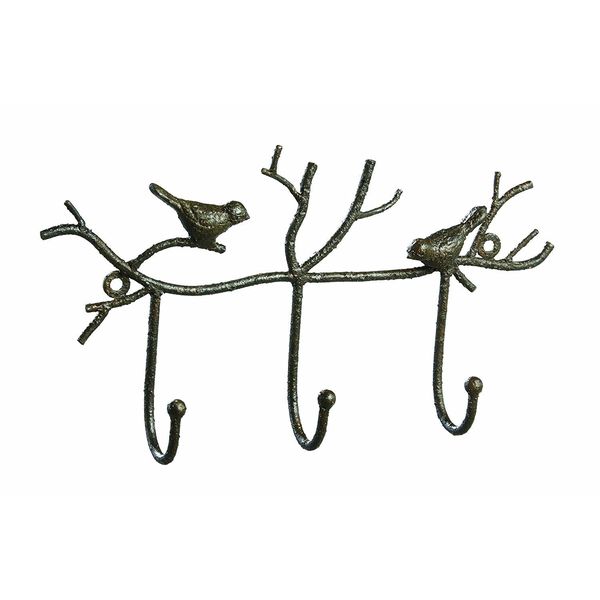 Creative Co-Op Metal Twig and Bird Unique Towel Rack
Features of this product:
A shabby cottage chic style metal wall hook
Features cheerful bird accents
Great for the kitchen or bath
Dimensions: 5.5″ H x 11″ L
What the title implies, although we don't feel too embarrassed to hawk it on our fine quality site! These unique towel hooks have got a bit of a down homey, wooden shack, kinda flavor to them, without looking too disingenuously "plain folks" a la Walmart. Has a nice bird design as well, so you can imagine bluebirds straight out of "Zippity-Doo-Da" land, if you're into that sort of thing. It's fully functional, has four gripping hooks for towels, and is thoroughly waterproof (duh!). Hey, we kinda like it, so why not give your home a bit of that Huck Finn rural panache?


---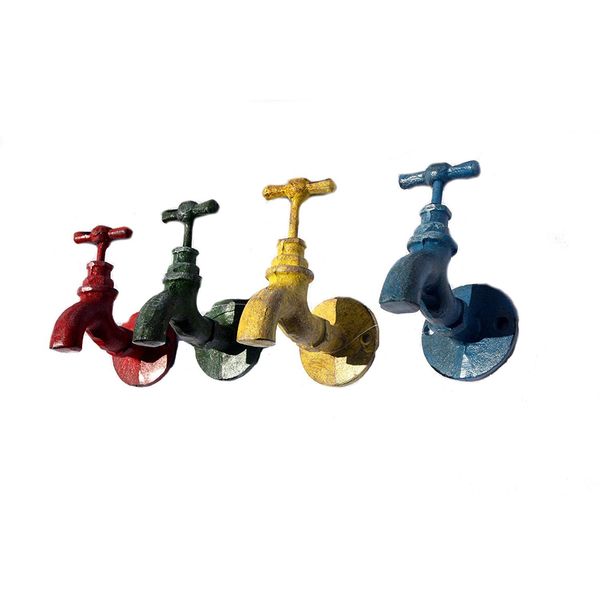 Abbott Vintage Colorful Iron Faucet Unique Towel Hooks
Features of this product:
Weathered finish in four bright colors (one of each included)
Each measures 3.5″ x 3.25″ x 2″
Made of iron
This unique towel rack has a nice, breezy, tropical, theme to it, somewhat reminiscent of the old Island Records logo (dust off those old Bob Marley albums one more time, woncha?). It's made of metal, and has a very nice two-pronged towel holding mechanism. It would also be an excellent companion to one of our surfboard towel racks. Hang a surfboard next to some palm trees, and you've got yourself a shower in Paradise! An excellent addition to any beach side home, or for those of you living in Landlock, Podunkville who long for a tropical breeze!


---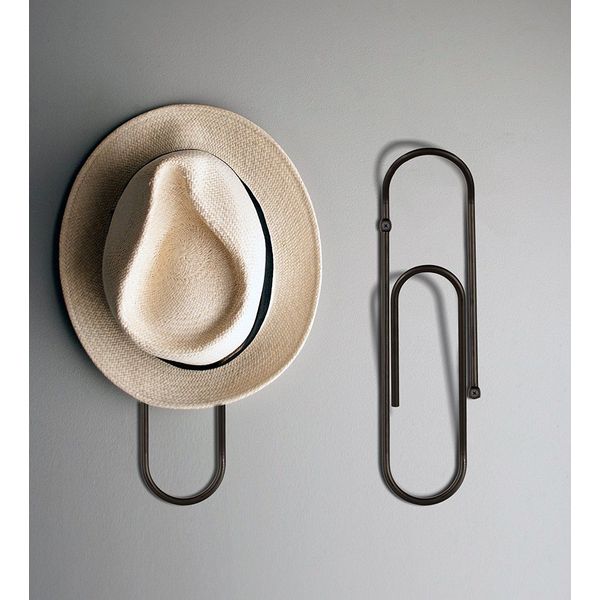 Bendo Wall Mounted Giant Paper Clip Unique Towel Rack
Features of this product:
Available in chrome or matt black finish
Comes with screws and plugs for installation
Each clip is 4″ x 15″
This unique towel rack is quite exotic and Oriental in flavor, and will give your home a touch of the fabled Orient. It's made of a combination of iron and sustainable acacia wood, and mounts very comfortably and quickly on your shower or bathroom wall. As its title implies, it's got a sweet, colorful, lotus flower design, and will make an excellent conversation piece. Those of you who enjoy colorful floral designs, or unique artistic pieces, are guaranteed to love this one. Comes with full manufacturer's warranty, as if there was any question!


---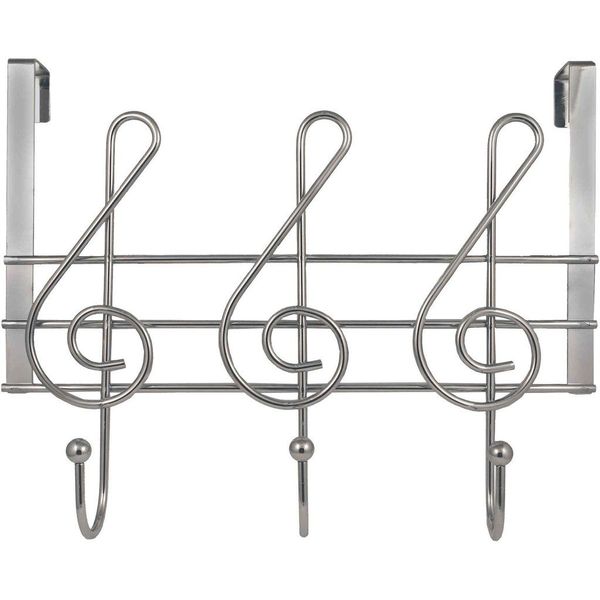 Streamline Musical Note Over-the-Door Towel Rack
Features of this product:
Holds pretty much anything that hangs
Fits over any standard door
Three hooks, each with a ball end to protect your fabrics
Sleek metal construction
Measures approximately 13″ across, 10″ tall
Perfect in the bedroom, bathroom, pantry, or closet
This excellent unique towel rack design is "noted" for its beauty and catchy design! When it's time to face the music, you'll never be better prepared than after an inspiring, tune filled, sojourn in your shower with this little beauty by your side! It'll store pretty anything that hangs with wit and grace, and is guaranteed to strike a sympathetic chord in any location you choose. Its sleek metal construction and no-brainer install will have you singing for joy once you've used it. So, grab this all-purpose door hanger, and prepare to sing for joy!