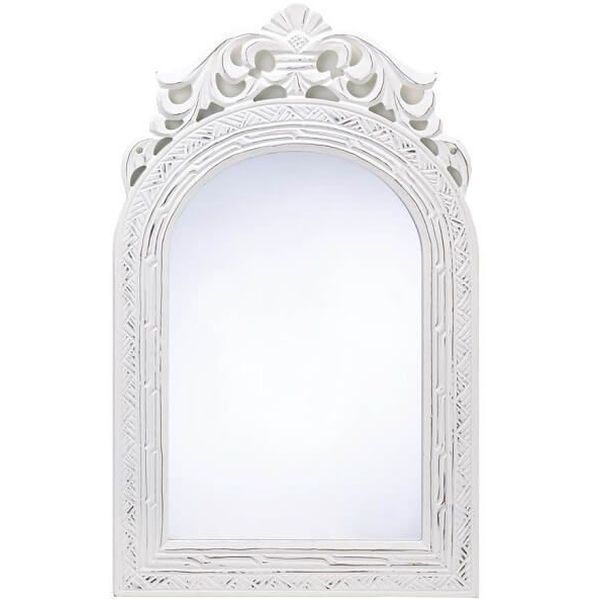 Arched-top Wall Mirror
Features of this product:
Wood-framed
Vintage style mirror
Weathered white finish
Looks great with most home decor
Add some flare and a taste of French royalty to your home's interior with this beautiful piece. The arched top gives this mirror a bigger than life appearance, which is sure to grab plenty of attention. The weathered white finish used on this mirror give it the retro, yet sophisticated appearance that is sure to look great regardless of what room it is mounted in. Of course the wood used to create this masterpiece is carefully chosen to ensure it offers the highest level of durability. Do not wait to add this to your collection of décor.


---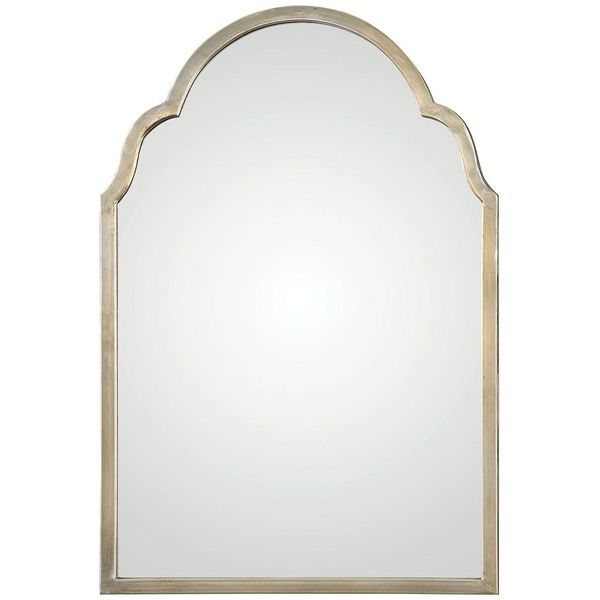 Uttermost Brayden Petite Arch Mirror, Silver
Features of this product:
Materials: metal
Finish: plated, oxidized silver champagne
Designer: Grace Feyock
Dimensions: 20″W x 1″D x 30″H
Weight: 14 lbs
Brighten up the appearance of your home's interior with this mirror. The distressed frame that is black in color does an excellent job of giving the mirror that vintage appearance. The wood is also constructed from pine, which has a nice texture and a high level of durability to match. All pieces are put together using the utmost amount of precision to ensure your enjoyment for years to come. Do not be a bit surprised when your guests think this is a real window before taking a closer peek. Add this one to your cart, and you will not be disappointed.


---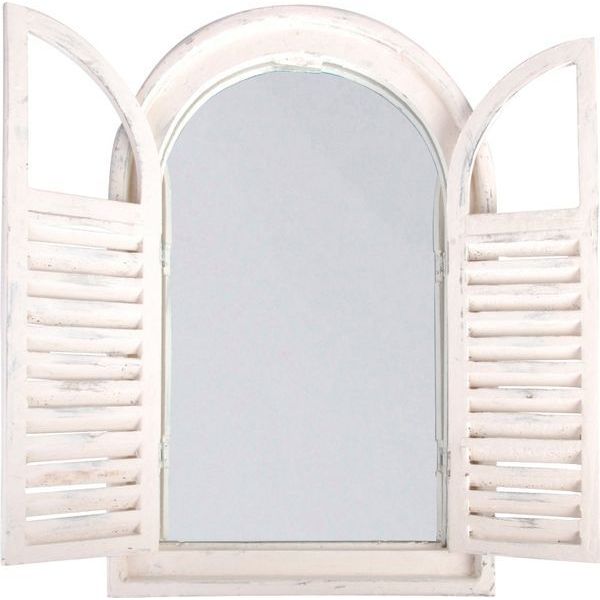 Esschert Design White Window Frame Mirror with French Doors
Features of this product:
Decorative mirror in distressed window frame
Unique Design
Easy to clean
Easy to mount
Here is another vintage French inspired piece you will be sure to enjoy for years to come. This mirror has an extremely rustic appearance because of the distressed wood that is white in color. The louvered doors really set this mirror off as they actually open and close to give the mirror an even more vintage look, and they can also protect the mirror when it is not in use. With a vintage appearance and incredible quality combined with being easy to clean, you cannot go wrong by adding this classic mirror to your collection.


---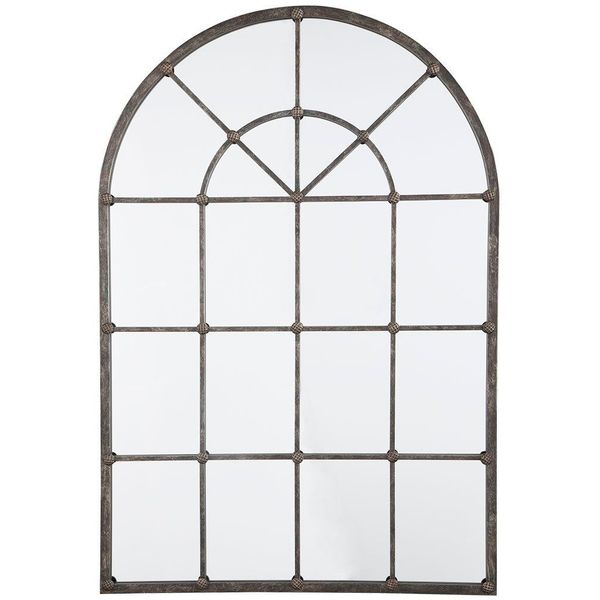 Ashley Furniture Oengus Arched Mirror, Bronze Finish
Features of this product:
Made with mirrored glass and a dark bronze-tone metal frame
Inspired by cathedral style windows
Includes square bracket hanger.
Measures 32″ W x 1.25″ D x 46.50″ H
Bring a taste of medieval times into your home with this arch mirror. Designed and constructed by Import Collection, this mirror may not be the biggest mirror may not be the biggest one you have ever seen, but it will certainly stand out. The mirror features 20 different mirror panels, which are precisely integrated between the stunning and durable combination of iron and wood paneling. Showcase this mirror in your home and look forward to the shock and awe on the faces of your guests. The mirror can easily be cleaned with a dry cloth.


---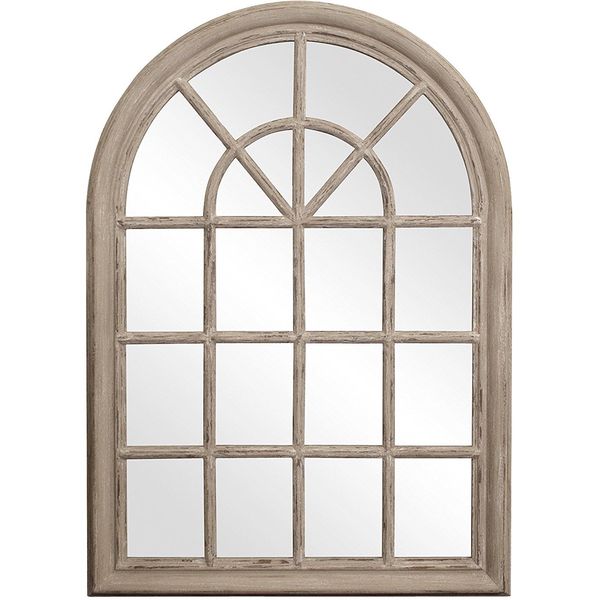 Howard Elliott Fenetre Windowpane Style Arched Mirror
Features of this product:
Arched wood frame
Distressed taupe lacquer
D-rings are affixed to the back of the mirror
Outer dimensions: 29″ x 41″ x 1″
Mirror dimensions: 24″ x 36″
If you are looking for a mirror that combines a vintage appearance with a modern level of durability, this is one you cannot afford to miss out on. This mirror looks like an authentic window from a classic home, which is sure to grab the attention of others. Due to the precise crafting and design of this piece, you can also plan on displaying it with a great deal of pride for years to come. Do not hesitate to add this antique inspired mirror yours today for a price that is unbeatable.


---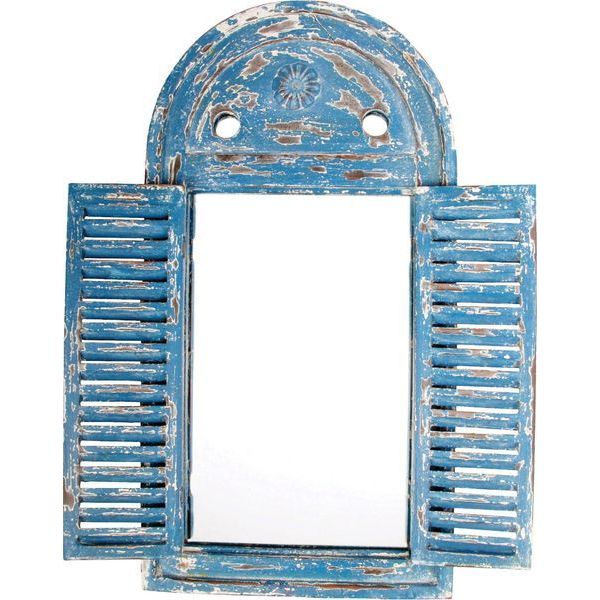 Esschert Design USA Louvre Distressed Mirror
Features of this product:
Window frame mirror with louvered doors
Adds rustic touch to any room
Beautiful arched design
Distressed blue finish
Measures 29-1/2-inch H by 1.6-inch L by 15.3-inch W
Add a rustic appearance to any room inside of your home with this mirror manufactured by Esschert Design USA. The mirror has a blue finish, and it is one of the most distressed looking mirrors you will ever find. The mirror's arched top and louevers that cover the actual mirror also add to the vintage appearance of this truly unique mirror. Although the mirror appears to be hundreds of years old, it is built using the highest quality materials, and it is assembled by to perfection. Add this mirror to any room in your home and treat yourself to years of enjoyment.