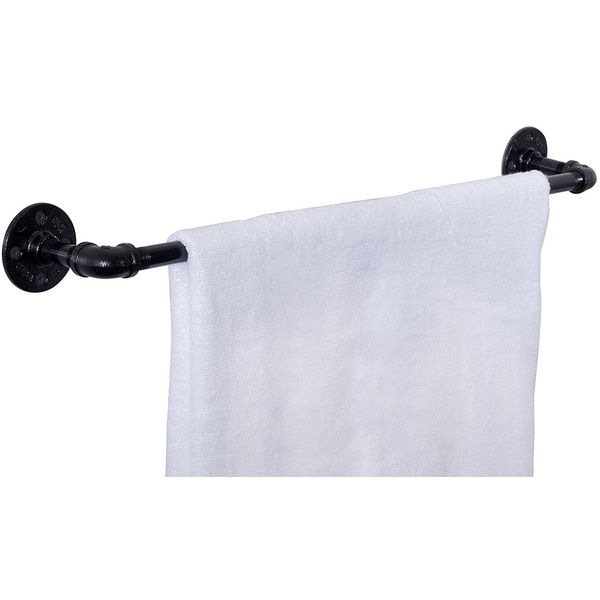 Wrought Iron Pipe Towel Bar by Pipe Décor
Features of this product:
Electroplated finish
Mounting hardware included
Towel bar dimensions: 28″ W X 2.75″ H X 3.5″ D
Limited lifetime warranty
Brought to you by folks who Moen business, this dandy 24 inch wrought iron towel rack is sure to bring a touch of rustic Western atmosphere to your bathroom. Its no nonsense black matte finish and spare design will be sure to store the towels of you and all your little galoots! You can mosey on into the shower at any time, and hang your towels and spurs on this here pardner, anytime! Comes with full manufacturer's warranty. Also, if you're on the lookout for similar designs, you may also wish to check out our satin nickel towel racks page.


---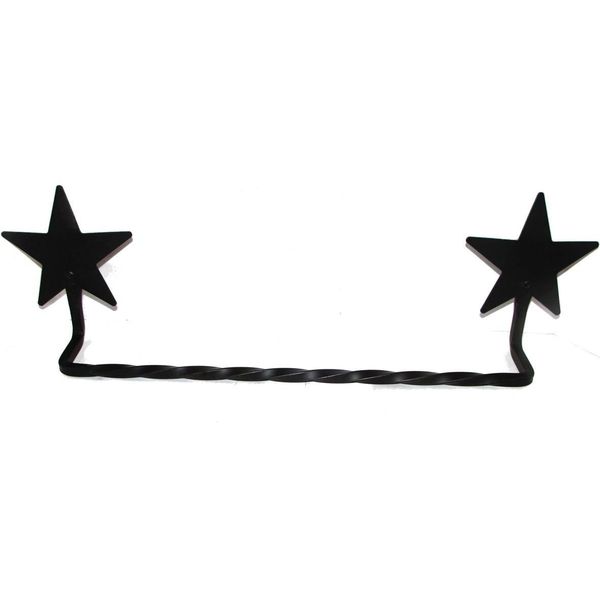 Amish-Made Wrought Iron Small Star Towel Bar
Features of this product:
Hand made by the Amish of Lancaster County, PA
Sturdy solid wrought iron-not wire!
Simple design blends with any decorating style
Prepare to party like it's 1699, with this homely new Amish made wrought iron towel rack. It's no hype, folks, this here beauty really does come straight from the Amish paradise of Lancaster, Pa. Yep, the folks with pointy beards who ride the buggies. This towel rack is not only ornamental, but fully functional. Its sweet starry design will bring a touch of the scenic green Lancaster valley to your home. A portion of the royalties from this purchase will go straight back to the Amish country (we're guessing), so support your local artisan!


---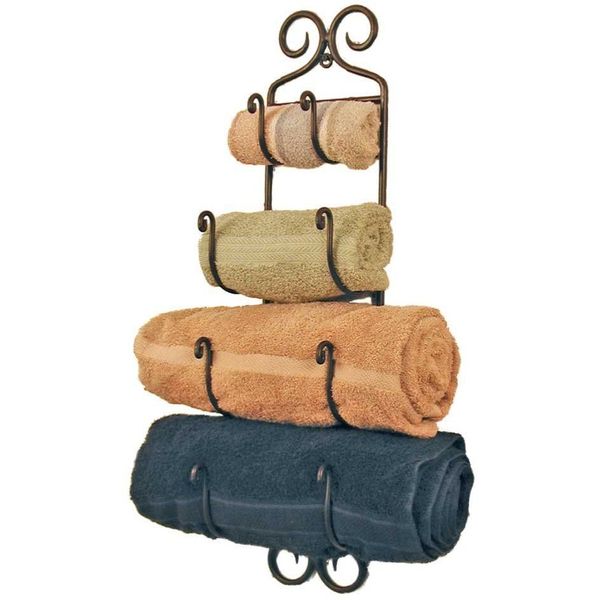 Colonial Tin Works Wrought Iron Towel Rack
Features of this product:
Wall mounted
Can be used to display wine, towels or even hats
Black finish
Towels are not included
This classic wrought iron towel rack design is quite Colonial in its looks. So, if you enjoy the furniture and furnishings of that illustrious Revolutionary period, knock yourself out and grab it! It will hold your towels and assorted bathroom accessories in fine, Pilgrimish style. Best of all, it's a breeze to attach to your wall, and just as easy to detach if the Redcoats come a callin' and you need to hightail it to Bunker Hill! Comes with full manufacturer's warranty, and is a quaint, timeless design to boot. "George Washington slept here" sign sadly not included.


---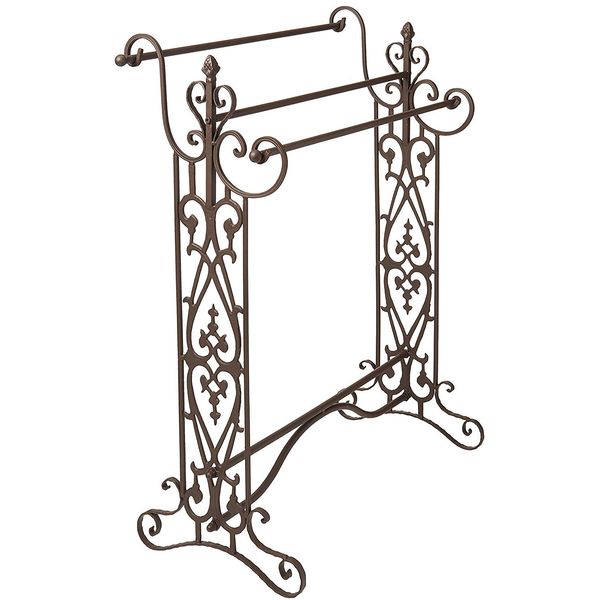 IMAX Quilt/Towel Rack
Features of this product:
Wrought iron rack
Southern accent
Towel or quilt rack
Decorative accessory
Bathroom accent
Another of our classic, retro-styled, wrought iron towel rack designs, the IMAX quilt/towel rack is a real beauty to behold. Rest assured, its classic black finish and 19th century design will bring an air of quiet, timeless dignity to your home, but without making it look "ancient"! Who says a touch of class inevitably ends in dating or aging oneself? Philistines, that's who, and Philistines don't own fine homes and classic retro furnishings. We know who's boss! If, however, you're looking for something that takes up a bit less space than something as extravagant as this, then we'd suggest you head on over to our door hinge towel racks page and see what we have there.


---

Marie Décor Handmade Wrought Iron Towel Bar
Features of this product:
Made from strong and sturdy iron
Easy to install (screws included)
Dimensions: 21″ L x 2″ W, extends 3 inches from the wall
This is our excellent new multitasking wrought iron towel rack design. It's tiptop for towels, and fine for wine! It can even hold a combination of the two, if you're sick of your fine Merlot "sweating" all over the place while you're busy enjoying your shower or swim. It has a hanging design, with 4 handy "hooks", ensures that you will never be at a loss to hang your hat, coat, towels, and a bottle of vino or two. If the kids are acting up, well, there's a hook for little Sue and Johnny as well. Comes with complete manufacturer's warranty. Truant officer optional.


---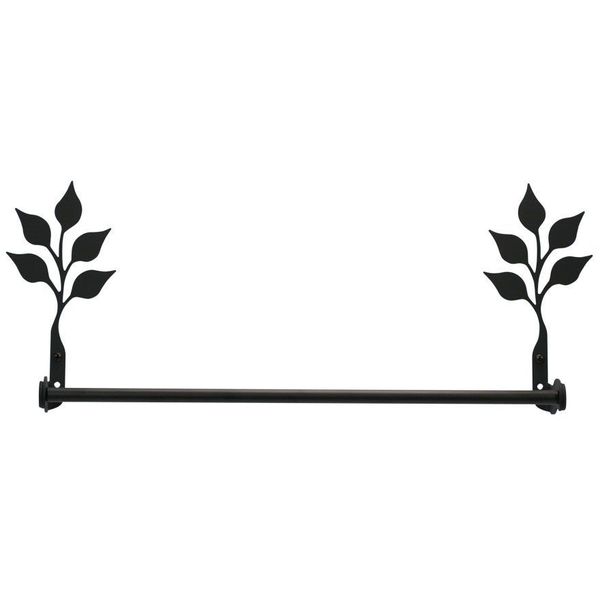 24-Inch Iron Leaf Towel Bar
Features of this product:
Material is Wrought Iron
Finish is Flat Black Powder Metal Coated for that long lasting appeal
Color is Black
Silhouette Sizes Vary Slightly
It's a 24 inch wrought iron towel rack with leaves on either end. It's black. You hang towels off of it. Not much to add. Some people simply prefer this type of Spartan, basic black, industrial design. It does pretty much what you'd expect it to. No more, no less. The leaves are a nice touch, which keeps things from being too nondescript. At least, if you get bored, you can have a nice chuckle at the people who manufactured this item and thought a couple of black leaves would look good on either end of it. What will they think of next?