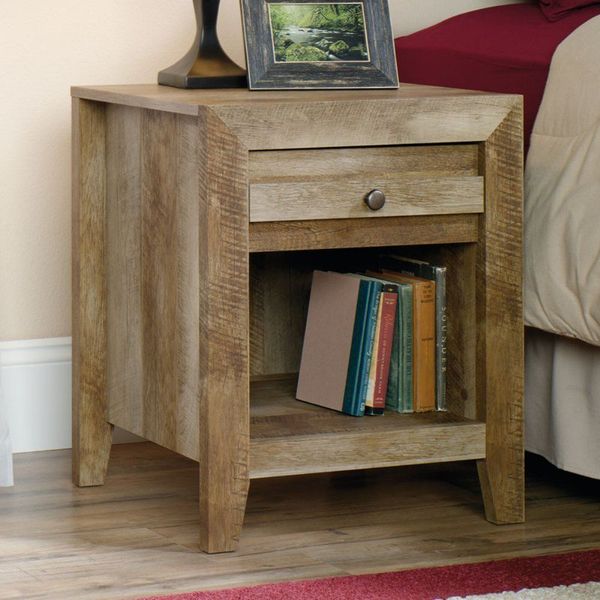 Sauder Craftsman Oak Nightstand
Features of this product:
Easy-glide drawer
Open shelf provides additional storage
Craftsman Oak finish
Dimensions: 20.3″ x 16.5″ x 24.4″
Are you looking for a nightstand that has just the right amount of storage, yet it hardly takes up any space? If so, you have to consider this gorgeous nightstand that is constructed from a glossy oak. This nightstand features one drawer, and beneath the drawer you will find a conveniently sized cubby hole that can be packed full of miscellaneous items. Of course, the top of the nightstand has plenty of room to set a glass of ice water for the morning as well as your favorite alarm clock. This is one great nightstand, and the price makes it even better.


---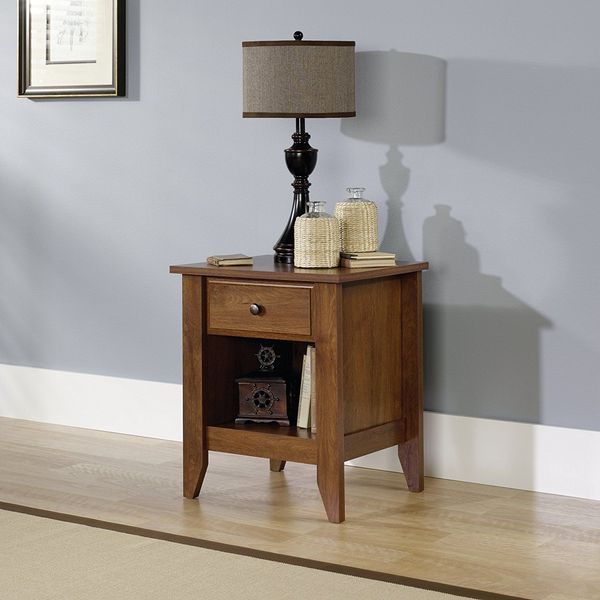 Shoal Creek Nightstand
Features of this product:
Drawer with metal runners and safety stops
Open shelf provides additional storage
Ships ready to assemble
If you are in the market for a concise night stand constructed from 100 percent oak and featuring a rustic appearance, this nightstand manufactured by Shoal Creek would be a great one to consider. It features one drawer that utilitzes metal safety runners, which add to its already high level of durability. Below the drawer, you will find a wide open storage area that will allow you to easily access anything you might need throughout the night or upon waking in the morning. To top it all off, you will find that the stand's top features a generous amount of space to place candles or even a lamp.


---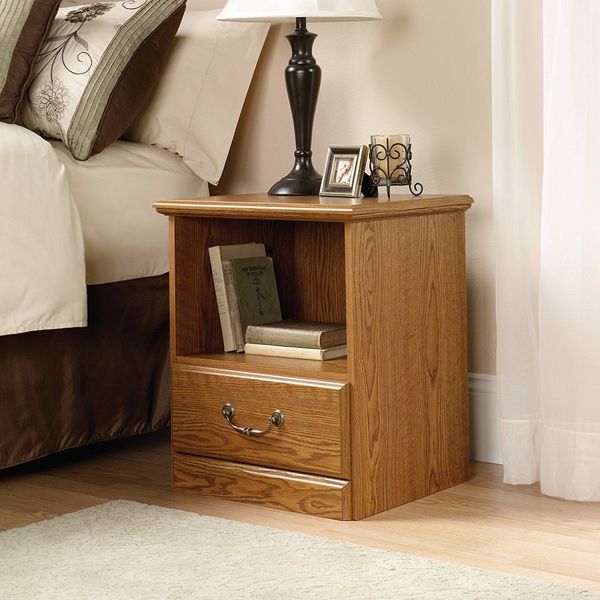 Sauder Orchard Hills Oak Nightstand
Features of this product:
Color: Carolina Oak
Size: 22 3/4″ H x 20 1/2″ W x 15 3/8″ D
Convenient spot for your reading lamp, books, glasses and alarm clock.
Features open storage area and a bottom drawer.
T-lock assembly will save you time while assembling.
If you liked the design of the Oak nightstand by Prepac, but you were looking for something a little more elegant, this would be a great one to consider. This piece substitutes a classy looking handle for the oak knob. It also includes a backing on the bottom cubby area, which will prevent the items you have stored underneath from flying everywhere if you accidentally bump your nightstand. This is one of the highest quality night stands in this size class, yet it is still very affordable on any budget. Make this one yours today.


---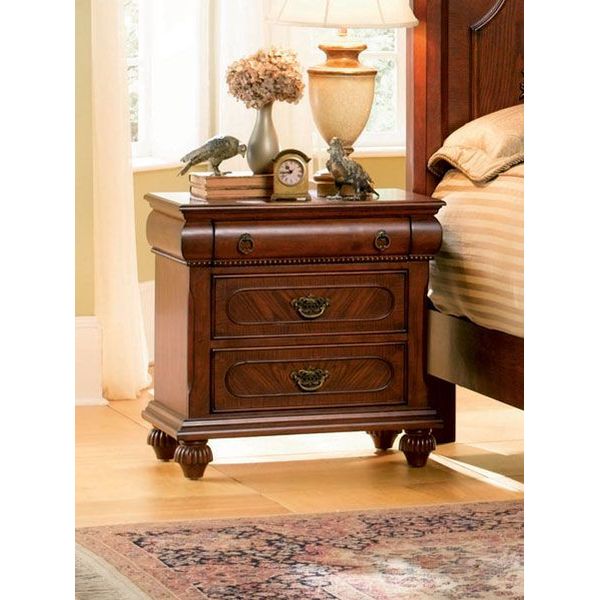 Coaster Isabella 3 Drawer Nightstand In Oak Finish
Features of this product:
No Assembly Required
3 drawers for lots of storage
Glossy dark oak finish
Rests on four legs instead of the traditional flat bottom
This nightstand constructed from 100 percent oak would be an excellent addition to any bedroom. Unlike a lot of the oak nightstands you will find on the market, this one comes in a dark oak color, which gives it a very sophisticated appearance. In addition to an appearance that will blow your mind, it also features three drawers for practical storage purposes. Additionally, this nightstand receives support from four legs opposed to the flat bottom design you will find on many traditional nightstands. With such a reasonable price tag, this is one that is too good to pass up.


---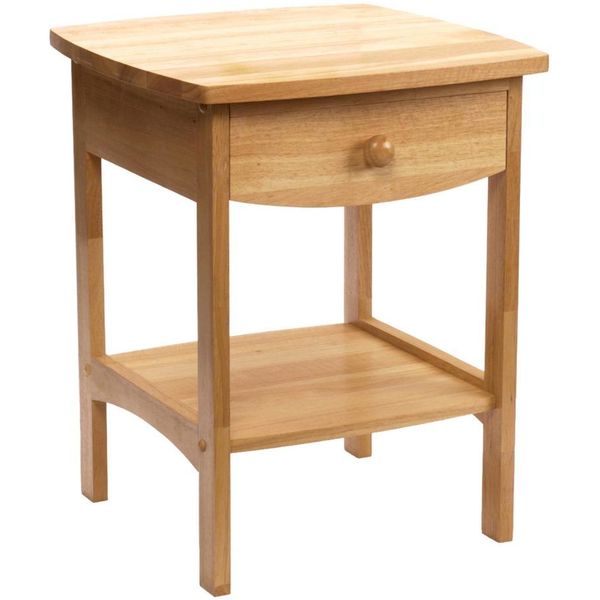 Winsome Wood Nightstand, Natural
Features of this product:
Dimensions: 18″ W x 18″ D x 22″ H
Assembly required
Constructed of solid/composite wood
Bring the peace and comforts of the country to your bedroom with this classic looking nightstand. It utilizes a two drawer design that is fairly simple in nature, yet the piece looks far from boring. The metal accented handles on both drawers do an excellent job of complimenting the light oak finish used on the nightstand. The other nice thing about this nightstand is that the light oak used in the manufacturing of this gorgeous piece will not clash with other colors in your room. If you like the classic look with modern amenities, you have to check this one out.


---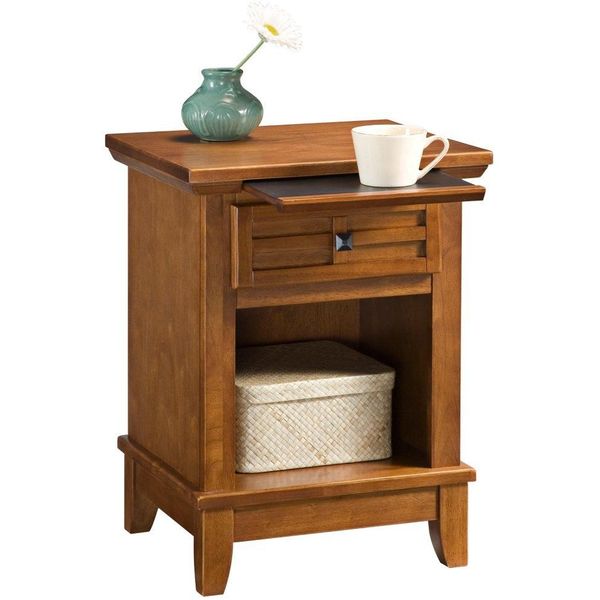 Home Styles Arts and Crafts Nightstand
Features of this product:
Color: Cottage Oak
Size: 24″H x 18″W x 16″D
Also words great as a side table in your den
Mission styling works well in a Traditional or Contemporary home
Other pieces available
If you are looking for a classic looking nightstand that will still look great even in a home with the most modern of amenities, this would be a great option to consider. The cottage oak color gives it a medium level of darkness that will suit those of you who seem to be stuck somewhere in between the lighter and darker oak shades. You will also find that this nightstand has more than enough room thanks to the drawer and the shelf along with the primary surface area. This piece is one that will look great in any bedroom, and the price is truly unbeatable.