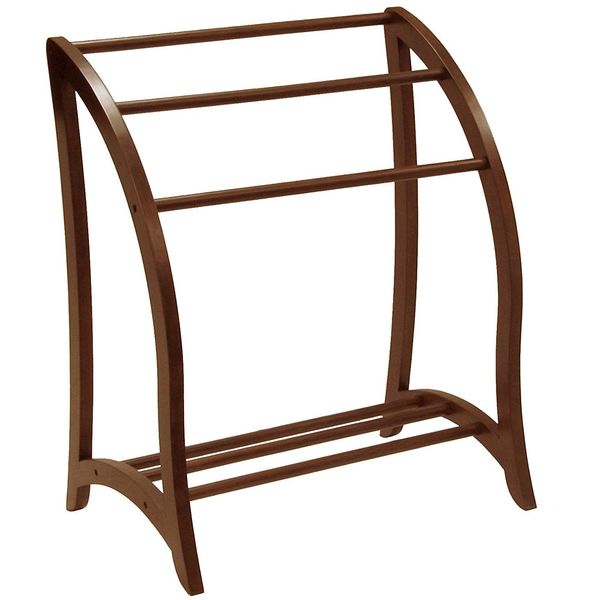 Winsome Wood Towel Rack, Antique Walnut
Features of this product:
Made from solid beechwood
Walnut finish
Assembly required
Dimensions: 30″W x 20″D x 36″H
This beautiful new wooden towel rack comes complete with cherry finish, wood/metal hybrid base, and a sunny disposition (although, it would presumably warp if left out too long in the actual sun, so excuse this meaningless simile). Its simple design allows to alternate between hanging towels and quilts. So, when Grandma comes to visit, point her straight at this little dolly and watch her little old eyes light up with joy. For those who prefer this design in a more "rigid" look, please check out our page of wrought iron towel racks.


---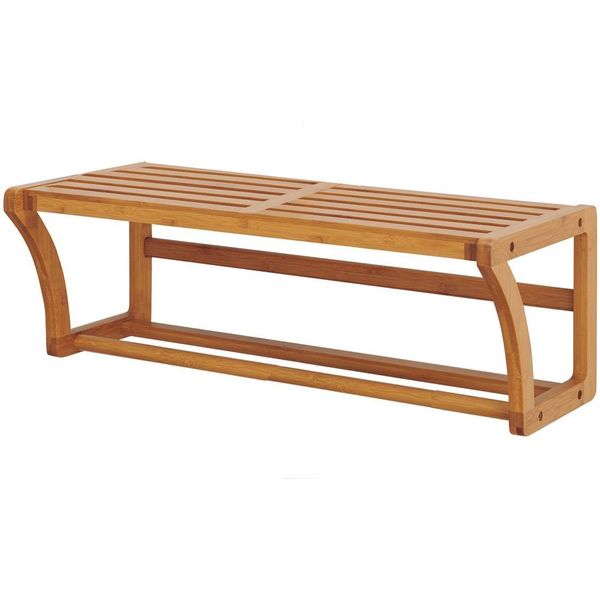 Organize It All Natural Bamboo Wooden Towel Shelf
Features of this product:
Sturdy
Easy to assemble
Creates extra floor space
Dimensions: 10″ x 23.5″ x 8″
Looks a little like a gym bar on wheels, except that it's got little wooden feet, not wheels. Still, this excellent new wooden towel rack is sure to please those of you who enjoy hanging more than towel on a towel rack. It's certainly a time and energy saver in that regard. French finished in black and honey trim but, for all of that, not edible (to our knowledge). For those who enjoy thick beach towels or blankets, this is your model. Very easy to assemble (instructions included). Similar models are available on our satin nickel towel rack page.


---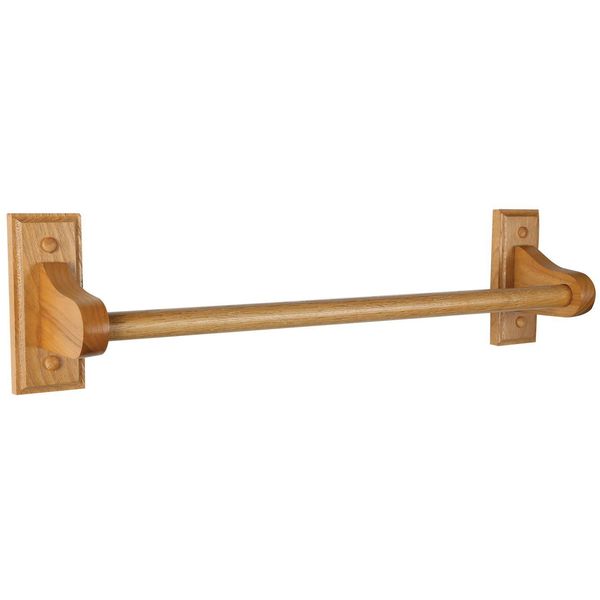 Design House Dalton Wooden Towel Bar, Honey Oak Finish
Features of this product:
24″ W x 3.54″ D X 4.92″ H
Includes standard mount with exposed screws and plugs
Warranty: One year limited
This magic cube of wooden towel racks has a charming, quizzical exterior, and a solid base of 100% guaranteed Indonesian Plantation Teak wood. It comes straight from the heart of exotic Far Asian Sumatra, straight to your humble Middle American abode. (Chorus of cats singing "We are Siamese if you please" not included, and it's a different country besides.) Impress your friends and neighbors with your exotic, cosmopolitan, tastes, and wow their towels in Arabesque splendor (except that Arabia is nowhere near Sumatra).


---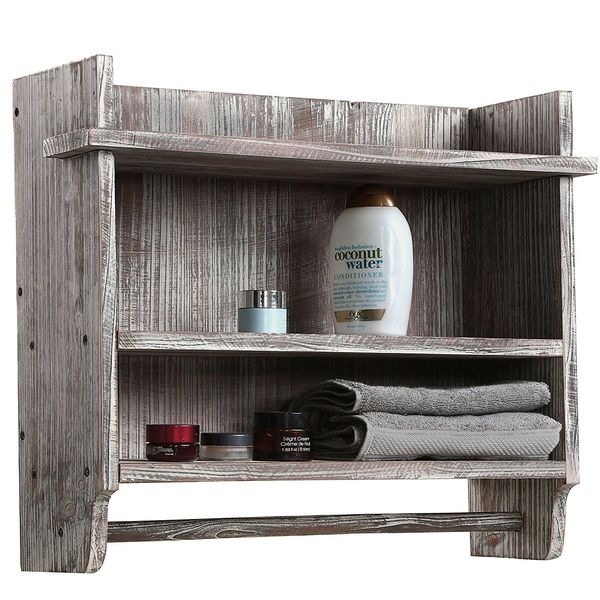 MyGift Wall Mounted Torched Wood Bathroom Shelf with Towel Bar
Features of this product:
Rustic aesthetic
3 shelves
Easily mounts to any wall
Approximate dimensions: 18.25″ H X 22″ W X 7″ D
This excellent new wooden towel rack design could almost fit on our page of unique towel racks, but for its wooden construction, which places it here. An argument could be made for either side, but one should never lose an opportunity to cross promote. In any case, it's white, it's wooden, its unique design spells out "Bath", and it hangs three towels on hooks. Also, the hooks have knobs on the end, so as to prevent towel damage. Unique design, white, wood, hooks, and knobs – what's not to love? Order a "Bath" for your Beth today!


---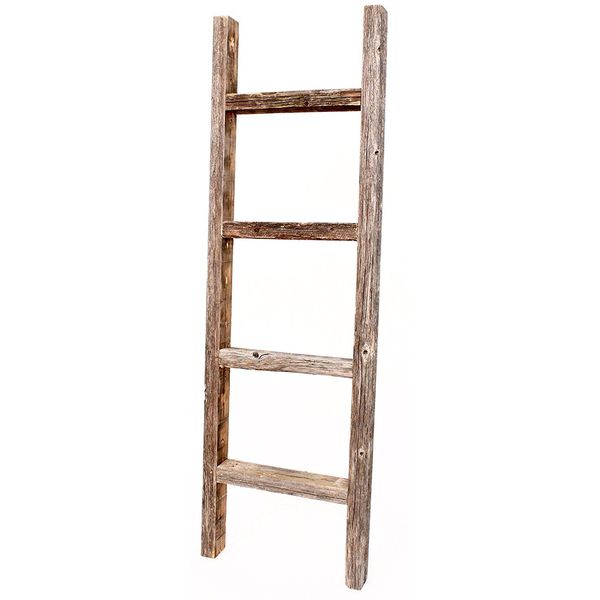 BarnwoodUSA Rustic Wooden Ladder Towel Rack
Features of this product:
Interior Dimensions: 48″ L x 12″ W x 2.5″ D
Outer Dimensions: 48″ L x 16″ W x 2.5″ D
Five rungs with 7 inches between each rung
Made of 100% recycled weathered wood
It looks almost like a birdcage, except it's open at the bottom, and Polly would end up pecking for peanuts on your wet bathroom floor, and probably keel over after devouring a stray soap bar instead. So it's probably best to use it for hanging towels rather than imprisoning innocent parrots. As shown in the picture, it's a classic, retro-styled, wooden design, which you can easily obscure for yourself by hanging a towel or washcloth over it. This wooden towel rack has a quaint, old timey feel to it, and we're sure it scares the beeswax out of budgies!


---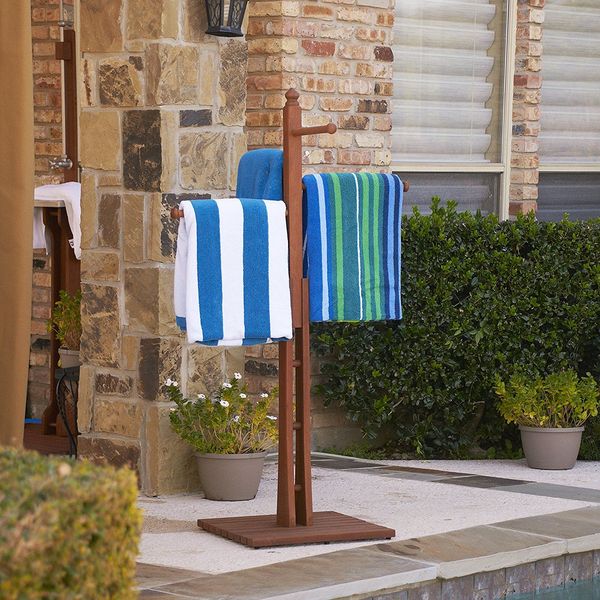 Southern Enterprises Wooden Towel Rack, Dark Brown Oiled Finish
Features of this product:
4 rungs to hang towels
Sturdy, wide flat base
Mission inspired style
Dark brown oiled finish
Overall dimensions: 31.25″ W x 23.5″ D x 53.25″ H
This wooden towel rack is a cabinet as well. In fact, it's mostly cabinet. Looks a lot like a classic, old timey radio from the 30's or 40's. Or, perhaps a bit like a pair of old Colonial era window shutters. In any case, it will add a retro-styled (that word again!) touch of class to your bathroom, and may even bring a smile to the face of your Grandpa, who'll chuckle at the memory of hiding his bootlegged hootch in the family towel cabinet. Make Grandpa smile, and make some new memories in your home with this excellent classic design!