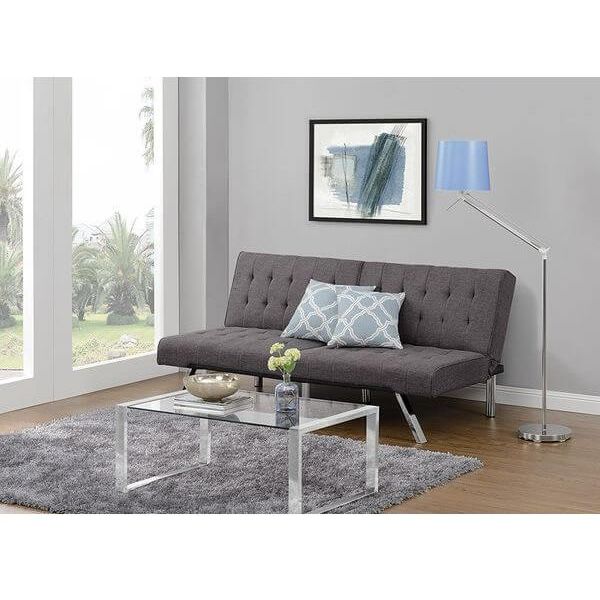 Coaster Black Metal Modern Futon Sofa/Couch Frame
Features of this product:
Modern round tubing design with armrest
Strong and durable frame
Opens up to become a full sized bed for convenient comfort
Includes only the frame
Requires Simple Assembly
Dimensions Measure: 80 1/2″L x 38″W x 30 1/2″H
If you are shopping around for a durable futon frame, this would be a great one to think about. The frame has dimensions of 80.5 inches long by 38 inches wide by 30.5 inches tall. The all black frame is rounded, which gives it a very sleek appearance. An armrest is assembled on both outer sides to use while in the upright position. When you and/or your guest is ready to call it a night, it is very easy to lower the back of the frame and go to bed. This frame offers an affordable solution to what you might pay at a furniture store.


---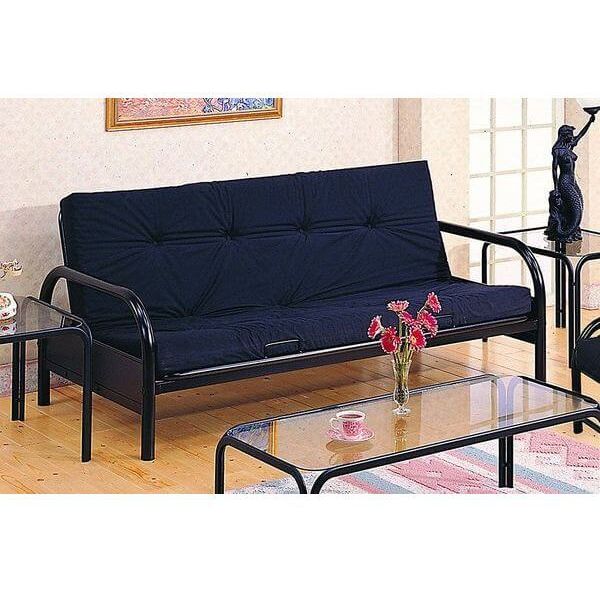 Coaster Metal Futon Frame with Silver Finish
Features of this product:
Measures 74.75″W, 41.5″d, 30.75″H
Some assembly may be required, see product details
Silver metal finish futon frame
Easily convert this sturdy and supportive futon from a couch for lounging to a comfortable bed at night
Armless style
Perhaps, you already found a great deal on a futon mattress, but you have not found a frame for it just yet. That is about to change when you take a look at this stunning futon frame, which features a shiny silver finish. This is also a great solution for those of you who would prefer to have a futon frame without the arm rests that do not serve too much good when you are sleeping. The frame is easy to switch from the couch position into a bed that will give you plenty of width and leg space.


---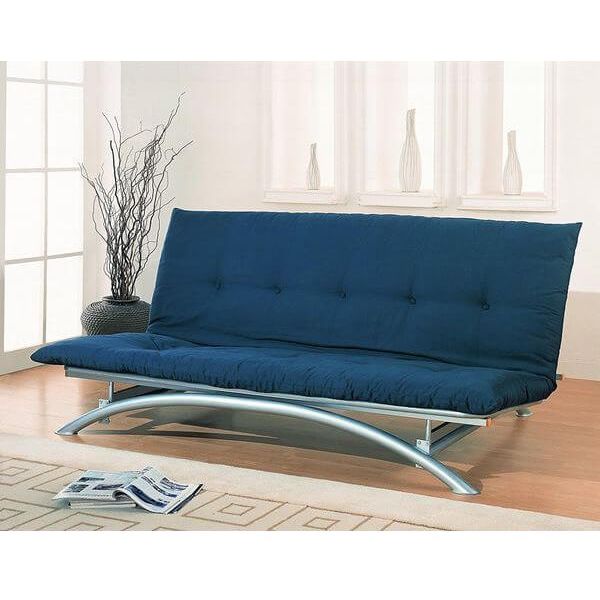 Red and Black Modern Tufted Futon Sofa Bed
Features of this product:
Red and Black color fabric cover
Dimension: 70-1/2″W x 38″D x 34-1/2″H (Sofa), 70-1/2″W x 46-1/2″D x 18″H (Bed)
Versatility of form and simplicity that will work comfortably in any setting
Conversion from couch to bed is very simple
Simple assembly is required
If you are someone who is all about style and keeping a modern look in your home, you are going to love the red and black modern sofa bed. The fabric color of this bed is primarily black in color, but the top portion is a stunning red tone. The padding is extremely thick, so you will wake up in the morning feeling as refreshed as possible. The bed is over four-feet wide, and it is about six-feet long. You will also find that it is easy to convert this from a bed back into a couch.


---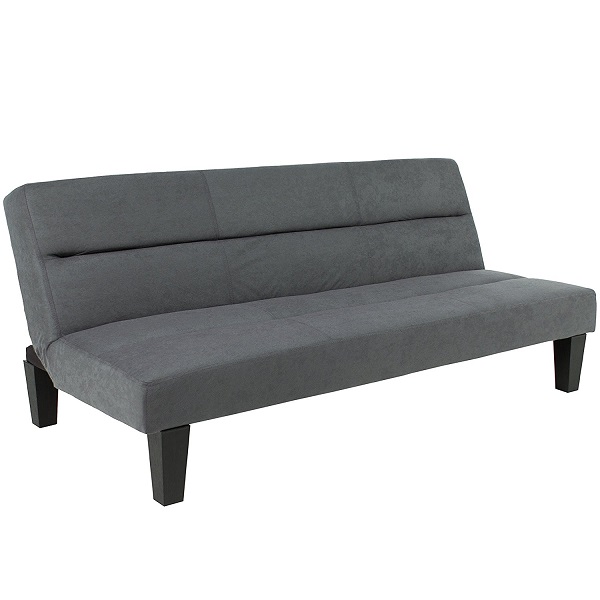 Best Choice Products Microfiber Modern Futon
Features of this product:
Soft and durable microfiber cover
Simple folding design allows you to convert from a sofa to a bed
Buying the futon frame and mattress together can save you a lot of time and hassle, and this would be a great combination set to consider. A plush mattress is included along with padded armrests, which are actually converted from the edge of the bed position. The back of the padding and the armrests are also both fully adjustable when in the seated position. The couch portion has dimensions of  79.5 inches long by 38.5 inches wide by 35.5 inches tall, and the bed measures 79.5 inches long x 48.75 inches wide and 15 inches tall.


---

Crypton Super Fabric Modern Futon
Features of this product:
Machine wash removable cover
Moisture and stain resistant
Luxurious fabric
Regardless of whether you already have a frame, or you are looking for something your guest can sleep on, on the floor for some added comfort, this would be a good choice. It is fairly simple in appearance, but the design is sure to catch the eye of you and your guests. A white base color is used, and it is complimented by very abstract black designs. The fabric used in the construction of this mattress is stain and moisture resistant. To make maintenance even easier, you should know that it features a machine-washable removable cover.


---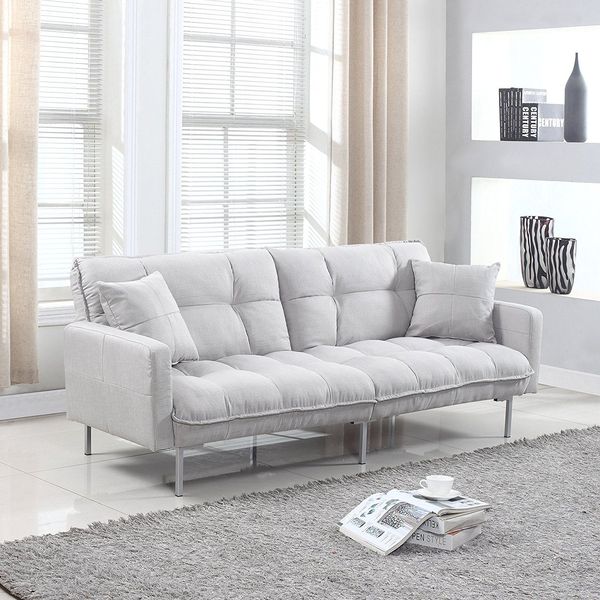 Divano Roma Furniture Collection Modern Tufted Futon, Light Grey
Features of this product:
Tufted linen fabric upholstery
Hypoallergenic fill
Dimensions: 77″ W x 31″ D x 31″ H
If abstract furniture is a quality you desire, you will really like what this modern futon has to offer. It comes in somewhat of a retro-brown shade, and it features a partially open back, which gives it the aged-appearance. However, there is nothing ancient about the features included with this piece, such as the soft fabric used to manufacture this futon. Additionally, you will love the foam padding inside of the mattress, which will make the mattress very comfortable regardless of whether you are watching movies or sleeping. This unit has room for two people.