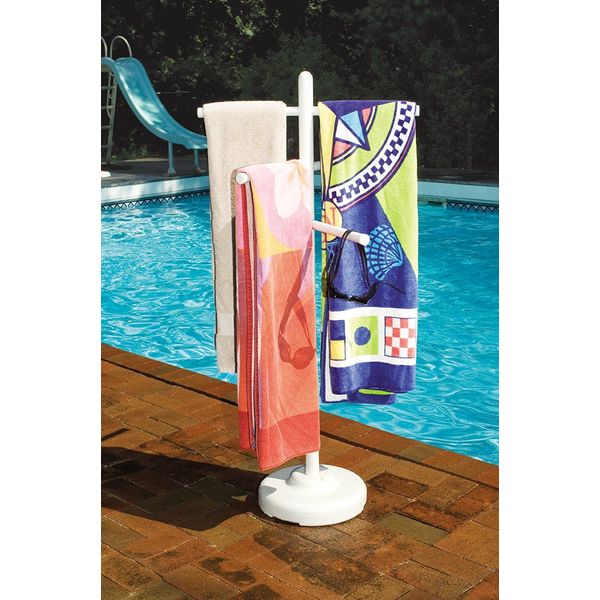 Poolside Towel Rack by Hydrotools
Features of this product:
Easy to assemble water weight table base
Keeps towels dry and handy
Great for storing masks and goggles
Nice white color means it stays cool in the sun
It's the Hydrotools outdoor towel rack! It sits by the pool, and it racks up towels. Granted, it'd be best if you kept it to racking up your own poolside towels and not the property and undergarments of friends and strangers, but a simple inanimate object can't be expected to observe social conventions by itself. It's made of plastic, and its four racks hold plenty of towels, ski masks, and goggles, in addition to the (hopefully not soon to be pilfered) property of poolside relatives and friends. Thou shalt not pilfer by the pool!

---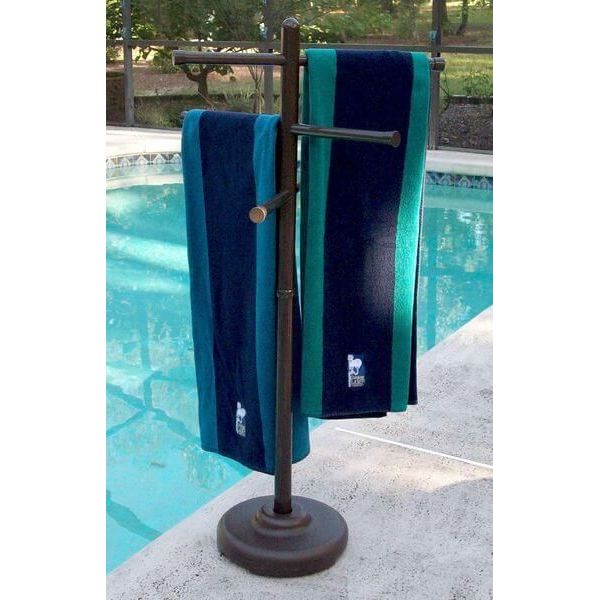 Bronze Outdoor Spa and Pool Towel Rack
Features of this product:
Comes in white, beige, or the new metallic bronze
portable outdoor towel rack
It stands 50″ tall and has (3) 24″ adjustable crossbars.
This towel rack is made of high quality furniture grade plastic, so it will not rust, crack, discolor, or rot like the other towel racks.
13″ weightable base provides excelent stability (fills easily with water)
Yep, it's bronze, and comes in handy as a third place consolation prize for those who fail to score with you by the poolside. Still, for those who loved and lost, this beautiful bronze pool tool rack will make an excellent conversation piece and keepsake. Hopefully, this will be because you've graciously allowed them to cart it off with them, rather than committed any unsavory acts with it, but what you do at your own poolside is entirely your own business, and well beyond the scope of an advertisement website. Keep cool by the pool, kids!

---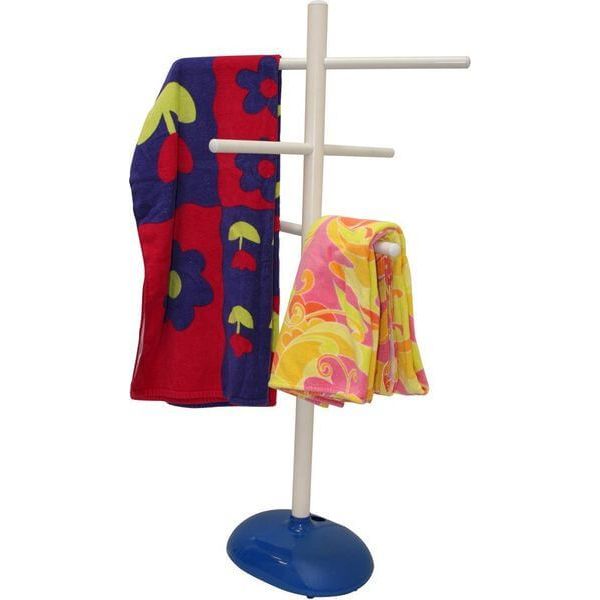 Poolside Towel Tree by Poolmaster
Features of this product:
Portable handy poolside towel holder
Conveniently hang wet or dry towels and swimsuits
The noncorrosive PVC construction is completely weatherproof
49-inch tall tree has three 24-inch bars divided into 6 sections
Fill base with sand for stability; base measures 15 by 11 inches
No Christmas in California, especially in June? Perish the thought, Santaholics! This outdoor towel stand by Poolmaster can easily remedy your homesickness for the holidays, by bringing a semi-reasonable semblance (assuming you squint a lot) of the classic Christmas tree directly to your poolside! It comes with four handy branches, upon which you can hang all of your towels, pool cleaning accessories, and other gifts of the season for all of your friends and family! Merry Christmas, and a partridge in a Poolside Towel Tree!

---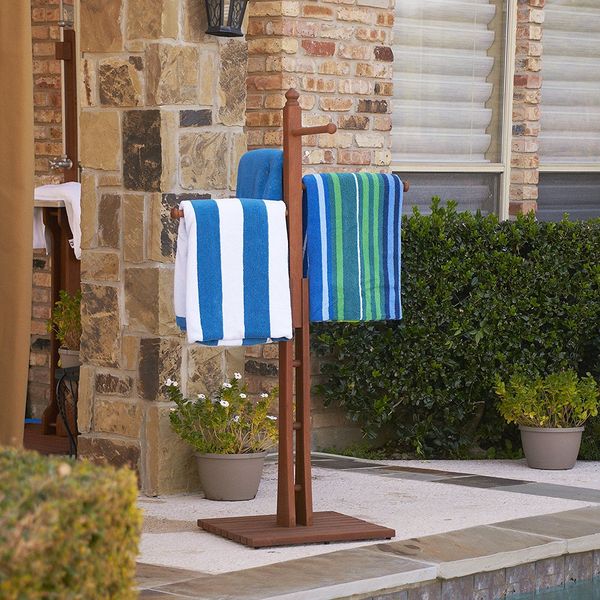 Southern Enterprises Mission-Style Pool Towel Rack, Dark Brown Oiled Finish
Features of this product:
4 rungs to hang towels
Dark brown oiled finish
Overall dimensions: 31.25″ W x 23.5″ D x 53.25″ H
Materials: weather resistant hardwood;
Supports up to: 5 lb. (per rung)
Give your traditional bathroom more storage options without conflicting with its existing design style with the Southern Enterprises Mission Towel Rack. This wooden rack features four rungs to hang your towels and has a handsome dark brown-oiled finish to warm up any space.

---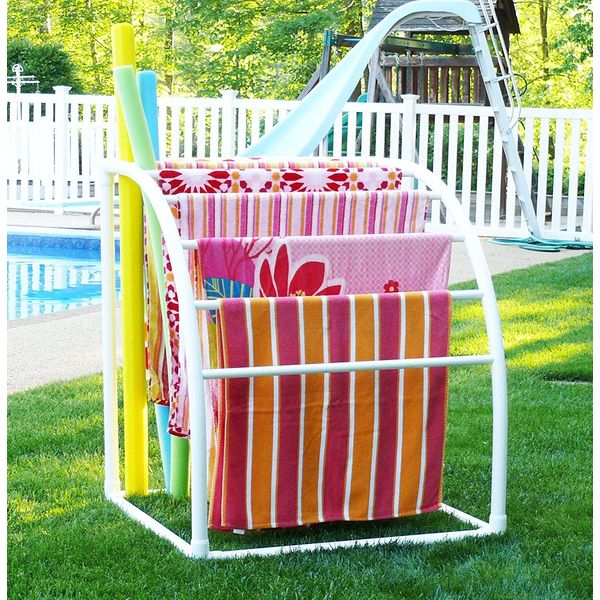 TowelMaid Curved 7 Bar Freestanding Outdoor Poolside Towel Rack
Features of this product:
Large base ensures stability
No sand or weights needed
Beautiful, glossy furniture-grade PVC
Made in the USA
Dimensions: 37.5″ W x 44″ H x 37.5″ D
Make it easier to dry your towels and bathing suits outdoors with this TowelMaid Curved 7 Bar Freestanding Outdoor Poolside Towel Rack. The rack comes with seven rungs for hanging the wet towels and features a heavy-duty base that won't tip over with the weight.

---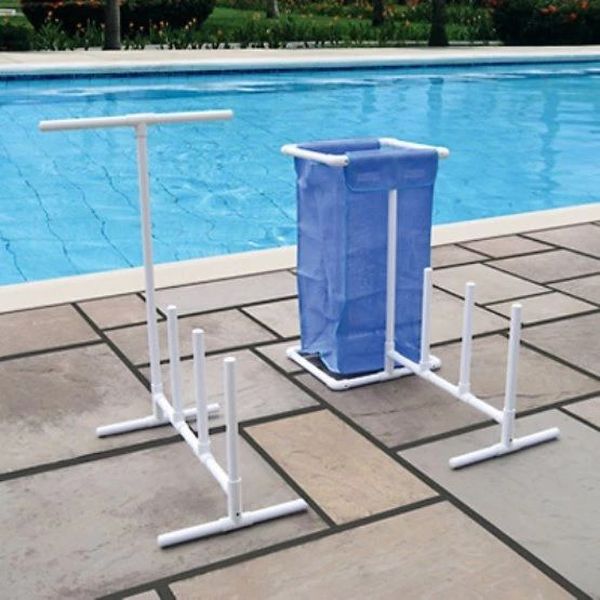 HydroTools by Swimline Poolside Organizer
Features of this product:
Stores floats, toys, balls and towels
Made out of non-corroding PVC
Assembles in minutes
Dry your towels, hang fresh towels, store dirty towels, bathing suits and more, all with this HydroTools by Swimline Pool Side Organizer. The organizer comes with several rungs for hanging items as well as a fabric basket that allows you to easily collect wet fabrics.

---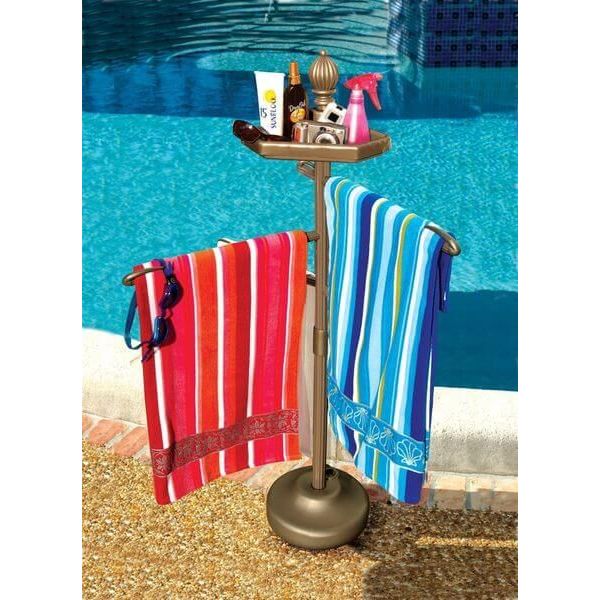 Bronze Outdoor Towel Holder
Features of this product:
Neatly holds wet towels, bathing suits and miscellaneous pool accessories.
Includes swivel accessory tray.
Three 24″ adjustable towel bars.
Six towel clips to keep your towels from getting blown away!
PVC construction is extremely durable, weather resistant, and light weight which makes it easy to move
This excellent new Bronze Outdoor Towel Holder and Spa Valet can be your very own personal Jeeves. It will hold your personal towels, poolside accouterments such as snorkel masks, and all of your spa gear as well! Just drape a few towels on one of its branches, and hop in, secure in the knowledge that your precious poolside accessories will all be waiting there for you when you return. Its sturdy PVC construction may even have you firing your maid or mistress in favor of someone who won't complain about being "objectified"!

---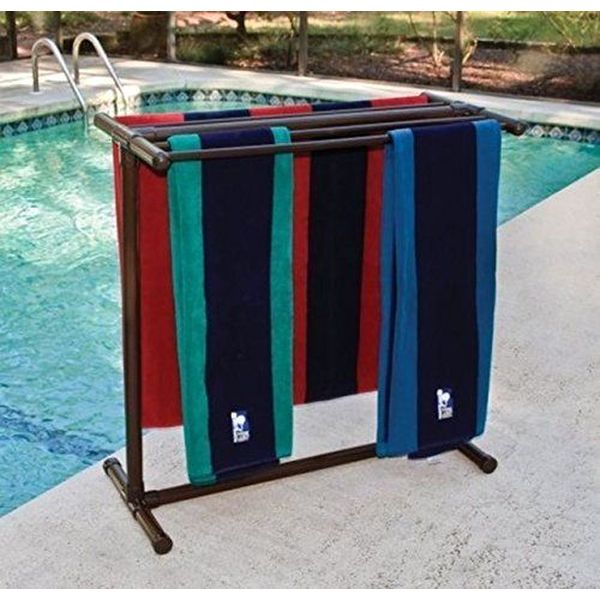 Portable 5-Bar Bronze Outdoor Towel Rack by Outdoor Lamp Company
Features of this product:
Large base provides excellent stability.
Packed 1 per box / 4 per master carton.
Counts as 1 case.
Color: Bronze.
Size: 40 T x 40 W x 18 D.
Hang your wet towels out to dry without creating an eyesore by your pool with this Outdoor Lamp company Portable Outdoor 5 Bar Towel Rack. The towel rack comes with five different rungs for hanging towels and is made with a stable base that won't tip with the weight.