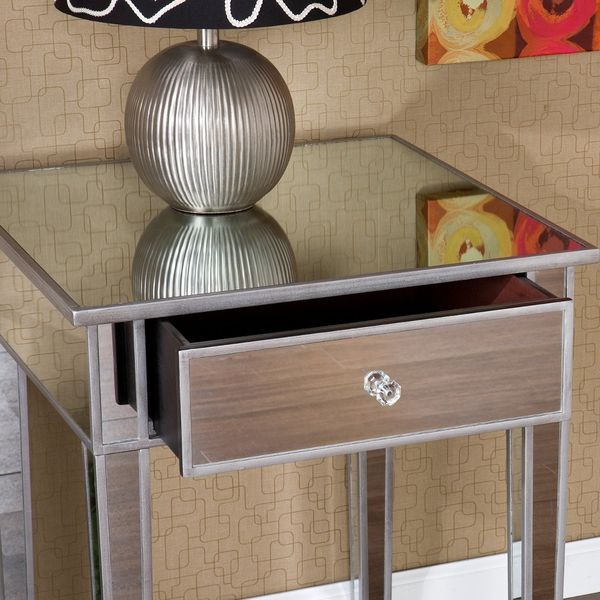 SEI Mirage Mirrored Nightstand
Features of this product:
Mirrored finish
Painted silver wood trim
Drawer dimensions: 15″ W x 15″ D x 5″ H
Full dimensions: 23.75″ W x 23.75″ D x 28.75″ H
Here is a nightstand which truly REFLECTS the style of your current home décor! This gorgeous mirrored nightstand by SEI is made from high quality materials engineered to a high standard. This unit features a spacious 15″ x 15″ x 5″ drawer which helps keep your room feeling uncluttered by storing your books, glasses or other accessories you don't want left lying around. The cosmetic grade mirrors are accented with a sleek silver trim that does not take away from the style and grace executed with this stunning design. Planning to move or redecorate in the future? Then you've finally found a piece of furniture which won't have to be replaced under even the most drastic of changes!


---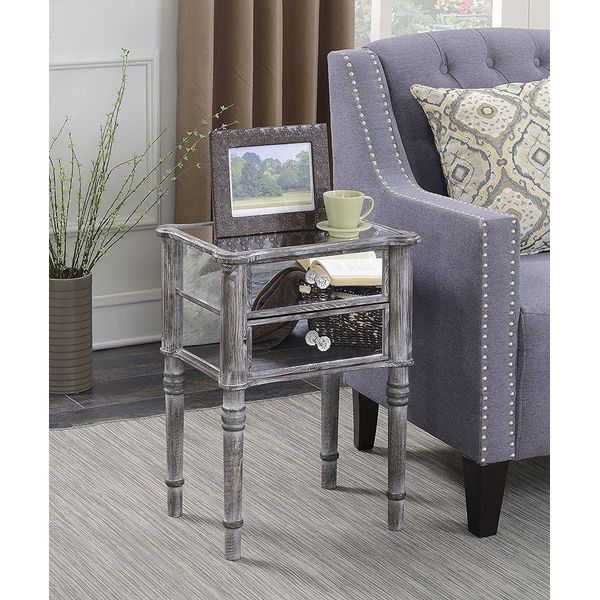 Convenience Concepts Gold Coast Collection Mirrored Nightstand, Black
Features of this product:
Available in multiple finishes
Mirrored accents
Spindle wood legs
Two drawers for concealed storage
If you're looking for either an upgrade from the mirrored nightstand, or a furnishing that can compliment it's unique and eye-catching style, look no further than the Mirage Mirrored Cabinet. This luxurious cabinet features two 10″ x 10″ x 5″ drawers above two large 17″ x 11″ x 12″ cabinets to keep all your valuables or necessities out of sight and out of mind. This unit uses extremely high grade mirrors accented with silver stripping. These mirrors are so high grade, in fact, that some customers have emailed us asking about the wood paneling on the front. What you see in the photo is actually a reflection of the floor!


---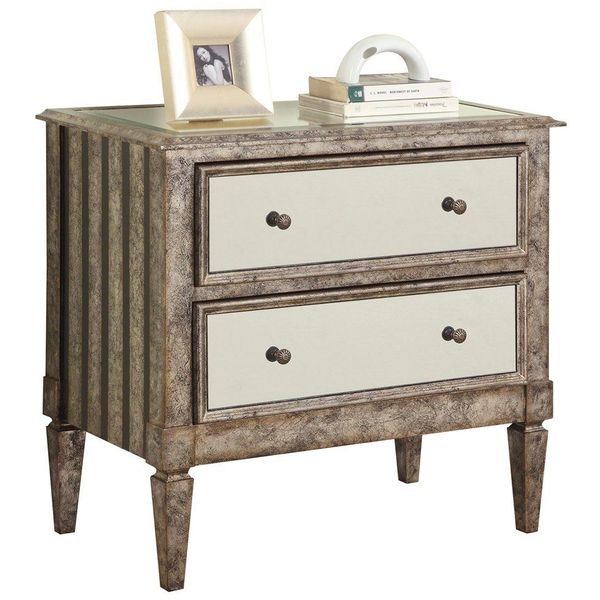 Powell Antique Silver and Black Crackle 2-Drawer Mirrored Nightstand
Features of this product:
Stylish, mirrored design
Perfect for any entry or hall space
"antique silver" and "black crackle" finish
Two deep drawers provide ample storage space
Fully assembled
Looking for a nightstand that compliments the unique, classic interior of your home without looking dated? This Silver and Black "Crackle" design nightstand will look great in any room with vintage or Victorian styling. The design on the trim is reflective of carved stone, and provides a warm, inviting design that is reminiscent of the late 1800s. Meanwhile, the mirrored finish on the drawers provides a sleek, modern touch that just seems to pull the design together into a fantastic little unit that will look great in a wide range of 21st century homes.


---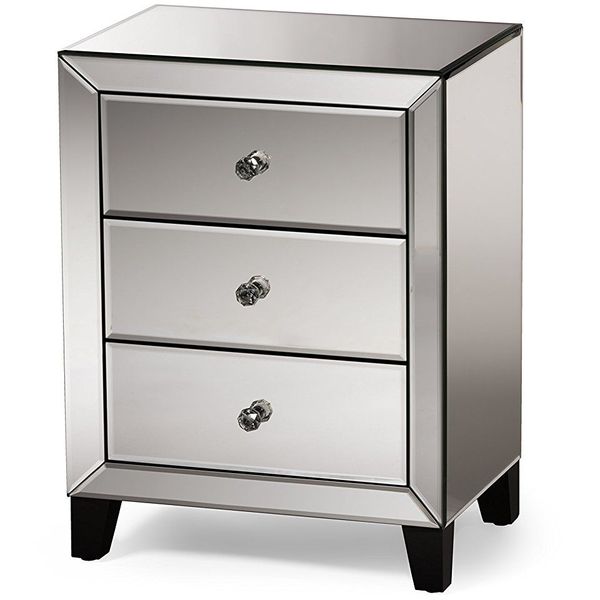 Baxton Studio Chevron 3-Drawer Mirrored Nightstand
Features of this product:
Materials: MDF and mirror
Crystal handles
Beveled mirror
Dimensions: 9.2″ x 14.4″ x 5.5″
No assembly required
For those who like to decorate, this tanner black mirror table is for you. The stark contrast between the sleek black structure and the clean white paneling provides a design that is both pleasing to the eye and yet does not take away from it's surroundings. The mirrored finish on the bottom can draw the eye towards decorative items that usually wouldn't get much attention so low to the ground, and also helps make a room feel as though it has more "Depth" or space.


---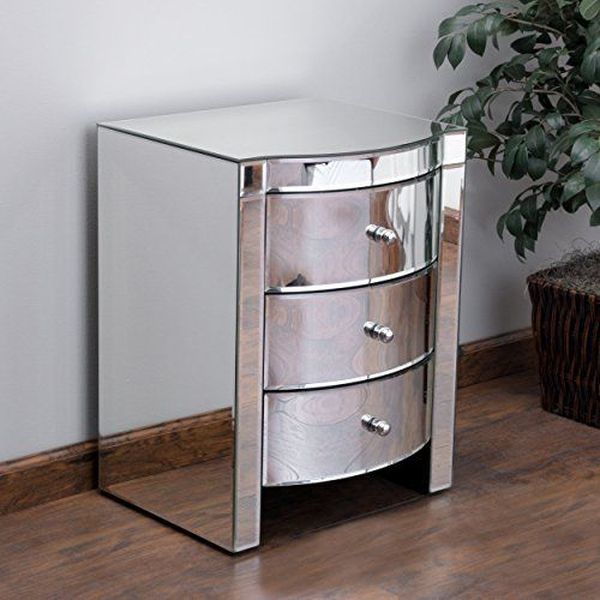 Great Deal Furniture Jacinda Mirrored Accent 3-Drawer Nightstand
Features of this product:
Dimensions: 18.5″ L x 16″ W x 24.4″ H
Round 3-drawers for storage
Constructed with a mirror finish
This Wilton Mirrored Accent Table is a charming way to "fill out" a room. This particular night stand features a strong, bold Victorian design that doesn't compromise function by including two full size drawers. Placing these drawers on the top makes it easy to access your items without having to bend down, and they extend fully to ensure that you can efficiently use all of the storage space provided by them. This unit stands tall at 30" high by 20" wide.


---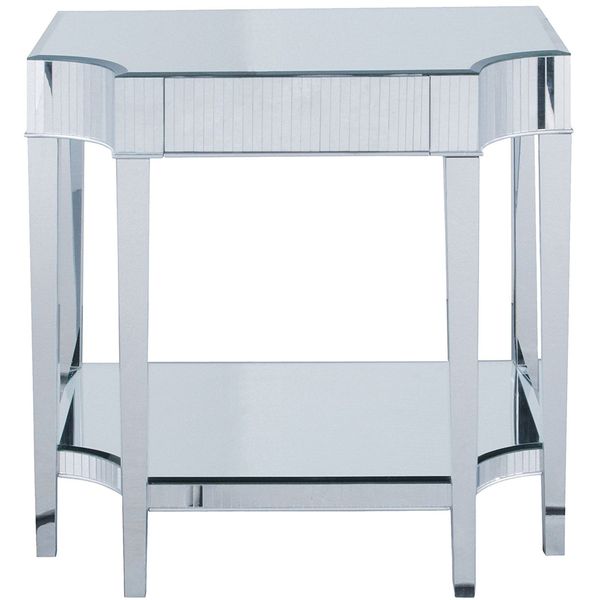 Sterling Art Deco Style Mirrored Nightstand
Features of this product:
Beveled mirror top
Large lined hidden drawer
Available in a acrylic finish
Made from hardwoods, glass, acrylic and other wood products
Dimensions: 28.25″ W x 20″ D x 28″ H
This compact night stand takes it's inspiration from the silent movie era. This unique conversation piece has nearly every side of it covered with mirrored glass! The smooth curves work very well with the mirrored finish to provide a sense of tasteful grace that would complement the interior or any modern styled room in a manner that very few pieces of furniture can do for the money. This is a compact unit, and would work excellently with complimented with a lamp or decorative plant.