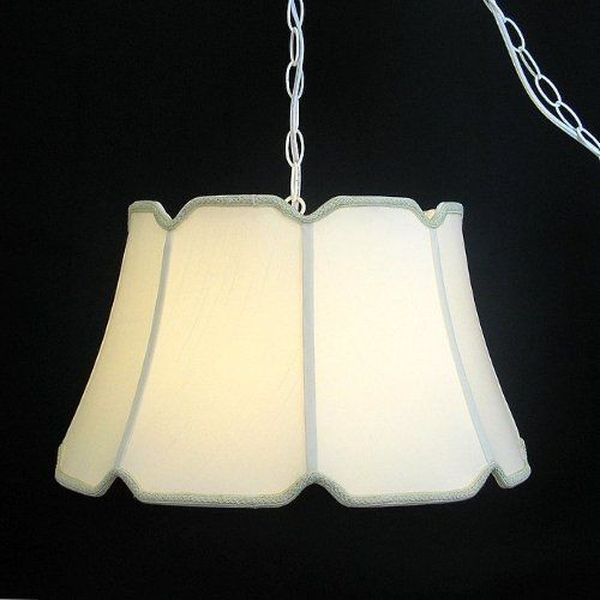 Egg Silk Swag White Chain Hanging Lamp
Features of this product:
Silk Eggshell V Notch Swag Lamp
Dimensions: 13 x 19 x 11. It has a
White 15ft white chain and
18 ft cord with an inline switch connected to it
Plugs into a standard 120V Wall outlet where ceilings have no existing electrical supply
If you are looking for a simple lamp you can hang from your ceiling to avoid the hassle of running electrical wiring to an ordinary ceiling light, you should consider this lamp. The lamp gets its name from the cracked egg shell appearance its shell has. An 18-foot cord is attached, which makes it easy for you to connect it to a 120-volt outlet practically anywhere within the room. You will really enjoy the inline switch, which is conveniently connected to the cord, so you will never have to grab a stool or chair to turn the light on or off again.



---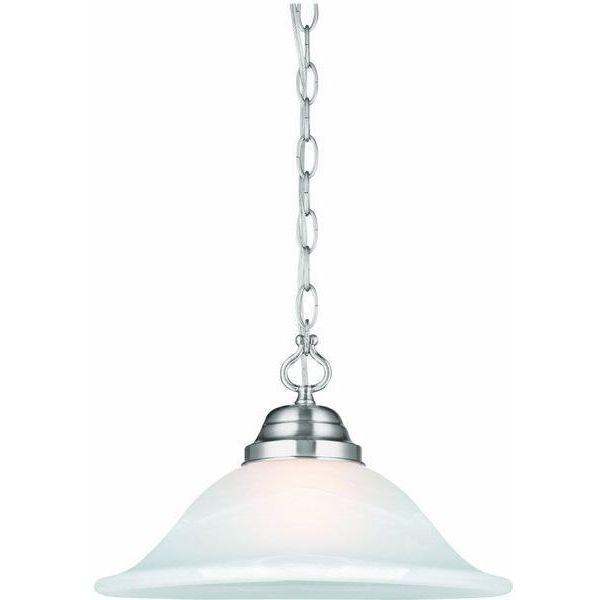 Design House 1 Light Swag Light Fixture
Features of this product
9-Inch high, 15-Inch width
Hang from ceiling; plug to outlet
18′ chain, 20′ cord & plug
Uses one 100 watt M base bulb
Satin nickel finish, Frosted white glass
Here is another lamp that would look great hanging from any ceiling within your home. It features a round-shaped shell, which is constructed from a gorgeous frosted glass. The light is about 9 inches high and about 15 inches wide, so it will provide you with plenty of light without overpowering other decorations in your home. The chain is constructed from satin nickel, which gives it a very rich and shiny appearance that you will be sure to love. Finally, you will find that the 20 foot power cord makes it extremely easy for you to have enough to reach the closest 120-volt wall outlet.


---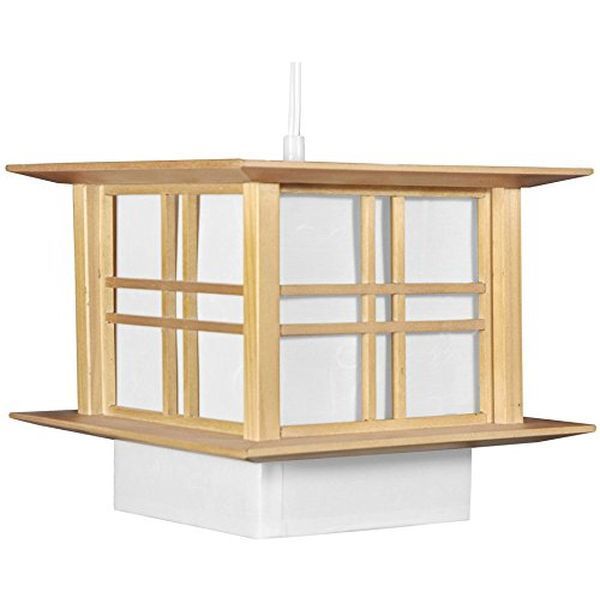 10-Inch Akida Japanese Wood & Paper Electric Light Shoji Lantern
Features of this product:
8″ H x 10″ Sq. – Choose Black, Honey, Natural, or Rosewood – Durable 4 Coat Sealed Finish
Premium Material – 100% Kiln Dried Scandinavian Spruce – Fiber Reinforced Pressed Pulp Rice Paper
UL Approved Wiring, Socket, & Switch for Up to a 60 Watt Bulb – Ships Fully Assembled
Ships Next Business Day, Pro. Packed & Insured from Boston via FedEx – Expedited Deliv. Available
If you like the idea of having a ceiling lamp, but you do not want to hassle with running the electrical wires through the wall and ceiling, and you want to have something a little more elegant, you have to consider this lamp. This anything-but-ordinary lamp looks almost like a bird house with its kiln wood casing, and the actual light bulb casing inside of the wooden housing. You will have four color options to choose from, which are natural, honey, rosewood and black. The lamp can hold up to a 60-watt bulb, which is perfect for any average-sized room.



---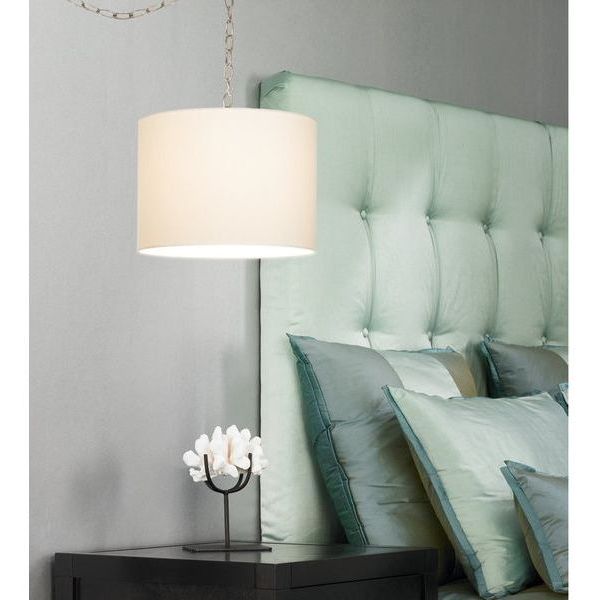 Upgradelights White Linen Drumshade Swag Lamp
Features of this product:
Dimension: 13 inch top diameter, 16 inch bottom diameter, 14 inch height
Plugs into any wall outlet
2 wall/ceiling hooks and in-line switch for easy installation
Lamp kit comes with 16 feet of chain and 18 feet of cord
Solid nickel spider on top
Here is another great option for those of you in the market for a chandelier to consider. You will find that this lamp is shaped like a traditional lamp with the tube-style casing. With that being said, the chain and the lamp's shade really add a lot of touch to the appearance of this lamp. The chain features a chrome finish. You will find that the lamp is just about the right size for your bedroom, or any room really, with its measurements of 13.5 inches wide and 10 inches tall. A 100-watt light bulb is recommended with this lamp.


---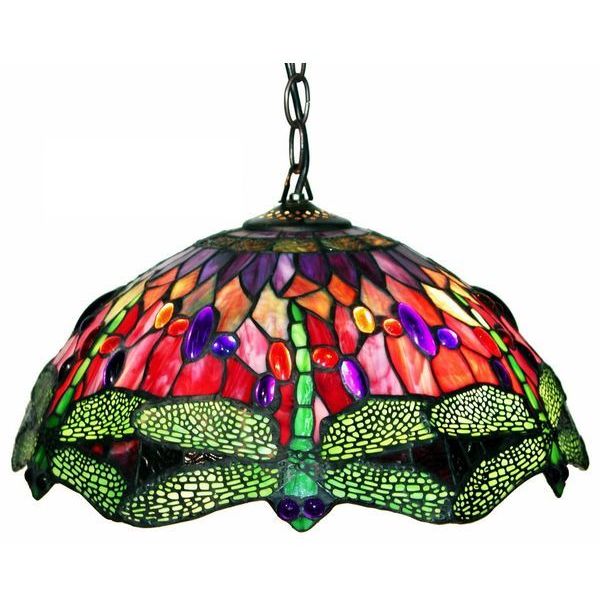 Tiffany Style Dragonfly Red Hanging Lamp
Features of this product:
Colors include red, green, and purple Colorful lamp
Features more than 240 pieces of cut glass and 60 jewels
Each glass is wrapped around copper foil and soldered together
Requires two 60-watt light bulbs (not included)
Lamp shade measures 16 inches in diameter
Chain measures 27 inches long
Handcrafted
If you like the look of Tiffany Style lamps, why not get one for your ceiling, too? This Tiffany Style Dragonfly lamp would be a great one to consider because of its ability to set off the appearance of any room in your home. The bottom section of the lamp shade features green butterfly wings that run parallel to each other. The middle and top sections feature vibrant color patterns, which are shaped to look like a butterfly's midsection. Over 240 pieces of cut class and more than 60 jewels are used to sculpt this stunning lamp.


---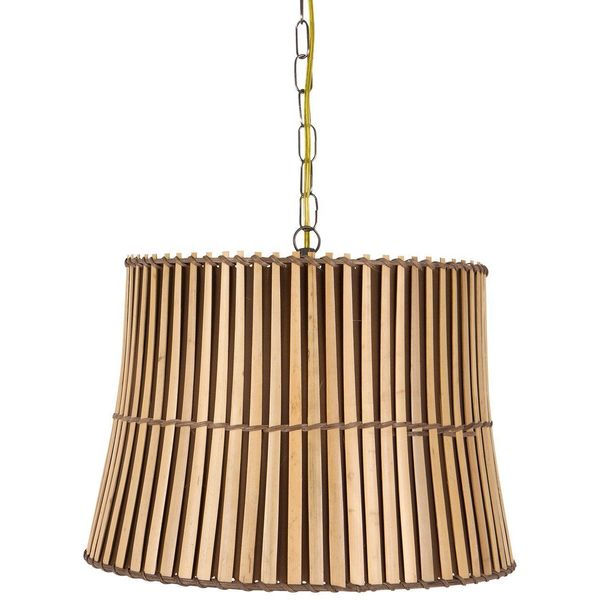 Upgradelights Bamboo Swag Lamp
Features of this product:
Dimensions: 13″ x 16″ x 11″
Swag/plug-in light for simple installation.
Includes 16 feet of antique brass chain, 18 feet wire cord with in-line switch and 2 wall/ceiling hooks
Carefully woven with wicker braiding
Highly durable hand woven design and heavy gauge frame
If you want a ceiling lamp that looks like it was from a royal palace, you have to check this awesome lamp out. This lamp is constructed from Bavarian dark gold fabric, which is what gives it its truly exotic shape. It all features hand-painted accents around its lamp shade, which puts the finishing touches on an already-gorgeous lamp. The lamp weighs just less than 8 pounds, so you will easily be able to complete the installation process by yourself, which is not the case with all ceiling lamps. To make things even better, it is 20 inches wide, which form a happy medium between providing enough light and not taking up too much space.