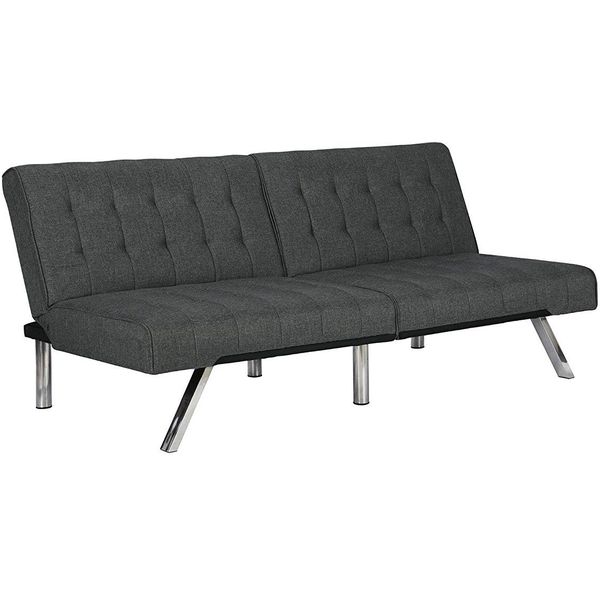 DHP Emily Modern Click Clack Futon, Grey
Features of this product:
Squared tufted design
Slanted chrome legs
Split-back adjusts to suit your needs from sitting to lounging
Easy assembly
Weight limit: 600 lb
If when looking for a futon convenience and a modern style are your two biggest selling points, you should consider this frame and mattress futon set. The mattress itself is constructed from microfiber, and it is extremely thick. In fact, you will swear that this has to be an ordinary mattress off a bed. The frame is constructed from a combination of hardwood and metal, which gives it the utmost amount of durability without sacrificing style. The tufted back and set give this set an even more sophisticated look that makes you want to drop it in the shopping cart now.


---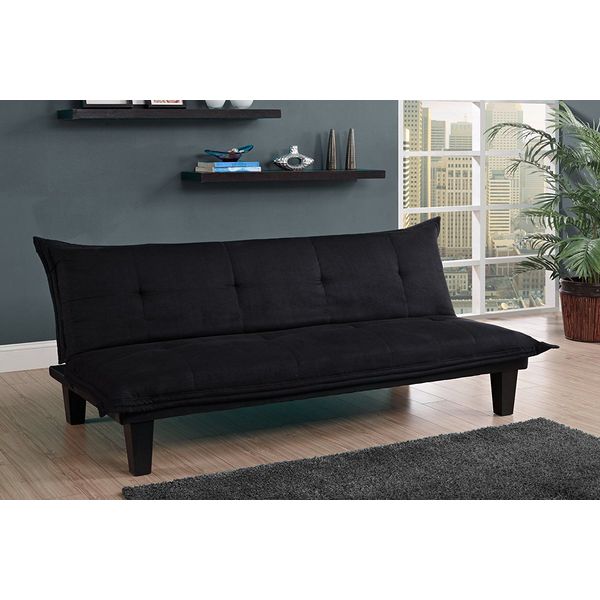 DHP Lodge Convertible Click Clack Futon, Black
Features of this product:
Lush microfiber upholstery,
Extra-padded seats
Multi-position back
Dimensions: 71.5″L x 35″W x 32″H
If you are looking for a futon that your guests will never believe is truly a futon by taking a brief glance at it, this would be a great one to check out. The tan color and tufted back and seating area of this give it a very class appearance that will leave you with plenty of compliments from your guests. You will also enjoy the microfiber material that is used to construct the actual mattress portion of this unit. The comfortable dimensions of over 6-feet long by three feet wide and deep will give you plenty of room to move around.


---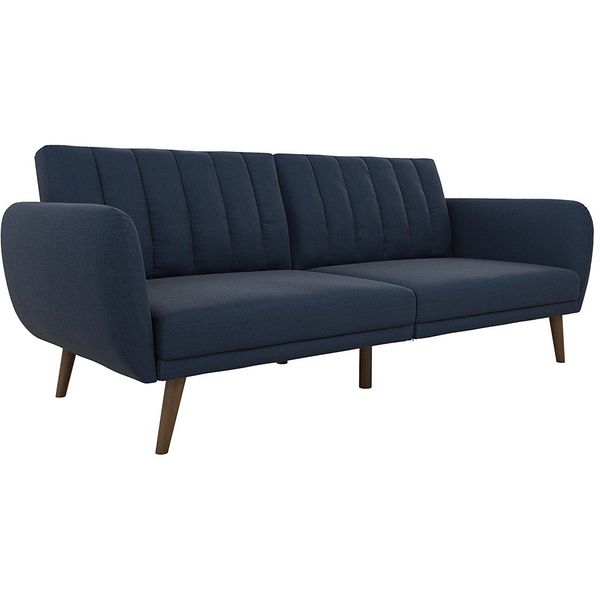 Novogratz Brittany Click Clack Futon, Blue Linen
Features of this product:
Ribbed tufted cushioned back
Polyester and foam filling
Slanted oak colored wooden legs
Easy to assemble
Weight limit: 600 lb
The coaster click clack futon sofa bed has a modern appearance  to it, yet it is still far from being gaudy, so if you like simple and modern, this could be the one for you. The mattress is constructed from microfiber, which is great about absorbing moisture, and it is also very comfortable to sit or lie on as well. The two pillows included with this unit also double up to serve as very plush arm rests, but do not be surprised if you find that it becomes a little harder to get your guests to leave.


---

Black Microfiber Klik Klak Futon With Adjustable Back
Features of this product:
Black Microfiber Futon With Adjustable Back
2 Position Function,
Sturdy Black Legs
Dimensions: 65″ L X 32″ D X 31″ H.
If you like more of the one piece look with futons, you should give this one a shot. You will find that the black mattress combined with the black frame make this look like the two are connected a little better than other futon sets. The mattress on this frame is still constructed from the ever durable and comfortable microfiber material that many other modern futons feature. Finally, the adjustable back will give you plenty of support, and it will adjust to the angle you are looking for regardless of what you are using the futon for.


---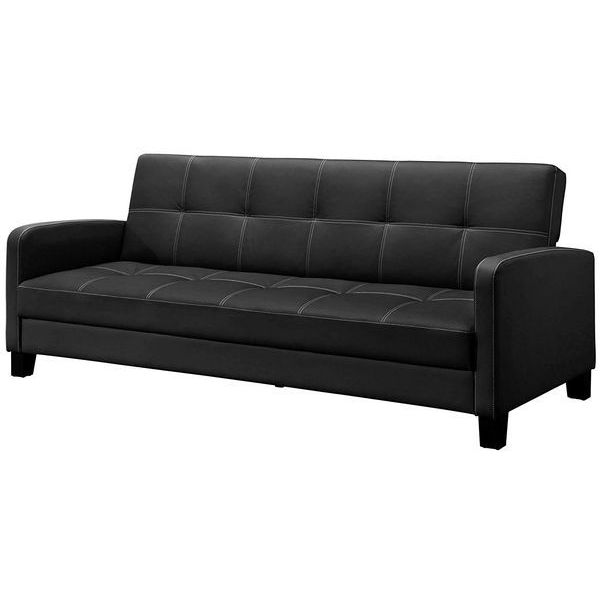 Monarch Specialties Tweed Fabric Click Clack Futon in Chocolate Brown
Features of this product:
Chocolate brown tweed fabric
Great for apartments, condos, or spare bedrooms
Wood base and
Tapered legs and
Plush back cushion
Finish: Chocolate Brown
This futon features a classic look, but it still features many of the modern amenities that you demand out of today's futons.  The base is constructed from a dark-brown wood, which gives it the classic look you desire, yet it will still give you plenty of support for years of use. The cushioning is extremely generous, so sitting or sleeping on this futon will not leave you with a strained back as many futons from a few years ago would have done. This is one futon that would look great sitting in your front room.


---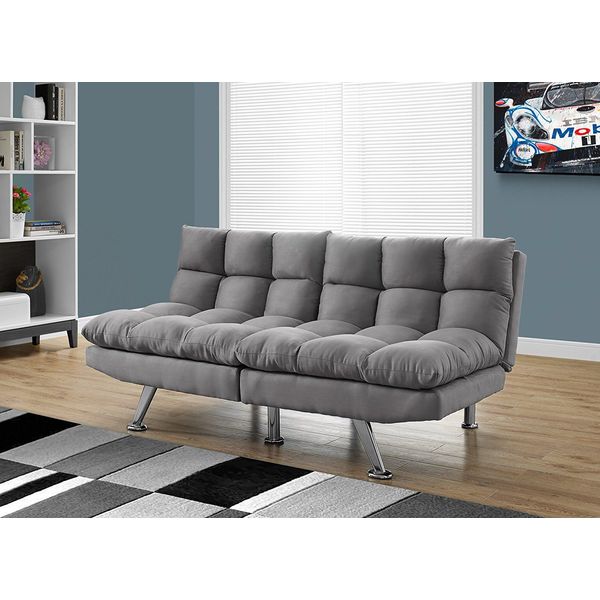 Monarch Specialties Split Back Click Clack Futon, Light Grey
Features of this product:
Dimensions: 70″L x 42″W x 19″H
Split back design allows for multiple positions
Easy to use click clack mechanism
Quickly and easily converts to an extra bed
Generously padded for maximum comfort
If you want to turn your house into that of a celebrity, you could start with this elegant looking futon. This futon is constructed from 100% black leather, which give it a feeling that is second to none, and it gets even better when you realize just how thick the cushion truly is. Of course, the other advantage to it being leather is the fact that it is spill resistant, so you will never be faced with that awkward moment of an over-apologetic friend after they spill a drink on your new futon.