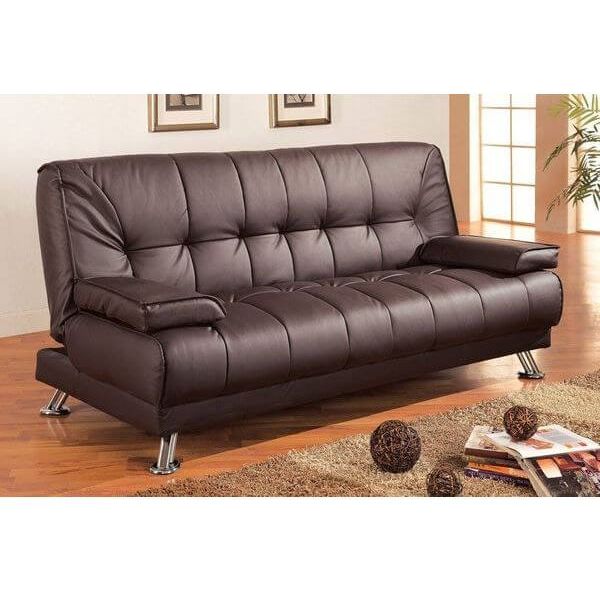 Coaster Brown Leather Futon Sofa Bed
Features of this product:
Dimensions: 76 1/2″L x 36″W x 36 1/2″H
Brown Finish
Removable Arm Rests in Brown Vinyl
Features brown vinyl with removable arm rests and metal legs.
Soft cushion seat and back for more extra comfort
Assembly required
What could possibly be better than the practicality that all futons already have to offer? A futon that is constructed from leather, of course. This futon features a dark brown color, and it is constructed from vinyl. Comfortable arm rests and a generous amount of padding are used to make this a comfortable place to chill out and watch TV or even use it as a spare bed. The measurements for this futon are 76.5 inches long by 36 inches wide and 36.5 inches tall, which is the top of the futon's back. What a great buy for the price!


---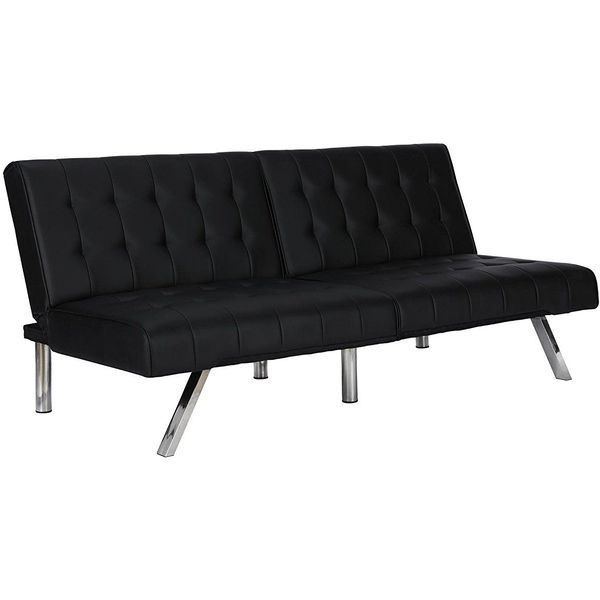 DHP Emily Modern Convertible Futon, Black Faux Leather
Features of this product:
Tufted faux leather upholstery
Folded dimensions: 71″L x 34″W x 32″H
Sleeping dimensions: 71″L x 43″W x 16″H
If you have been looking for a leather futon that is full of features for a reasonable price, this would be a great one for you to consider buying. It has plenty of room thanks to its 70 inches long by 37 inches wide by 34 inches tall dimensions. To make the deal even sweeter, you are going to love the adjustable back on this futon, which allows you to sit or lay in three different positions. A metal frame and mattress are included together in the set, so you will be paying one price for a must have futon.


---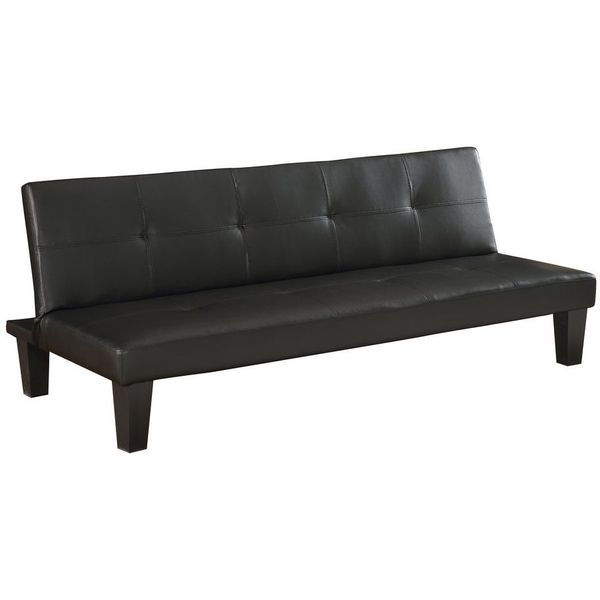 Homegear Modern Faux Leather Futon, Black
Features of this product:
Faux leather material
Wooden frame
Black plastic sofa feet
Three positions: bed, sofa, recliner
Minimal assembly required
If you are looking for a simple, yet modern futon, this is one you have to consider. Black in color and featuring a tufted appearance, this futon will look great anywhere in your home. Whether you are using it as your couch and bed in your studio apartment or offering it as a guest's sleeping quarters, it is an absolute steal. The leather is extremely comfortable, and it does not have arm rests, which can be a pro or a con depending upon how you look at it. The legs top off the traditional futon look.


---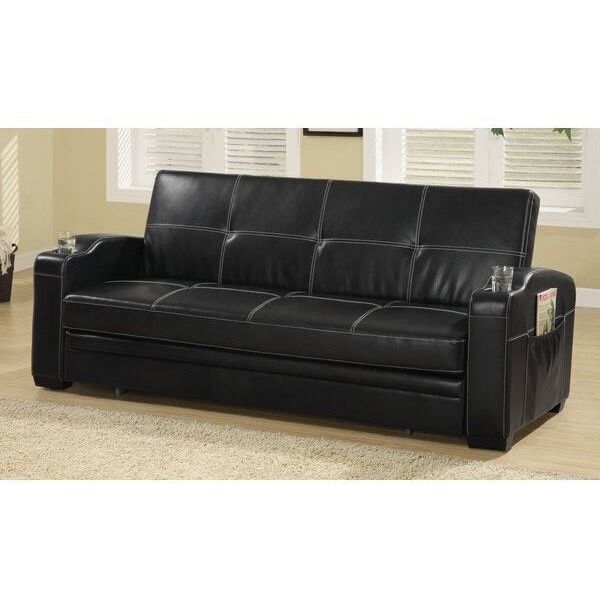 Black Faux Leather Sofa Bed w/ White Stitching by Coaster
Features of this product:
Casual contemporary sofa bed
Luxurious black faux leather with
White accent stitching, this sofa will create a bold look. Perfect for lounging by day, the deep seat and
High back cushions will keep you comfortable,
Framed by curved track arms with
Convenient storage pockets for magazines and remotes, and cup holders too
If you are looking for a futon that looks like leather and feels like leather, but you do not want to pay the leather price, here is a bargain for you. This futon has a very modern appearance to it, thanks to the perfect-sized arm rests and plenty of cushioning to keep you comfortable. Cup holders will allow you to have easy access to your drinks while watching a movie. Finally, the high back with plenty of padding will make your entertainment efforts go that much smoother. This is one futon that you will be sure to impress many people with.


---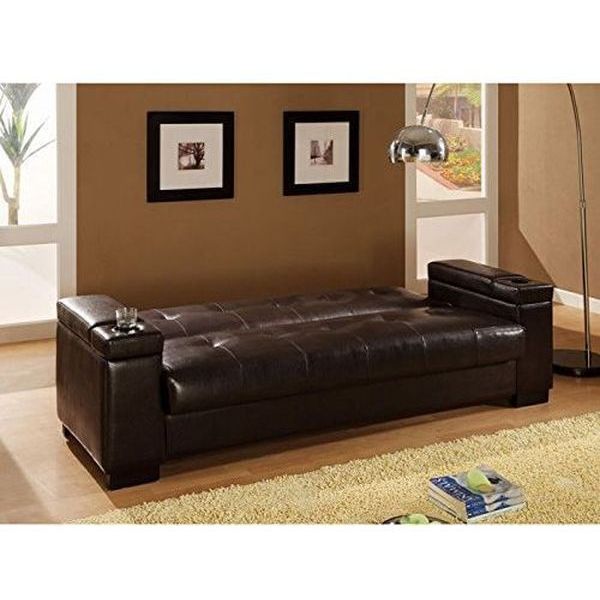 Futon Sofa Bed with Storage Space in Dark Brown Bycast Leather
Features of this product:
Sofa: 90″L x 36 1/2″W x 32 1/2″H
Sofa Bed: 90″L x 46″W x 24″H
Finish: Dark Brown
Material: Bycast Leather, Wood
If you want a futon that looks a little more sophisticated, and you like dark-brown leather, this one just might be perfect for you. This is constructed from high-quality wood and bycast leather. You will find that it has plenty of room when used as either a couch or a bed. When used as a couch, the dimensions are 90 inches long by 36 ½ inches wide by 32 ½ inches tall. When you lay down to go to sleep, you will have even more room to work with as it will now measure 90 inches long by 46 inches wide by about two-feet tall.


---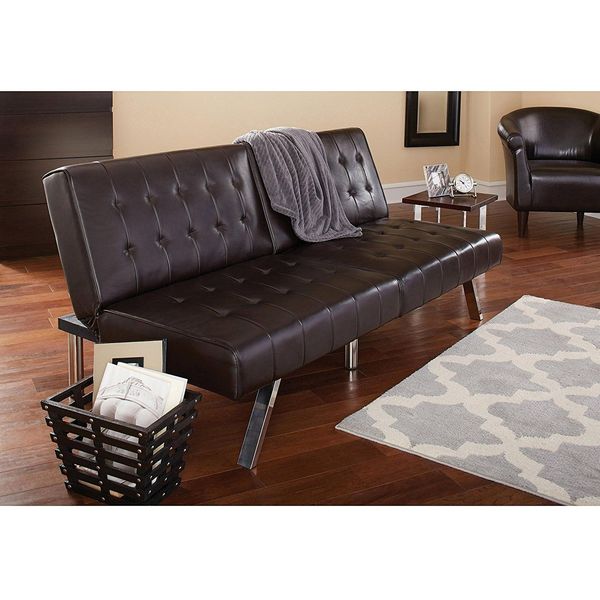 Morgan Convertible Faux Leather Futon, Brown
Features of this product:
Brown faux leather upholstery
Quickly converts from sofa to lounger to sleeper
Click-clack technology
Easy assembly required
Sofa dimensions: 71″W x 34″D x 32″H
Sleeper dimensions: 71″W x 43″D x 15.5″H
To some of you, nothing looks better than black leather, and this futon has a very elegant appearance. The coolest thing about this futon is that the center section folds out, which will provide you with access to two cupholders. Armrests and plenty of padding are included to give you the utmost amount of comfort regardless of whether you are sitting or sleeping. The black metal legs on this piece give it a very modern and sophisticated look that will be sure to net you plenty of compliments to reassure you of how good of an investment you have made.