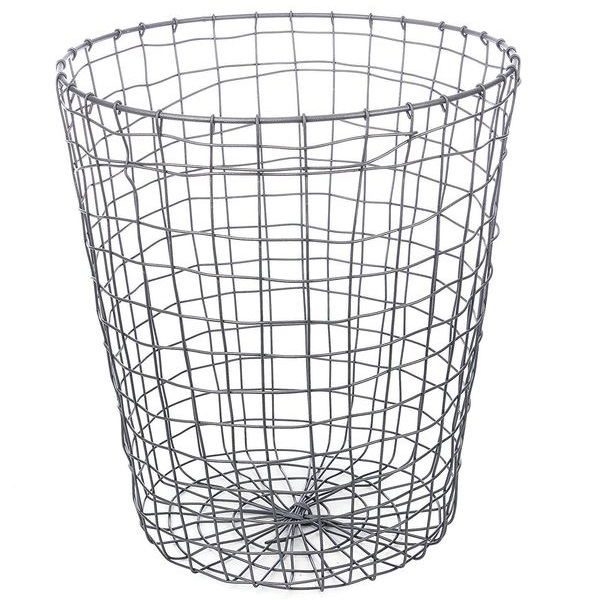 Kikkerland Folding Wire Trash Can
Features of this product:
Shape to fit your needs
Comes with shape inspiration guide
Stainless steel
Can be used as a basket, plate, fruit bowl and much more
Measures approximately 11.6 by 9.6-Inch
The Kikkerland Folding Wire Trash Can is so much more than just a trash can! This stylish modern stainless steel frame can be folded into an array of shapes, becoming everything from a waste basket to a bowl! A guide is included to get you started folding and creating with this unique can.


---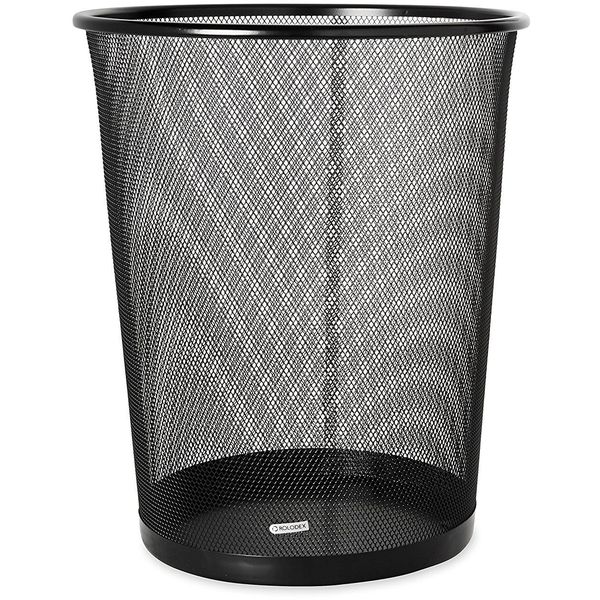 Rolodex Mesh Round Wastebasket, Black
Features of this product:
Steel
Durable wire mesh construction
Add good looks, efficiency and productivity to your workspace
Diameter: 11 3/8″ Top; 9 1/4″ bottom. Height: 14-1/4″
Capacity: 18qt; 4.5gal
The Rolodex Mesh Round Wastebasket will make a handsome addition to any workplace or home office and gives you plenty of space to throw away waste. With its 4.5 gallon capacity, this is one of the larger wire cans on the market today, and it features a go-with-anything black finish on its wire mesh frame.


---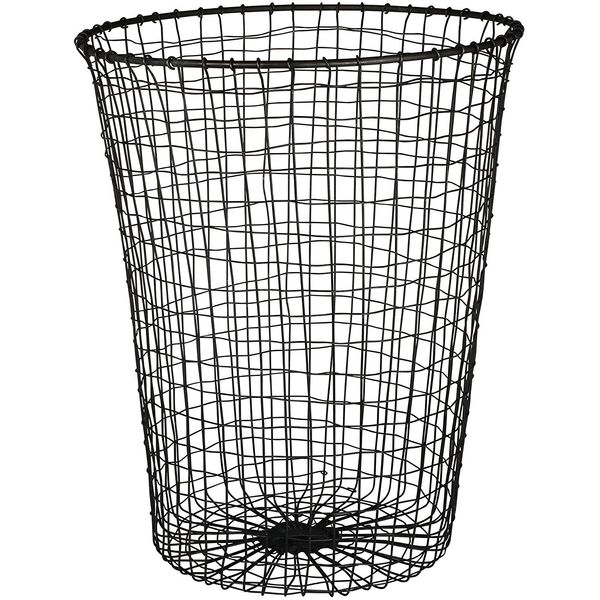 Design Ideas Cabo Waste Can
Features of this product:
A fresh concept from the minds of our designers that has the appearance of time-tested authenticity.
We hand weave wire to create these functional and nostalgic office accessories and storage nests and baskets.
Finished in a rust-proofing lacquer and suitable for years of use
Inspired by retro waste baskets, the Design Ideas Cabo Waste Can has a whimsical look that will spice up the decor of any office or dorm. Carefully hand woven from high quality metal wire, the trash can has a rust proof lacquer finish in black that enhances its durability and its aesthetic appeal.


---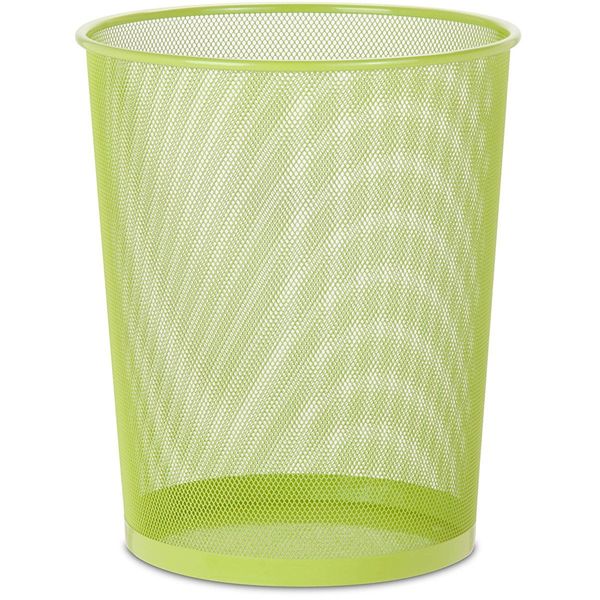 Honey-Can-Do Steel Mesh Powder-Coated Waste Basket, Lime Green
Features of this product:
Powder-coated steel design, great in commercial or residential settings
Low profile design at just under 14-inches
Breathable design prevents odors from building up
Powder coating resists scratches, maintains a sleek appearance
Reinforced steel mesh will provide years of maintenance free use
Boom! The Honey-Can-Do Steel Mesh Powder-Coated Waste Basket brings an explosive pop of color to the decor of a room with its lime green powder coated finish over corrosion resistant stainless steel. While the can is just 14 inches tall, it can hold up to 4.7 gallons of waste in a home or office space.


---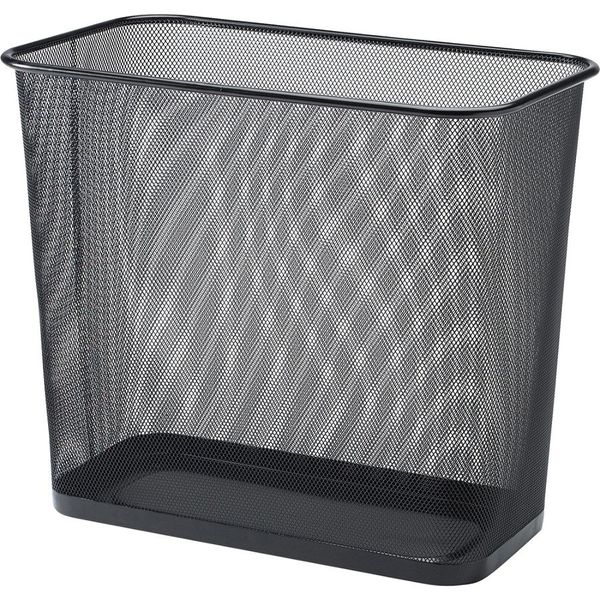 Rectangular Waste Bin, Steel Mesh, Black
Features of this product:
Sold Individually as 1 Each
Steel Mesh
10 in.x16-7/10 in.x14-7/10 in.
Black
The Rectangular Waste Bin is the perfect waste basket to use beside a desk or another furnishing due to its slim design. Constructed out of the finest grade of steel mesh, the trash can is sturdy and has a black powder coated finish that will blend seamlessly in with your decor.


---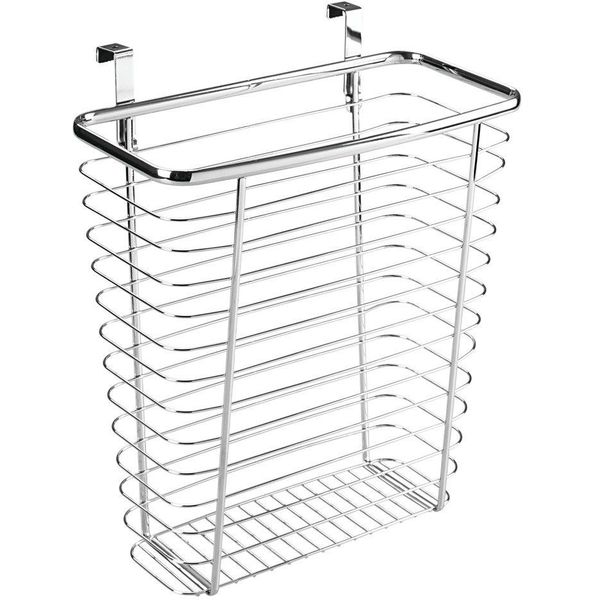 Design Ideas Meridian Waste Can, Silver
Features of this product:
Our designers were inspired by the contrast of fluid motion with structured contour when they created the Meridian Waste Can
Thin ribbons of wire are run through a series of wheels to give this modern receptacle its linear shape.
A clever interior ring allows a standard 8 gallon liner to neatly and seamlessly float inside
Never miss the trash can again! The Design Ideas Meridian Waste Can has an extra wide opening that tapers down to a small footprint, giving it a very unique silhouette. The silver toned wire trash can has a ring inside for holding an 8-gallon liner without compromising the sleek aesthetic of its exterior.