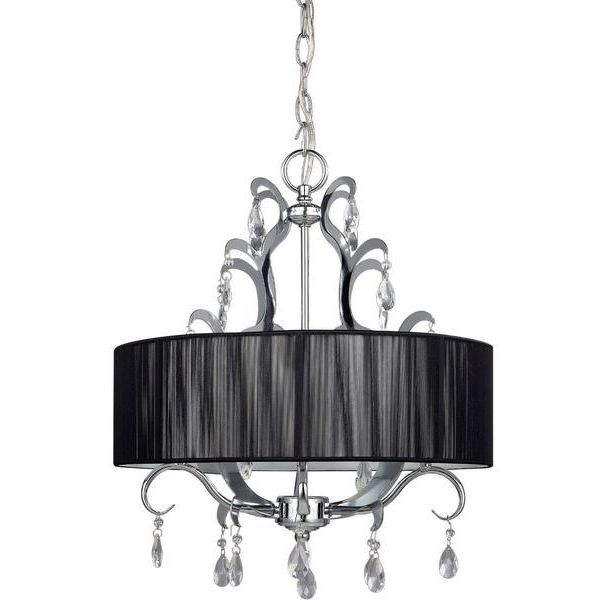 CANARM LTD. Crawford 4 Bulb Drum Shade Chandelier
Features of this product:
Add a touch of elegance to your dining room or entryway with this stylish and classy chandelier
4-bulb Chandelier with Chrome and Crystals finish, Uses 4 60-Watt bulbs, type C (Not included)
Size: Height 20-Inch Width 16-1/2-Inch
Includes 5-Foot chain with 6-Foot cord
Black String Shades
The Canarm LTD. Crawford Four Bulb Drum Shade Chandelier is a beautifully exotic looking lamp that would make any room look classy and elegant. Its beautiful black shade is chic and beautifully textured, while the chrome arms look elegant and strong and the crystals will exude beauty. This design will be noticed by anyone who comes over and is very likely to be a conversation starter in any room of the house.



---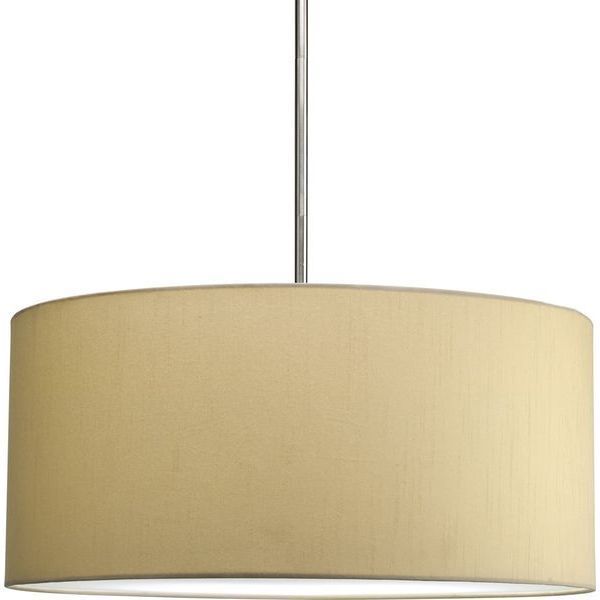 Progress Lighting Markor Modular Silken-Fabric Pendant Shade
Features of this product:
Beige silken fabric with a hint of darkened trimming; white interior
Measures 22 inches in diameter by 10 inches high
Modular pendant shade inspired by mid-century architectural design
Pairs with other fixtures from the Markor collection (sold separately)
Requires a 1-light stem (P5198) or 3-light stem (P5199)–not included
The Progress Lighting Markor Modular Silken Fabric Pendant Shade in Beige is a great minimalist piece of furniture that would look amazing with your modern furniture. You can put it in your bedroom, living room, dinning room, or even a bathroom. The beige shade is a beautifully unique and natural color. It looks distinct and distinguished with its mid-century inspired shape and design. (Remember this lamp is only the drum shade and requires the purchase of a one or two stem lamp).



---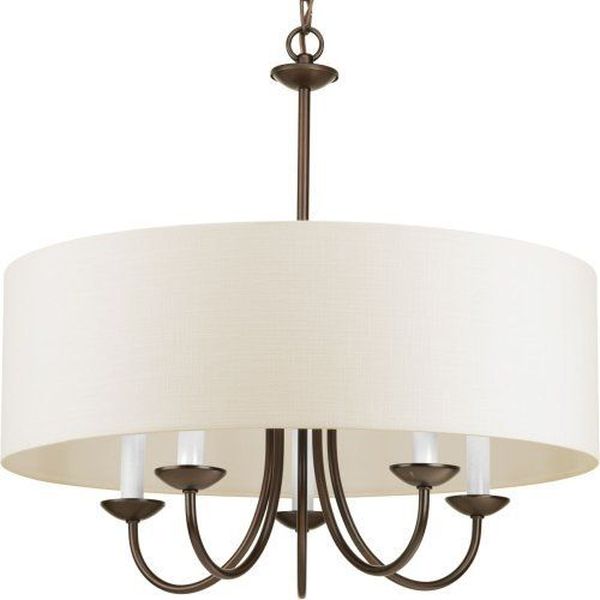 Progress Lighting 5-Light Drum Shade Chandelier
Features of this product:
Comes in antique bronze and brushed nickel finish
Dimensions:  66 x 21.6 x 21.1 inches
Candelabra base lamp
The Elk Lighting Retrofit 28" Taupe Drum looks very similar to the Progress Lighting Markor Modular Silken Fabric Pendant Shade, however The Elk Light Retrofit Taupe Drum Shade is a more elegant looking with its toupee shade and slightly tapered at the top circular design. The fixtures of the lamp are bronze antique style, which also make for an incredibly elegant look that will class up any room in your house.  Maybe you would want to put this in a tiled foyer with a nice antique table. It would be a beautiful first sight when walking into any house.



---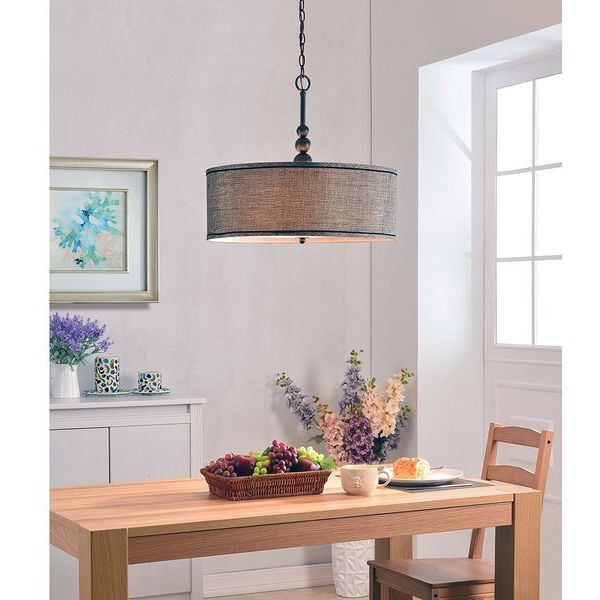 Kenroy Home Margot 3 Light Oil Rubbed Bronze Pendant
Features of this product:
3 light pendant
20-Inch height, 22-Inch diameter
3-100 Watt (M) Bulbs
Oil rubbed bronze finish
Bronze gold metallic fabric shade
The Kenroy Home Margot Three Light Pendant, Oil Rubbed Bronze finish is another very simple yet elegant looking circular drum shade design. This one has a 20 inch diameter. The brown color would really look nice in an antique filled room with off white walls. The oil rubbed bronze finish is classy and beautiful looking. This isn't a look that you can get on just any piece of furniture it is a unique piece that can only be achieved with this lamp.



---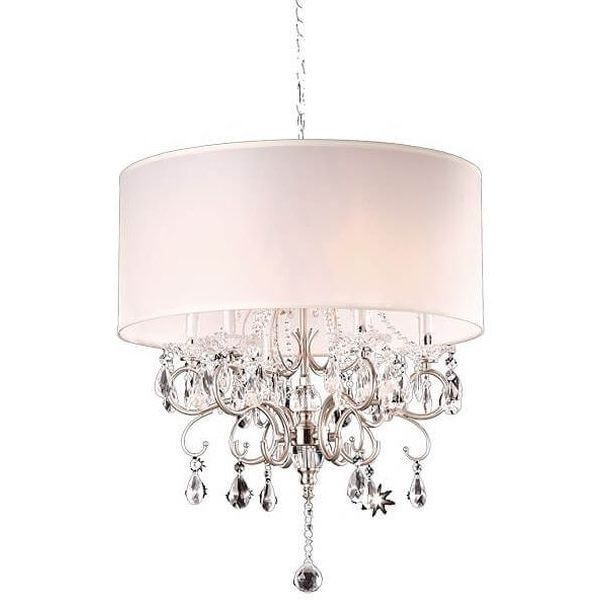 Modern Contemporary Crystal Silver Drum Shade Chandelier
Features of this product:
Crystal Feature w/ Silver finish Chandelier
weighted base for stability and durable metal construction
Warm, high quality fabric shade
size: 22″ x 22″ x 25″ H
Easy assembly required, instructions included
The Modern Contemporary Crystal Silver Drum Shade Chandelier is a beautiful white lampshade that will brighten up any room in your home. The simple round drum design paired with the hanging crystals underneath will impress even the hardest to please of interior decorating critics. The bright white design would look especially beautiful in a little girl's bed room giving her that princess looking design she dreams of. Another great place would be in any kind of wide-open living room with white couches and lots of natural light already in the room.


---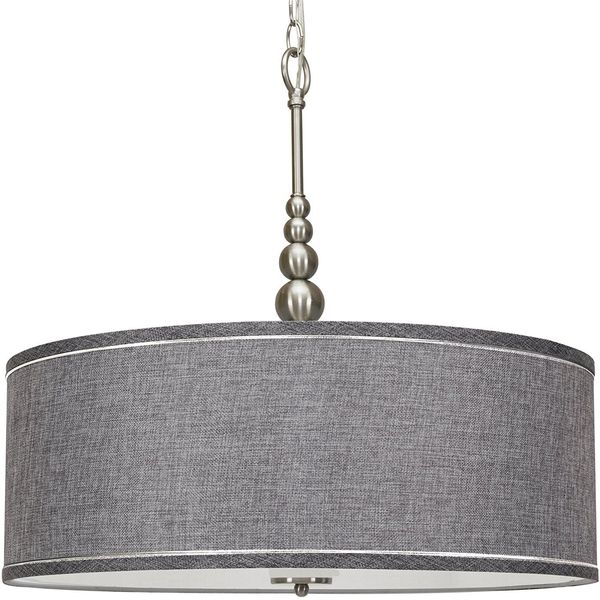 Kira Home Adelade 22″ Modern Drum Shade Chandelier, Brushed Nickel Finish
Features of this product:
Elegant fabric shade and
Unique 5-orb design with glass diffuser
Chandelier: 22.5″(H) x 22.25″(D),
Shade: 8.25″(H) x 22.25″(D)
The Dainolite Three Light Crystal Pendant with White Organza Shade and Polished Chrome is one of the most unique looking and elegant drum shade chandelier designs we have to offer. The beautiful partially sheer look of the drum shade allows the crystals on the inside to be seen and illuminate a room even greater than an opaque lampshade. The polished chrome finish will fit nice with all of your modern furniture and the shade and crystals will fit in with the more elegant classical looking pieces.