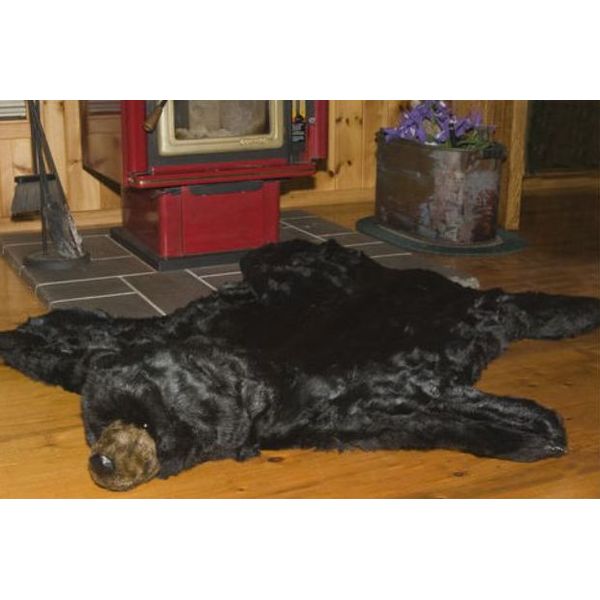 Brown Bear Rug/Halloween Decor Prop
Features of this product:
Luxurious soft thick faux fur bear pelt rug with head
Real taxidermy glass eyes, teeth and tongue
Brown fur with highlights on face and ears
Comes in two pieces. Rug body and head suitable for laying on the floor or hanging
Not a toy or a stuffed animal but a REALISTIC Taxidermy Alternative. Quality Designer Handmade in the USA
Show everyone your love for the great outdoors with this rug. When guests step in your home, they will not know what has hit them when it looks like they have stepped on a real bear. Faux fur is used to construct the surface area of the rug, but a real head with taxidermy eye, teeth and a tongue give this bear rug a stunning appearance. If you want to really get the most bang for your buck, you can even detach the head, display it on the wall, and tell your friends about how you caught the bear you really just purchased as part of the rug.


---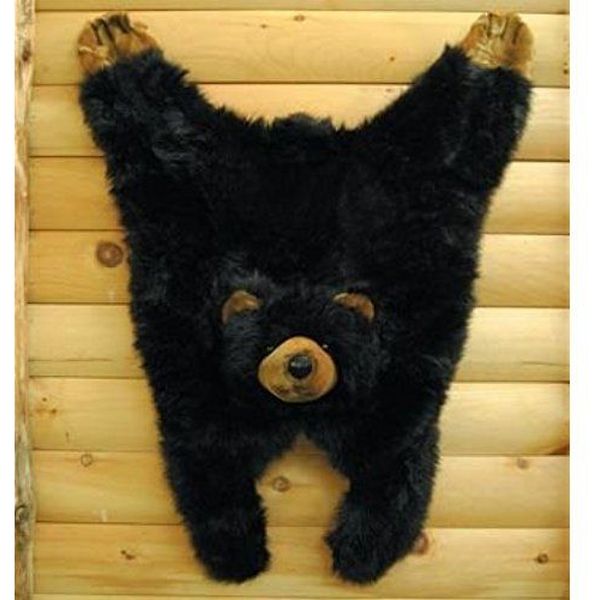 Cute Plush Bear Rug
Features of this product:
Non-skid backing allows rug to be adaptable to most any floor setting
Filling is 100% polyester
Weighs 1 lb., 5 oz.
Washable surface
For ages 3 and up
Maybe you liked the first rug, but you were afraid of scaring your little one. In this case, here is a rug that looks fairly similar, but the bear has much more of a teddy bear-like appearance, which will be softer on your young one's eyes. The rug is filled with 100% polyester, which gives it a high level or durability, yet it is as soft as fur. Additionally, a non-skid backing is included, so this bear of a rug is not going anywhere. The surface is also extremely easy to wash, so you can have a spotless rug year-round without paying the hefty price.


---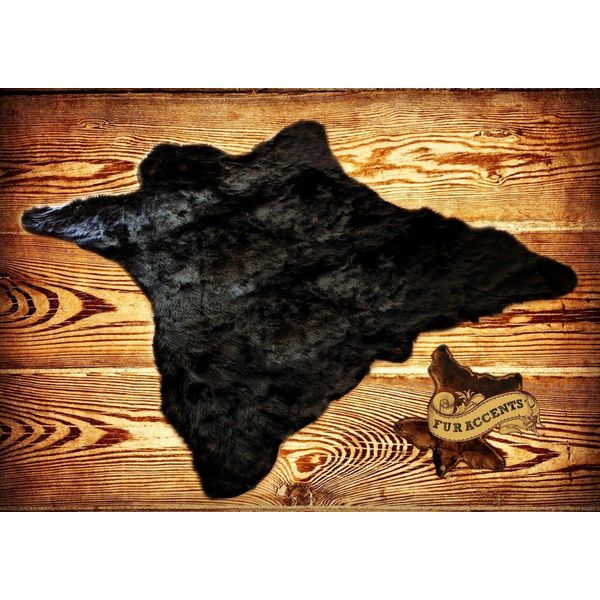 Grizzly Bear Faux Fur Rug
Features of this product:
Non-Slip Backing
Machine Washable
Hypoallergenic
Superior Fibers
Decorative & Functional
Although it does not include the head like the brown bear and cute plush bear rugs do, this would still be a great option for you outdoorsy folks. While the surface is constructed from faux fur, you and your guests will be left to debate whether it is actually faux because of how texturized it feels. It features a mixture of brown, white and black colors, which give it the authentic grizzly look without detracting from the appearance of other furniture in your home. The rug is hypoallergenic, and it is machine washable, which makes maintenance a thought-free task.


---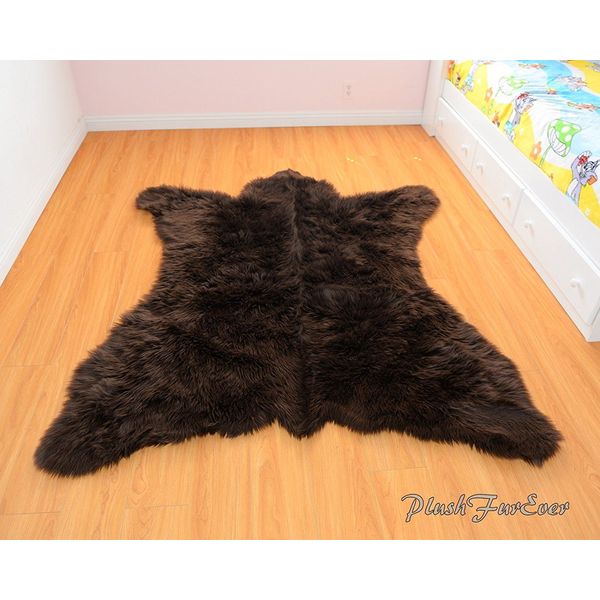 Fur Accents Faux Bearskin Rug
Features of this product:
Made with 100% animal friendly faux fur
Lovingly handmade in the USA
Dimensions: 5′ x 6′
If you want your little one to have a rug of their own, and they seem attached to the bear rug you are planning to purchase, consider getting this one for them. Rather than being extremely elegant, this rug is your ordinary rug that happens to be shaped like a bear's head and face. The 100% polyester used to construct this rug provides it with a high level of durability, but it is still soft on baby's skin. We also thought it was important to note the non-skid backing, which is an excellent safety feature if your child plans to play on this rug.


---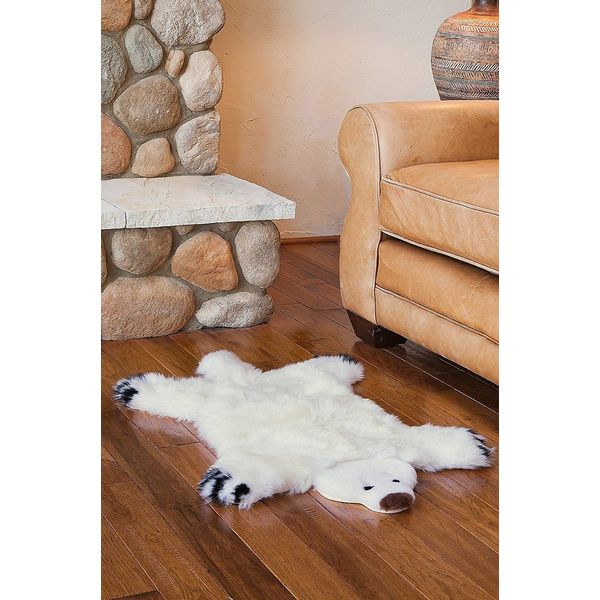 Classic White Sheepskin / Polar Bear Pelt Shape Rug
Features of this product:
100% Faux Fur – No Animal Fur is used
Cuddle up by the fireplace, calm fluffy and fresh
Machine Washable and Hypoallergenic
Non-Slip Backing – No need for separate rug pad
Made to the highest quality standards in France
This rug would make a perfect bedside piece for your child's room, especially if he or she has hardwood floors. While it looks like a bear, it is actually constructed from sheepskin. The nice thing about this is that it is hypoallergenic and non-toxic to babies. The manufacturers wanted to make this rug as durable as possible, so they spend 72 days just constructing each rug. It is not uncommon to get 20 to 25 years of use out of this rug, so it will likely be around long after your child has left for college, but they will likely want to take it with them.


---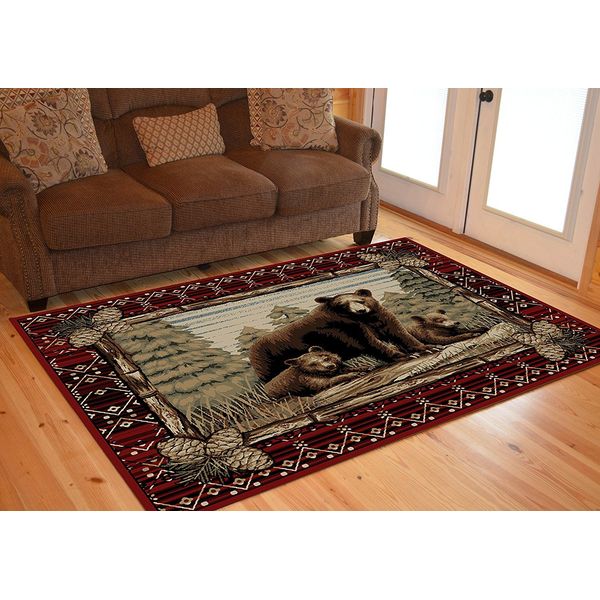 Rug Empire Rustic Lodge Bear Cubs Area Rug, Red
Features of this product:
Made with 100% high quality polypropylene fiber
Machine made
Dimensions: 5'3″ x 7'7″
If your little one has caught you looking at the brown bear rug, and they now want one of their own, you could agree to settle on this one. While it does not look quite as realistic, your child will still be able to have a rug they can enjoy for years to come with this model. The head of the "bear" on this rug is generously stuffed, and so is the rest of the "body," which gives it a very plush look and feel. This rug is 29-inches long by 39-inches wide, which makes it the ideal size for your child's bedroom.