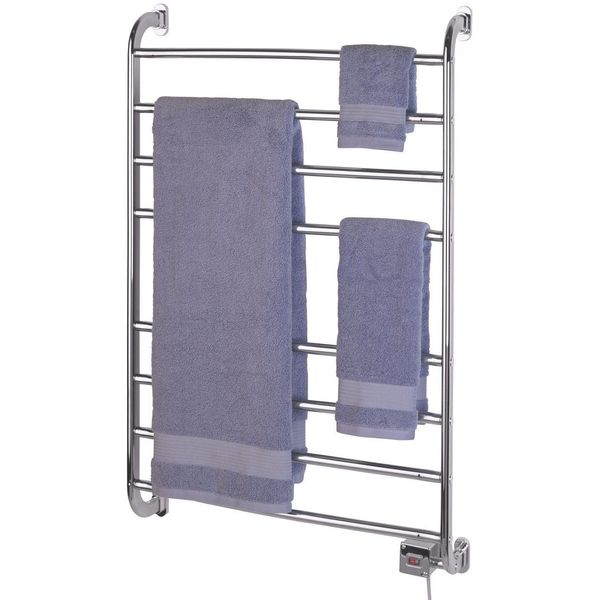 Electric Wall Mounted Towel Dryer by Kensington
Features of this product:
How you install it is up to you – hardwire or software, the choice is yours!
Softwire installation requires only common tools, whereas hardwire installation will necessitate you consult a professional
Dimensions: 24″ x 5.75″ x 39.5″
Here it is, the ultimate hard wired, electric, wall mounted heated towel rack! It'll heat up all of your towels, and do so in classic style, with nary a wrinkle or a wet pocket! If you're looking to have your towels warmed with the ultimate convenience, here is your model! It plugs directly into the wall, and feeds off that good warming electrical juice. It'll keep your bath time pals toasty and dry, in thirsty anticipation of meeting your wet poolside buns! If you need a less off-putting image, just know you can plug this baby in, and your towels will be warm when you need 'em! Better?


---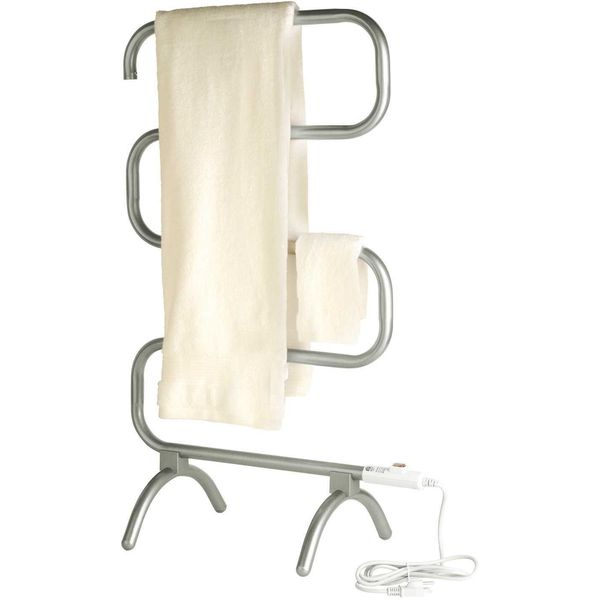 Heatra Classic Towel Warmer by Warmrails
Features of this product:
Simple assembly may be required.
Warms and softens your towels while you shower – perfect for wintertime use, but works great in the summer for drying swimsuits as well!
Dimensions: 26″ x 10.5″ x 37.5″
This unusually shaped new heated towel rack has a bit of a serpentine design. Stylish and comfortable, this little electric heated beauty will toast your towels to a nice crispy, wrinkle free, warmth. Perfect for adjusting your towel temperature to a level that will warm your tired, soggy, old bones as they emerge from the bath or shower! Your saggy bits will revive to attention as they meet the crackling warmth of a finely heated towel! So dive in, flop around, and know that the Heatra Classic heated towel rack will be there to meet you in a warm embrace!


---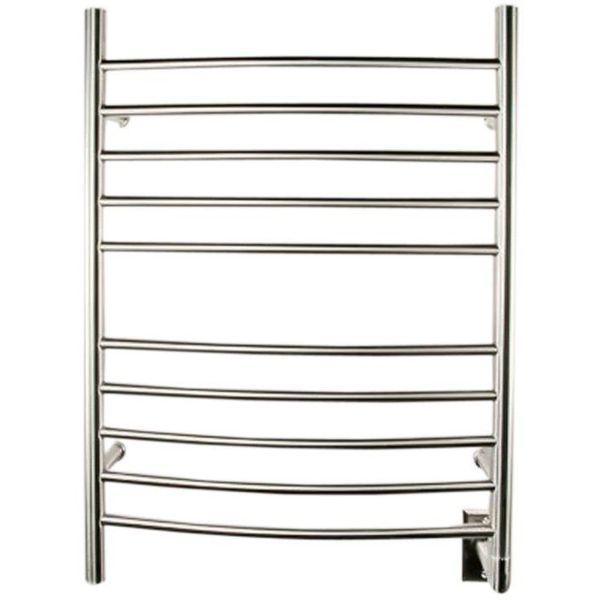 Amba Radiant Hardwired Curved Heated Towel Rack
Features of this product:
Made of Grade 304 stainless steel
Built in on/off switch
Average temperature range is up to 149 degrees Fahrenheit
Horizontal and vertical bars are heated
Keep your towels nice and toasty for when you get out of the shower with this Radiant Hardwired Curved Towel Warmer. The stainless steel towel warmer features a variety of warming rails for you to hang the towel on, keeping them warm until you're ready to use them.


---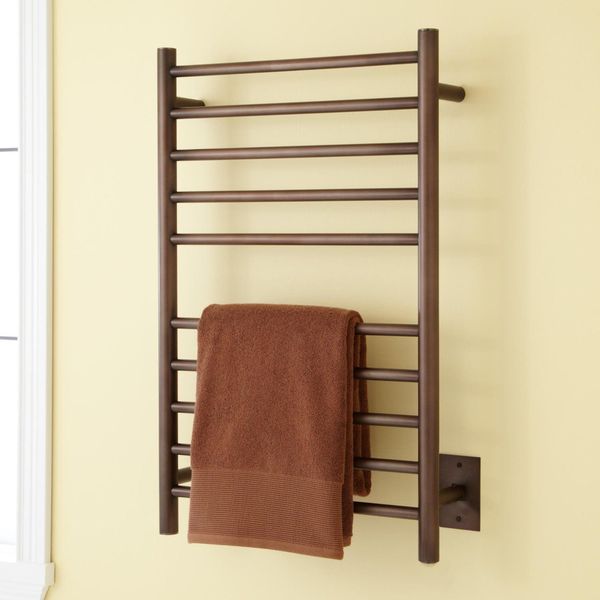 SH Naiture Stainless Steel Heated Towel Rack, Oil Rubbed Bronze Finish
Features of this product:
Material:Stainless Steel
Finish: Oil Rubbed Bronze
Dimensions: 20″ W x 31″ H x 4.5″ D
Dry filament heating element
Comes as a plug-in model with a hardwire conversion kit
Enjoy warm towels when you step out of the shower while also adding rustic detail to your bathroom with this Stainless Steel Hardwired Towel Warmer. This towel warmer features a variety of towel bars that you can warm your towels on, each one given an oil-rubbed bronze finish.


---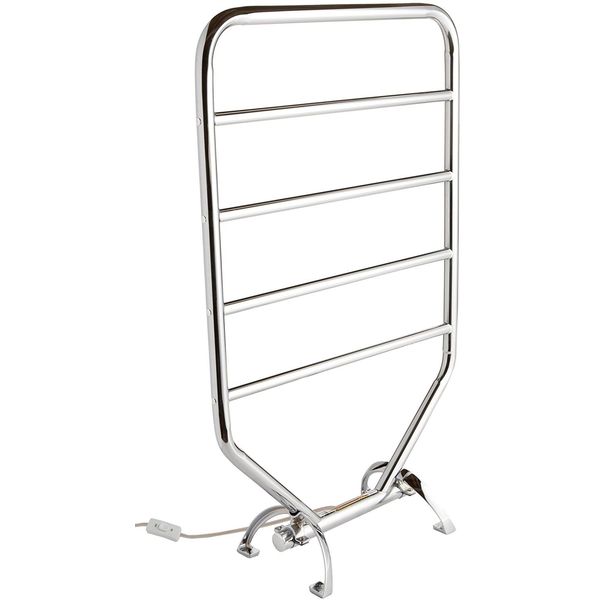 Warmrails Traditional Towel Warmer & Drying Rack
This handy towel rack can be used as either a free standing towel rack or can be wall mounted, depending on your wall/floor space needs
Softwire only – plugs into a typical outlet
Guaranteed to last for years and years – maintenance free!
Dimensions: 21″ x 34″ x 6.25″  freestanding; 21″x 32.5″ x 3.75″ when mounted on your wall
Super simple installation – requires only basic tools
Sure, it looks a bit like an old time space heater, but it's more – so much more! This classically designed, retro-styled, heated towel rack will have you waxing nostalgically for the past, even as you enjoy the fully modern comfort of a toasty warm towel on your wet, wiggly bits! In fact, you might even find yourself sneaking into the shower on more than one occasion per day, just to give yourself a toasty tingle when towel meets skin! This classic heated towel rack can maybe spare you some regrettable social decisions as well!


---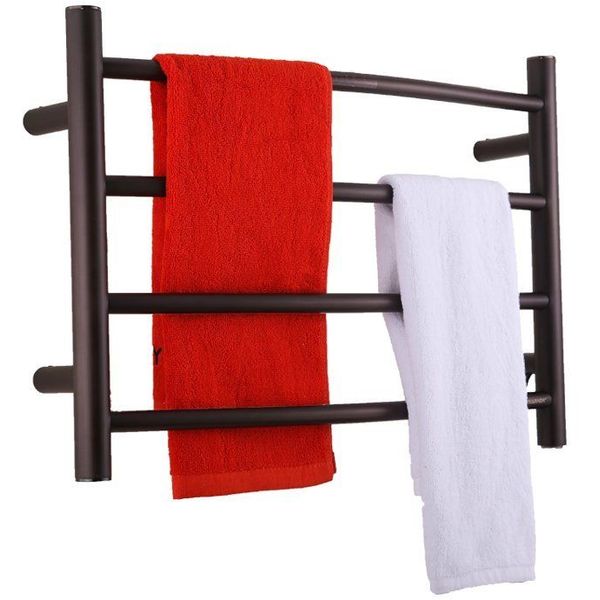 Sharndy Electric Towel Rack Towel Warmer Orb Wall Mounted Oil Rubbed Bronze
Features of this product:
Simple wall-mounted installation with 4 heated bars
Takes only 10 minutes to warm up
Temperature once heated is stable at 122 F
Uses only 40 watts
Warm your towels without taking up too much wall space with this Sharndy Electric Towel Rack. The rack is made from oil-rubbed bronze and comes with four tiers for you to hang your towels. It mounts to any space on the wall that is most convenient to you.


---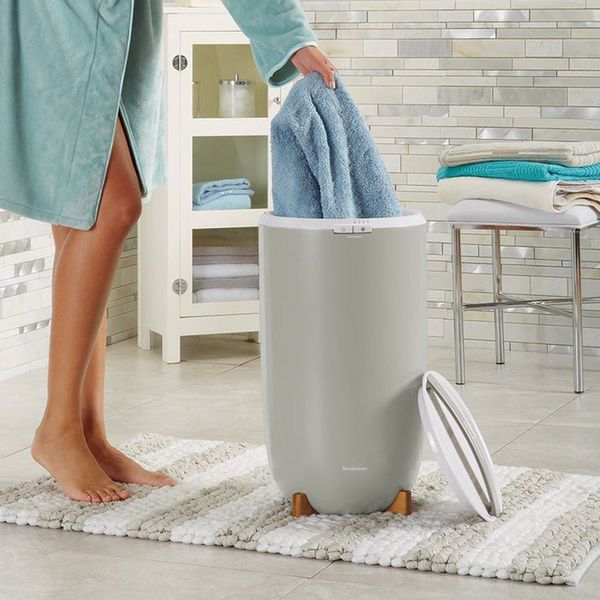 Brookstone Towel Warmer
Features of this product:
Plenty of room for even the biggest of towels
Can hold up to two towels, or more if you really cram 'em in there
Takes only 10 minutes to get your towels to a nice toasty temperature
Heating element is made from silicone, meaning it is 100% safe (no worries of electrical shock)
Can warm more than just towels – use it to warm blankets, quilts, hats, gloves, or whatever you can think of!
Automatic shutoff feature in case you forget to turn it off
Plugs into a standard AC outlet
Don't trash that towel, warm it up in this bucket thing instead! We're not sure what the hell this thing actually is. It's not precisely a heated towel rack, although it does heat up your towels once you insert them. It's like a trash can that toasts towels. Full manufacturer's warranty and instructions are included. We kind of like the idea of dunking your towels in the bucket, and having them pop up fresh, toasty, and minty fresh. That last description may be a bit debatable, but who among us hasn't chewed a bit on a towel from time to time?


---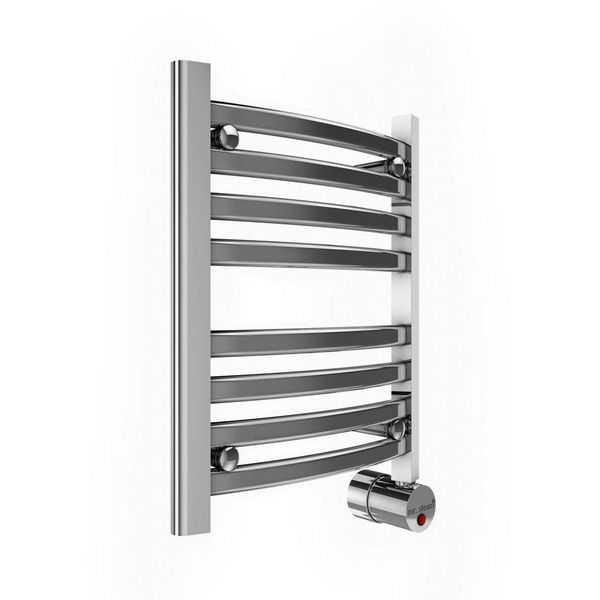 Mr. Steam Polished Chrome Electric Towel Warmer
Features of this product:
UNIQUE – Has an aromatherapy well which will make your towels smell nice as it heats them.
Three different choices of finish – match your bathroom decor!
Sleek, shiny design that's sure to impress
Wiring box included
Has a programmable timer which allows you to heat things in advance. Want some nice warm blankets after you come in from playing in the snow? Hang up your blankets, set the timer, and when you come back, they'll be warm and ready!
Looks a bit like a space age version of an old hillbilly's washing board, doesn't it? Again, the Chrome Electric Towel Warmer may stretch the layman's definition of a heated towel rail (assuming he possesses one in the first place) but, rest assured, this lil' beauty is the real deal! Just stretch your towels over the rack, and let the fully modern high technology of this amazing newfangled gizmo do its magic! Yes, we're aware it's science, not magic, but let us reiterate: we're simply in awe of this modern marvel, and you should be as well!


---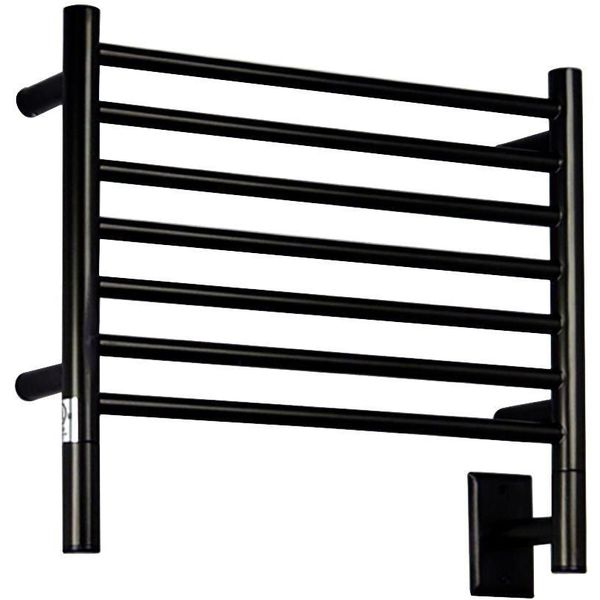 High Quality Model H Curved Towel Warmer
Features of this product:
7 horizontal bars
18″ H x 20.5″ W
Safety cut-out turns the warmer off when it gets too hot!
Made from 100% stainless steel tubing
Installation by a professional electrician is HIGHLY recommended!
Seven beautiful bars adorn the tubing of this bronze heated towel rack, letting you know it means business. Your soggy wet towels won't stand a snowball's chance in the big fiery furnace when the Model H gets a hold of them. Rest assured, your days of emerging from the shower, only to find a slightly damp and very cold towel waiting for you on the rack, are over with a capital O! The Model H takes no prisoners and honors no plea bargains. Your towels will shape up and dry up, or else! Comes with full manufacturer's warranty.


---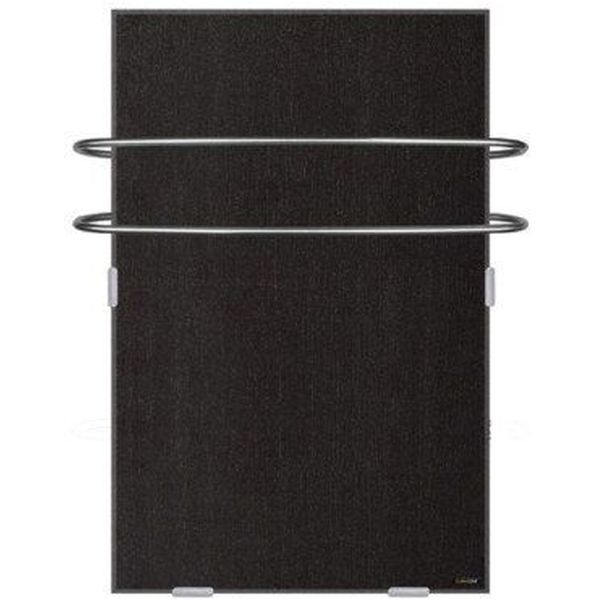 Slate Wall Heater with Towel Bars
Features of this product:
Uses a mere 1/4 of the energythat most other heaters this size would use
Functional yet stylish
Installation is super easy – hang 'er up, and plug 'er in!
2-year limited warranty
This heated towel bar features a very abstract design, reminiscent of the big black rectangle monolith thingie from 2001. It's got two stainless steel bars that wrap around it, a bit like the rings of Jupiter, maybe. It certainly looks like something NASA would use to keep shower towels warm and dry aboard a modern space station. Perhaps the crew of the U.S.S. Enterprise use it to damp dry wet Tribbles? Or to towel off Klingon beards after a particularly bloody duel? In any case, it's sleek, modern, and looks like it knows what it's doing.


---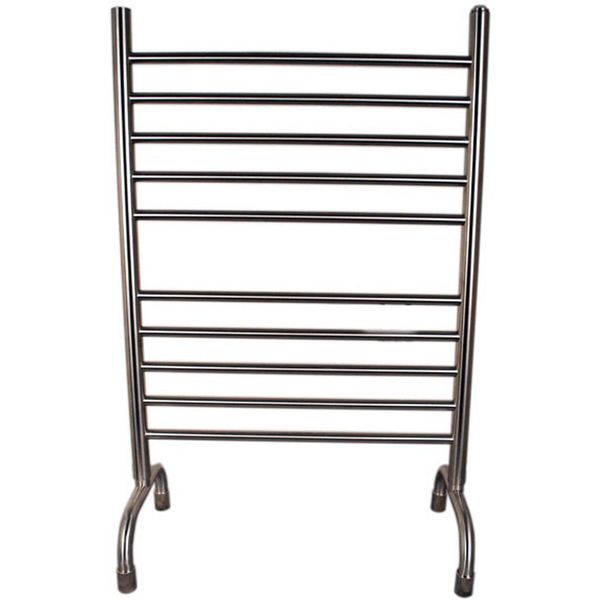 Amba Free Standing Plug-In Heated Towel Rack
Heats quickly
Made of 18/8 stainless steel
Built in on/off switch
Ten crossbars allow optimal drying
Horizontal and vertical bars are heated
Warm your towels on the convenient and stylish Free Standing Plug-In Towel Warmer. This towel warmer can stand all on its own without the need for wall mounting and instead plugs into an external power source. The warmer is crafted out of durable 18.8 stainless steel.


---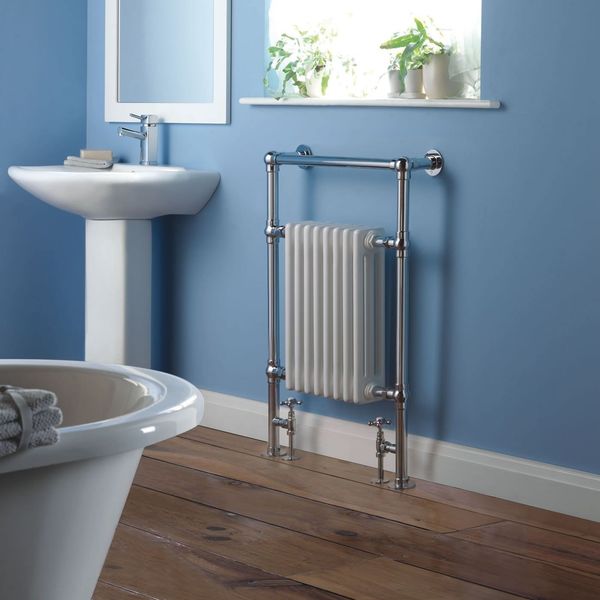 Hudson Reed Traditional Hydronic Heated Towel Rack
Features of this product:
5 year warranty
Output: 439 Watts (1,500 BTUs)
Fixing pack included
Angled radiator valves included
High quality chrome-plated finish
Give your bathroom the exposed-fixture, classic look you love while still adding modern functionality to your space using the Traditional Hydronic Towel Warmer Radiator. This towel rack looks like a traditional radiator and has been given a chrome finish that resists fingerprints and smudges.


---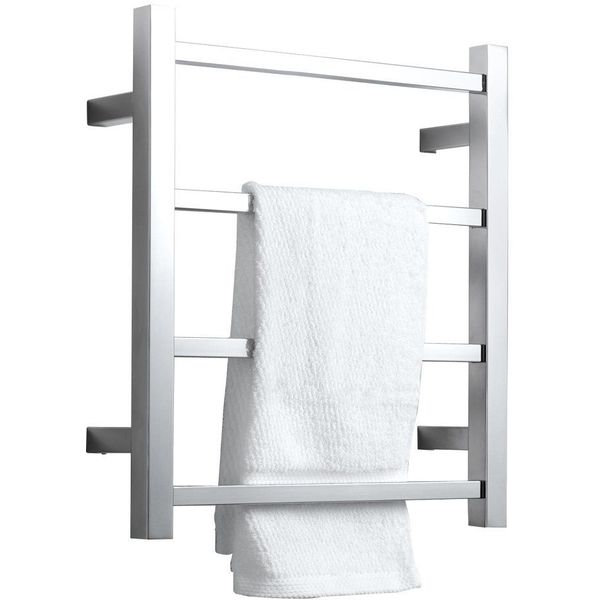 SHARNDY Heated Towel Rack, Polished Chrome
Features of this product:
Available as plug-in type or hardwired.
Low consumption rate, uses only 35 watts
Horizontal and vertical bars are heated
Made of Grade 201 stainless steel
Polished chrome finish
Modern and sleek, the SHARNDY Towel Warmer allows you to warm your towels without sacrificing your contemporary bathroom. The design features four different tiers for you to hang towels from, and it can easily be mounted onto the most convenient wall space for you.


---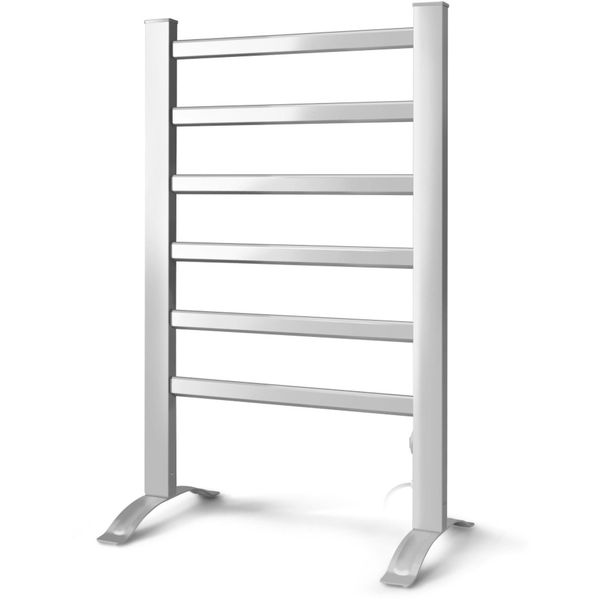 INNOKA Freestanding & Wall Mounted Heated Towel Rack
Features of this product:
Can be wall mounted or used as a freestanding towel rack
Dimensions (freestanding): 35.3 x 21.7 x 13.2 inches
Dimensions (wall-mounted): 33.5 x 21.7 inches
Input voltage: 110 -120V.
Power consumption: 105 watts
Warm your towels for after your shower or dry them more quickly with this INNOKA 2-in-1 Freestanding & Wall Mounted Heated Towel Warmer & Drying Rack. This rack features six different tiers for you to hang the towels from, no matter what size they are.


---

Conair Therma Luxe Towel Warmer
Warms towels while you bath
Extra-large design for large towels and other garments
Uses standard power outlet
Auto shutoff feature for safety
Portable so you can use just about anywhere
While playing in a hot shower trying to make a run for it to your towel might be a lot of fun as a kid, it starts to lose its appeal as you see your water and electricity bills adding up. When you have a towel warmer like this one, you will want to get in and out of the shower, so you can be greeted by a warm and cozy towel upon exiting. While this towel warmer is very simple in appearance, it gets the job done and does so for a very reasonable price.