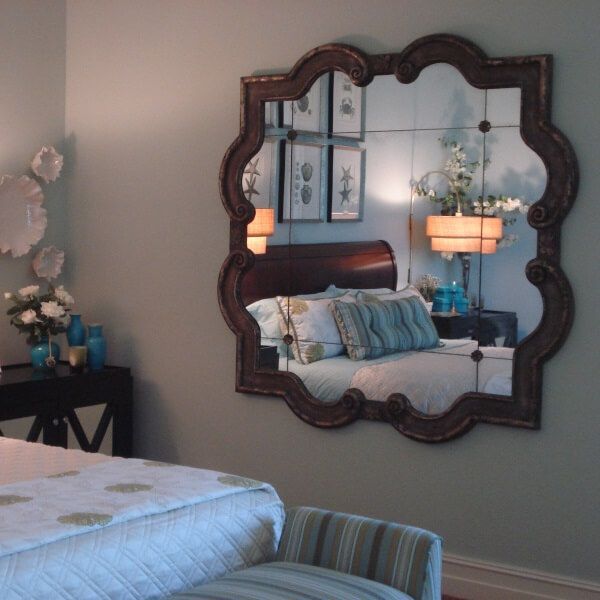 Large Ornate Silver Quatrefoil Mirror
Features of this product:
Item: Large Mirror
Design: Silver Quatrefoil – Large
Material: Solid Wood, Beveled Mirror Glass
Size: 36″ x 36″ x 2″
Condition/Quality: Brand New, First Quality
Add a little elegance to the interior of your home with his quatrefoil mirror. A distressed wooden frame with silver leaf finish complimented by black undertones allows this mirror to really stand out in the world of décor. Etched mirror glass is used to give the mirror the antique look you have been craving, and it enhances the mirror's durability. A special coating is used on the mirror's backing that works to protect it from harmful elements. You can expect to pass this mirror down the line from generation to generation due to its high quality.


---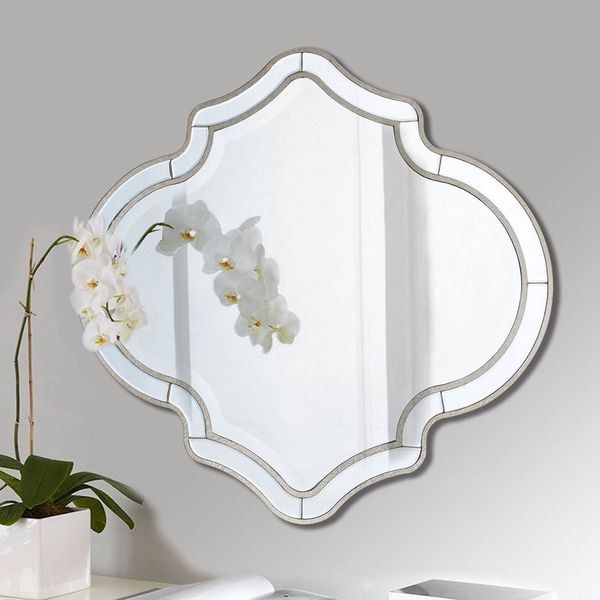 Silver Four Leaf Clover Quatrefoil Mirror
Features of this product:
Dimensions: 35″ W x 32″H
Moisture proof silver mirror
Handmade frame
Glass is securely mounted to solid core wood to enhance stability
With the scallop design champagne wall mirror, you can add a taste of royalty to your home's interior. You will love the design of this mirror as you begin to gain an even greater appreciation towards the way the mirror's frame is pieced together. Several miniature mirrors surround the perimeter of the primary mirror. Thanks to the high quality of materials used in the assembly of this mirror combined with the use of resin, you can plan on enjoying this piece for years to come. Do not hesitate to make this yours today.


---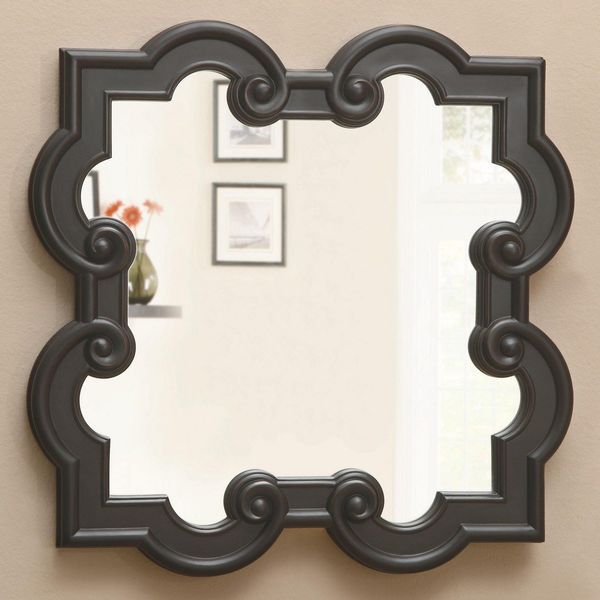 Quatrefoil Mirror with Black Frame
Features of this product:
Black Finish
Traditional Style
Dimensions: 32″L x 32″W x 0.75″H
Weight: 15.725 lbs
Accessories are not included
The simple addition of a quatrefoil mirror like this one in your home can give your home an entirely new feeling. The mirror is pieced together using only the best materials the market has to offer, which give it its stunning appearance and high level of durability. The black finish used on the frame does an excellent job of blending in with its surroundings while still catching the eye of you and others in your home. The true beauty behind this mirror is its abstract design. Some say it looks like a butterfly, but you might see a flower.


---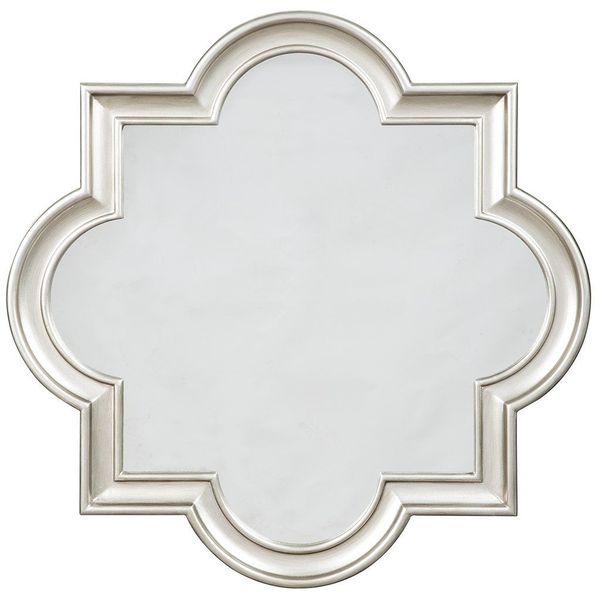 Ashley Furniture Signature Design Desma Quatrefoil Mirror
Features of this product:
Made of polystyrene and mirrored glass.
Frame is finished in a brushed champagne hue
Clean with a soft, dry cloth
D-ring bracket for hanging
Measures 36" W x 1.75" D x 36" H
If you are looking for a mirror that supersizes your life and your home's interior, you are in luck with this incredibly stunning quatrefoil mirror. As if the beveled glass and the sophisticated silver tone frame did not stand out enough, just wait until you see what a mirror that measures 5-feet wide by 5-feet tall does to the appearance of your home's interior. With a weight of 140 pounds and premier construction, you can tell that this mirror was designed by professionals. This mirror is worth every penny, so do not hesitate to make it yours today.


---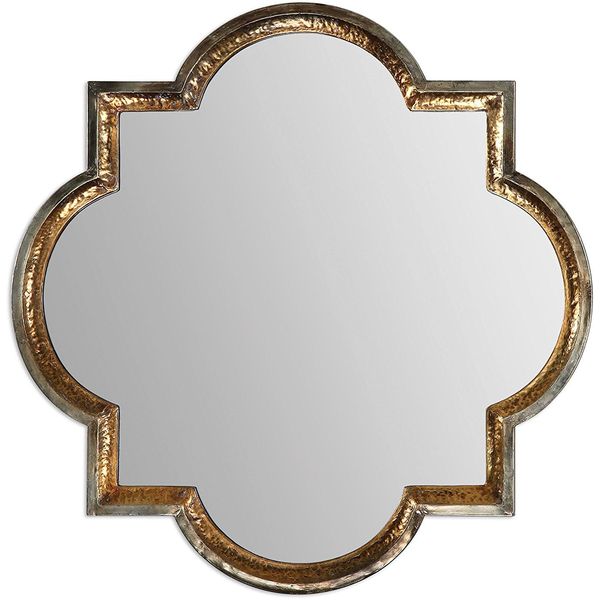 Uttermost Designer Hammered Gold Quatrefoil Mirror
Features of this product:
Size: 39.75" L X 39.75" W X 1.5" D
Weight: 41 lbs
Glass Dimensions: 36" H X 36" W X 0.157" D
Finish: Heavily antiqued gold and oxidized silver champagne
This quatrefoil mirror is one of the simpler options, but it will still look great anywhere within your home. A sleek, silver leaf coating, which is applied by hand, is used to construct the frame of the mirror. Beveled glass is used to give the mirror its subtle, yet artistic appearance. You can also tell that a lot of care was put into the design and manufacturing of this mirror as all of the pieces blend together with perfection. Although the mirror was born to stand out, you will not have any problem with it clashing with other décor inside of your home.


---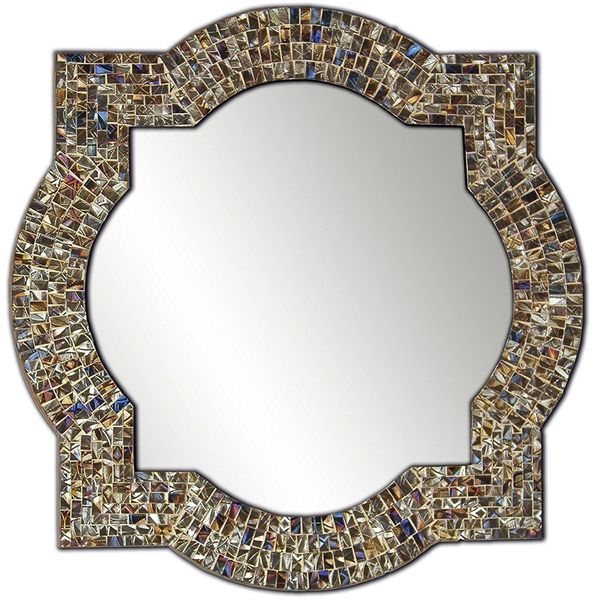 DecorShore Mosaic Glass Quatrefoil Mirror
Features of this product:
Dimensions: 24″ x 24″
Silver, champagne, copper, merlot wine, azul turquoise and amethyst colors
Mosaic glass tile mirror fram
Recessed keyhole slot for mounting / hanging
Each piece is handmade, unique and contains slight differences
Although this is a smaller quatrefoil mirror, it still lives by the motto of "go big or go home." It utilizes beveled and engraved glass, which gives it a nice finish that also happens to be extremely long lasting. A champagne colored finish is applied to the mirror's frame, which makes it stand out in a crowd, yet it will not take credit away from other décor items on display. The composite wood gives this an extremely sophisticated appearance for a price that is truly unbeatable. Be sure to check this mirror out as it is guaranteed to thrill.