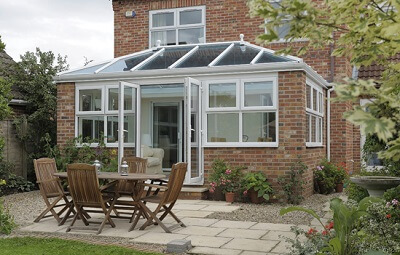 When they first originated, orangeries were built only by the wealthy upper classes of the 17th century as luxurious extensions to their already vast mansions and houses. However, in the present day they are relatively affordable for most homeowners and offer numerous benefits.
It is the perfect combination of a greenhouse and a conservatory, to allow your home to feel the benefit of outdoor sunshine whilst keep the chill at bay during winter months. The standard solid pillar design and glazed windows make an attractive addition to any home. You can also choose to have a lantern style roof on your orangery, which creates a very cosy ambience in the colder months.
They can be very light, airy spaces for your home, whilst remaining private and solid. Conservatories can feel very exposed with the excesses of glass and lead to that "fishbowl" feeling, especially if your garden area is overlooked by neighbours. An orangery can overcome this negative aspect and allow you to enjoy your new extension.
The ventilation aspect of orangeries can also surpass the function of conservatories, as the solid structure of the framework means the room stays cool during hotter months and retains heat in wintery periods. Conservatories can become unbearably hot in direct sunlight and can become very expensive to heat, leading to an increase likelihood of the space not being used. This means that you will not get a good investment as the extension will have limited use. Orangeries do not suffer from these setbacks, meaning they are functional rooms all year round.
Many homeowners are now choosing to give their kitchen an orangery type structure when they extend, as it brings welcoming light into the home as well as the additional space. During the winter months, orangeries can protect plants and fruits as they are designed to deal with proper heat and ventilation regulation.
Making additions or renovations in your home will allow you to update your lifestyle and give your home that fresh, new feeling once more. It will also be beneficial as you can improve your existing home to accommodate your needs without having to move and try to search for a new property. Adding an orangery can give both aesthetic appeal and functionality to your home. The elegant structure of an orangery can prove a valuable addition to your property. You can bring a significant change to the visual appearance of your house by adding one, which will definitely be appreciated by your family and friends.
A great use of the space is to use it as a lounge or living room. As there is ample light passing through the glass, it will be a great place to sit and relax during daytime and enjoy the soft warmness of sun. You can read a book while enjoying an amazing view of outdoors. It can also serve as a lively place for you and your friends to hangout or if you like socialising then you can also hold small parties for your family or close friends here. Adding delicate strings of fairy lights will add a special sparkle to your evening events.