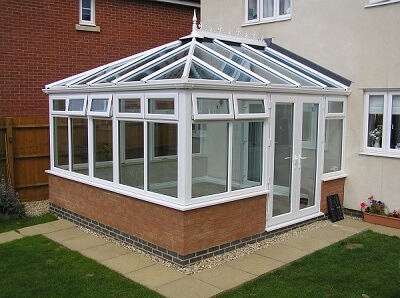 A dirty, stained conservatory roof can really spoil the aesthetic of your home, especially if your house and garden are well maintained. Keeping on top of the dust and dirt inside your conservatory can also be difficult if you don't have effective cleaning method to implement. Here's our handy guide to help you maintain and preserve your conservatory in optimum condition.
The best tools for cleaning your roof, whether it polycarbonate or glass, are simply warm water and mild detergent. A little elbow grease may be needed to shift those stubborn marks, but please refrain from using any type of solvent. This can result in the polycarbonate cracking and damaging the glazing seals on glass roofs. A power hose or jet washer can be used with care and discretion to avoid water flooding the area.
For attending to the UPVC sections of your conservatory, you should wash white frames with warm soapy water about every four months to remove grime and atmospheric deposits. To remove stubborn stains use a strong non-abrasive cream cleaner.
Ensure that the weather seals fitted to your doors and windows do not become dislodged from their grooves. Should this occur, slide back into position immediately, to avoid damage when the window or door is closed. If the weather seals are broken or damaged and draughts are felt around the window or door, contact your installer.
It is important that all gutters and outlets are regularly cleaned. This is of particular importance during the autumn and winter months due to leaves and other plant debris being shed at this time, which can create large blockages within the drainage channels. On a conservatory the guttering is laid level. This is normal and in accordance with BS 63 67: 1983 Code of Practice for Drainage of Roofs. At times you will notice standing water in your gutter system, which is perfectly normal.
Cleaning glass panes within your conservatory should be done in a similar manner to other windows in your home. The glass used in most double-glazed units can be easily scratched and so we recommend that you remove hand jewellery prior to cleaning. Heavy external grime should be removed with a simple soap/water solution followed by the use of any proprietary household glass cleaner with a soft cloth. Laminated glass or glass containing Georgian bars between the sealed units is cleaned in exactly the same manner.
Over the course of time, handles, hinges, locks and mechanisms can become stiff and more difficult to manoeuvre. This is easily prevented by regular maintenance of these areas by adding suitable lubrication such as WD-40 or similar machine oil substance.
It can be tricky to access you conservatory to give areas a thorough clean. Investing in some sturdy free stranding ladder sets may be worthwhile. An access platform can be useful in providing a level surface on which to position yourself safely to reach higher areas. Do not walk on conservatory roofs always use crawl boards to spread the load. These should be positioned across both glazing bars to avoid placing excessive weight directly onto the glass panes. Do not lean ladders against the PVC-U frames or glass.
We're sure that you will enjoy the new addition to your home and can assure you that we offer the best deals on conservatories and conservatory quotes.