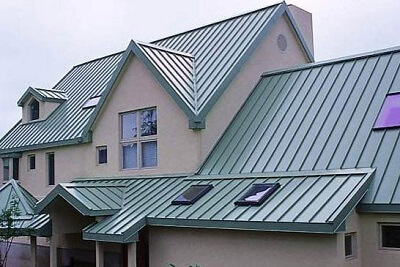 Metal roofing is gaining in popularity, especially in America. According to a report that was conducted by the Metal Building Manufacturers Association, metal being used in buildings is experiencing unprecedented growth, estimated at about 15 percent per year. There are numerous advantages that this roofing type has to offer to homeowners and business owners alike. Find out why more people are considering making the switch from shingles, flat or tile to metal by learning about some hidden advantages it has to offer. Could a metal roof installation be the solution for roofing that you've been seeking? The following eight points can help you arrive at a conclusion.
1. Metal roofs are becoming far more popular than other roofing types due to one of the most prominent benefits that they offer: they last longer. While the tenure of any roof is subject to variables such as maintenance and regional conditions, metal roofing is known to last for as long as 50 years before it needs to be replaced.
2. Energy efficiency should not be overlooked, either. Metal provides more insulation than other roofing types, and that helps homeowners reduce their energy expenditures annually. While this can vary between homeowners, average savings range from 10 to 20 percent annually and in some cases more.
3. A metal roof is multifarious, and should not be confused with corrugated metal roofs that you typically see on industrial buildings. Newer design styles and paneling actually enable the installers to match the theme of your current neighborhood. It is possible to make your metal roof look like any other roof in your area.
4. A longer and essentially better warranty is offered by most contractors. Standard home warranty on roofing typically spans about 10 years on average. However, since metal is so durable, most roofers offer 20 year warranties or greater on the materials being installed.
5. Protecting your home's structural integrity is a must. When fully installed, a metal roof actually places less of a burden on the home structure. As a result, it's also capable of safely withstanding heavy snowfalls that could otherwise compromise structural integrity.
6. New heat barrier finishes on this roofing type actually are capable of reflecting most types of radiant heat. This reflective nature also helps keep a home cooler during the summertime. The technology has been improved in recent years to include the same reflective capacity in darker colored metal roofing as well.
7. Reducing your carbon footprint is also possible with metal roofing because it's most often made from recycled material. The amount of repurposed content that is used in your roof will vary between different roofers, but averages around 90 percent of recycled metal.
8. Faster installation is another key benefit that homeowners enjoy. That's because in many instances a metal roof can be installed directly over your existing roofing. In some instances, the existing shingles may not even have to be removed. In other instances, the shingling or tiling will be removed to provide enough room for the metal. Overall, the installation process is far quicker, which means you have your new roof faster and with less inconvenience.