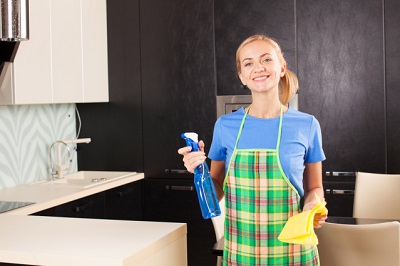 Kitchen is the most important section of any house. It is the place that needs the cleaning the most. At the same time, it is the place that gets cluttered and messy the most as well. The need of kitchen cleaning cannot be ignored as it is the place where you have to keep your utensils, cook food and keep your food. If it is not kept clean then serious hygienic issues might arise. In fact, it will not be wrong to say that kitchen is the only part of the house that you never ignore in terms of cleaning, no matter what happens. The overall cleaning impact of any house can be determined by how clean its kitchen is.
A cluttered kitchen can really make you feel crazy after having a really busy day at work. Everyone likes to come back at home and then have a cup of tea or coffee while relaxing. But if your kitchen is messed up then it is really not possible. A disorganized kitchen is really very irritating thing as it gets really hard to find out anything. This is not only time wasting but it also seems to be quite irritating. There are few tips and tricks that can make kitchen cleaning easier.
Always try to make use of the space in the kitchen in a better way. The more spacious your kitchen will be the more cleaner it will look. It is a good idea to make use of pantry space and lower cabinets and do not keep them empty. It is commonly observed that people do tend to keep their stuff on the upper cabinets and shelves so that they can easily access their stuff. But this will not let you keep your kitchen and your home clean as it will stay cluttered all the time. The easiest way to arrange the items in the lower cabinets is to make use of pull out drawers and baskets. The use of such products will make it easier for you to organize the things.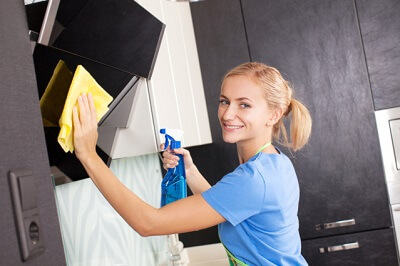 You can also label the drawers and cabinets for your ease so that either you or anyone can put back the things in place. This will let your kitchen organized.
It is also suggested that for kitchen cleaning you need to keep less items in your kitchen. It is better to keep only those things that you really need or use. Do not keep any kind of useless stuff in your kitchen so that it might not get stuffy or cluttered. Always do check your need before going for shopping. The more items you are going to keep the more you have to dig and find out any particular item. Also, there are chances that keeping large quantity of items might end up in expired items.
Always try to keep your counters clear. Do not keep it cluttered all the time. The best thing that you can do for kitchen cleaning is to put back everything in its original place. If you are going to follow this tip then you have done more than half of the kitchen cleaning.
Always try to get rid of the extra stuff that you have stuffed in your kitchen. This practice should be repeated after every few months.
By following these basic and easy tips you can easily make your kitchen perfectly clean. It will stay clean all the time and you will enjoy the neat and tidy atmosphere.