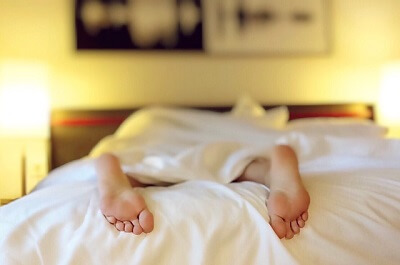 Many people think that they're getting by just fine without a mattress topper, but once you try one, you'll wonder how you ever slept without it!
There are a number of benefits that a mattress topper can give to your bed, and we've highlighted three here.
Saves money on a new mattress
It goes without saying that mattresses are expensive! And it makes sense that you'd want to wring as much life as possible out of your existing one.
A normal mattress will begin to compress under your body weight over time, making it less and less comfortable.
However, rather than flipping your mattress over time and time again, buying a topper could actually extend the life of your mattress by as much as a couple of years, at a fraction of the cost.
While a decent double mattress could cost you as much as a couple of hundred pounds, you can pick up a topper for a fraction of the price if you shop around.
For example, we found a Silentnight double topper for as little as £11.99 at SleepyPeople.com!
There's a misconception among some that mattress topper are an expensive, luxury purchase, but they don't have to be!
Acts as a barrier
While many people opt for a simple mattress protector, you'll get much more protection from a proper mattress topper.
A topper will also act as a barrier between yourself and the mattress, offering it an extra level of protection.
Many toppers also come with a waterproof layer which means that any spillages won't seep through to the mattress itself.
Even without a waterproof layer, toppers should be able to soak up any liquid before it reaches the actual mattress fabric.
Great for youngsters, or even if you fancy the odd glass of wine in bed!
And while it's not particularly nice to think about, your body can release up to two pints of perspiration a night, and a topper helps protect your mattress for this!
And even if your topper does get dirty in any way, it's much easier to remove and clean than it would be to clean the mattress topper itself.
Added comfort
Perhaps one of the most important benefits that a topper can bring though, is comfort!
After all, that's what sleep is all about, right? Toppers are made in a number of comfy fillings such as memory foam, down & feather or various synthetic hollowfiber materials which all offer differing levels of softness and support to the user.
Getting the filling right is very important when purchasing a mattress topper and it really depends on the reason why you need one.
If you find that you suffer from back and neck pain, you might find that you're better with a topper which is a little bit firmer and offers more support such as memory foam.
There are also specialist orthopaedic toppers available which are specifically designed to relieve aches and pains.
On the other hand, if you want something super-soft and luxurious, then it would be advisable to opt for something such as duck or goose feather and down.
For more information on the pros and cons of purchasing a mattress topper, check out this piece from WebMD.