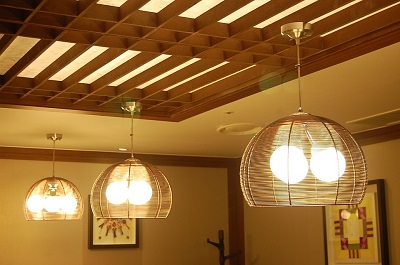 Lighting plays a vital part in your home, there's no doubt about it. Whether it's a dimmer and more intimate style of lighting for the bedroom, or a brighter and more uplifting light for your kitchen or bathroom, lighting really does play an important part in creating the right ambience for certain rooms in your home.
When it comes to looking at ways of lighting up your living room, then you might perhaps be a little overwhelmed as to the wide choice of different styles that you need to pay attention to!
From ceiling heights to setting the right tone, let's take a look at some of the essential considerations that you need to think about when it comes to lighting up your living room.
Ambience
First thing's first, you need to think about the 'feel' of the room as well as the type of vibe that you're wanting to create. This will help you to work out the style of lighting which you feel would be most suitable for your living room.
Perhaps your living room has been designed with minimalism and a contemporary style in mind. If so, then the integration of LED lighting on the walls or ceiling could be the perfect addition for an understated but stunning lighting appearance for your room.
On the other hand, a living room with a cosier and more lived-in feel might be more fitting of a combination of both ceiling lighting as well as lamps. This will help in adding more interest to the room by introducing different levels of lighting, as well as by accessorising the room with different colours and textures.
Scale
Once you've thought about which styles fit the criteria of your living room, it's also important to think about the size of the room in relation to what lighting would look most suited.
A big chandelier in a small room, for example, might appear out of proportion and could even make the room look smaller than it actually is. On the flip side, a small floor lamp sitting placed next to a larger chair or sofa wouldn't be appropriately sized to match the scale of the room's furniture.
Therefore, make sure that your lighting, whether it's a table lamp or ceiling light fitting, is correctly sized to complement the size of the room and its accessories or furniture.
Ceiling height
The height of your ceiling is another tip to think about when it comes to choosing the lighting for your living room.
Oberoi Brothers Luxury Lighting states that "If you're lucky enough to be choosing lighting for a room which has a ceiling higher than 8ft, you're in a position to be able to choose something which hangs down on a chain or even a multi-level pendant which can hang a fair way down".
Yet they also suggest that if your living room is lower than 8ft, then your next best option is to look at semi-flush or flush options which offer a more appropriate option that "better fits the space and doesn't intrude on valuable head height."
Essentially, it's best to have worked out the height of the ceiling before heading out to the shops, as this will certainly help you in choosing the perfect lights for your living room much more easily.
Accent lighting
When considering the style of lighting for your living room, HGTV's article discussing Lighting Tips for Every Room recommends that accent lighting can be used to focus on architectural elements such as the fireplace, bookcase, sculpture or painting.
This helps to give added prominence to points of interest in the living room, for example, uplights fitted to the floor could help to light up specific features such as a sculpture or plant. The combination of different levels is also a great way of adding more interest and charisma into your living room.
Choosing the right lighting for your living room will take time, however, taking all of the above points into consideration will certainly help in ensuring that you end up with the right style of lighting for your living room.