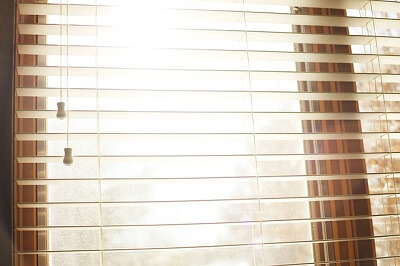 To give your home a fresh touch of style and keep up-to-date with the current interior trends, it can be a good idea, every so often, to look at replacing your window blinds or shutters.
Thankfully, with such a wide variety of different designs and styles of blinds, it should be pretty easy to find something which will suit your home perfectly. Yet on the other hand, having so much choice doesn't always make it easy knowing which to go for!
So whether you're choosing to opt for blinds to give you more privacy in your home or whether it's for style reasons, or even both, to give you a helping hand when it comes to replacing your blinds, here is a quick guide to selecting the right blinds for your home.
What do I need to consider?
Before heading to shops to select your blinds, there are a few things that you will need to bear in mind as highlighted in Good Housekeeping's blog.
Light and privacy
The big advantage with blinds and the reason that they're often such popular lighting solutions in homes is due to the reason that they can give your home privacy whilst also retaining the light.
So first of all you'll need to think about how much light you want to enter the room as this will affect the type of blind to go for. For instance, you might want to keep your bedroom or snug area darker to help you sleep better, whilst in the kitchen you might prefer to maintain plenty of light.
Existing interior style
Once you've established what purpose you're wanting the blinds to serve, you'll now want to think about the current interior of the room where you'll be fitting the new blinds.
If the room consists of lots of bright and bold colours, then this might give you more leeway to experiment with different tones, whereas a room decorated with more neutral and subtle hues would be more suited to have blinds which are lighter coloured or that incorporate earthier tones.
Cost
How much you are willing to spend can also determine what blinds you might want to be looking at. As window treatments are based upon the size of the window, this is something which you will also need to take into consideration.
Perhaps you are looking to fit blinds across an entire house, if so, then you might want to select which windows you're willing to spend a higher budget on.
On the other hand, spending a bit more money could be worth it in the long run if it means that the blinds themselves are more durable, and ultimately longer lasting.
Popular blind styles
To help give you a bit of inspiration as to what different designs are out there, here are a few of the more common styles of window blinds.
Roller
A stylish yet simple solution to managing the light in your room, roller blinds are available in a huge array of styles and also perfectly designed for French doors, tilt and turn windows and conservatories.
UK Blinds & Shadings said that roller blinds are also a great choice of window shading for children's bedrooms through which the 'senses' roller blind system is operated without chains or cords and instead by a unique slow rise spring, meaning that they are much safer.
Vertical
Vertical blinds combine both privacy and light control. The slats which do not use bottom weights or stabilising chains also makes them a great option for pet owners as well as the fact that they're also very easy to clean.
According to Real Homes' tips for choosing blinds and shutters, vertical blinds are also a great choice for patio and French doors which 'stack back neatly, allowing for unobstructed views'.
Roman
For a touch of elegance, roman blinds usually made from fabric gives you the opportunity to explore using different fabric textures and tones which can really help in incorporating more character and interest into a room.
Venetian
Suitable for most rooms, venetian blinds are a fantastic combination of sophistication and light control. There is also a wide choice of different wooden venetian styles, from classic wood to a painted selection depending on what would be most suited to your room.
We hope that you've found this guide to choosing the right blinds for your home useful. Just remember, it doesn't need to be a decision which you need to rush into. Make sure that you take plenty of time considering all of the above points, and very importantly what purpose or purposes you want your blinds to serve, as this will help to go a long way in ensuring you choose the correct blinds for your home.