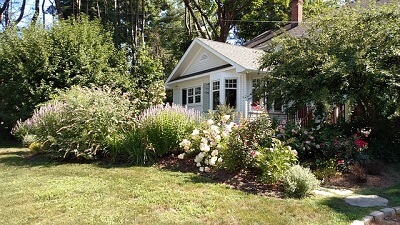 Whether you have a small yard or an acre of lawn, there is a good chance you spend the winter months gazing out of your rear window, pondering how to improve it for the summer and with the warmer months well and truly here, it's time for many to start considering what can be done to enhance their outdoor space this year.
However, with the kids bikes and other clutter blinding your imagination, it's hard to come to any definite decision.
To help you get that imaginative spark back, here are a number of great options, whether you have a yard or a lawn.
Lawns
It can be pretty uninspiring looking at an ill-maintained lawn that runs from the back wall of your garden, up to your back door.
Instead, you need to see this as a blank canvas, an opportunity to do what you like with it. A simple but effective way of making a lawn instantly more appealing is by landscaping.
Giving it more structure, with beautiful stonework giving the grass parameters is a great way to start. Also, this gives you the chance to install flower beds that are easier to maintain, being separated from the lawn by stonework.
For a bit of inspiration, see this great post on Bless My Weeds.
If you have a decent sized lawn but aren't necessarily a big fan of having one, why not add a patio with some stone paving?
This offers the best of both worlds when the summer comes around, particularly for families.
Not only does it give you room to set up your outdoor furniture and enjoy things like a barbeque, but the lawn gives the children a safer, softer area to play.
Paving
Of course, you might not have/or want a lawn at all. Plenty of homes come with yards of varying sizes and people enjoy the benefit of having little or no gardening to do.
One popular way to enjoy a garden without grass is to lay paving stones. There are a number of different stones you can choose, from slate to sandstone, limestone to granite, there are plenty of stones with ranging qualities.
We caught up with CM Projects about paved gardens, who are experts in paving and landscaping. They said, "paving is becoming an increasingly popular alternative to lawns, most of which is down to the availability and affordability of colourful and attractive stone."
"Paving is also much more practical than a lawn, as it is usable in the winter months, whether it's an outdoor space, or somewhere to store things like bikes, mopeds or barbeques under plastic sheeting"
Of course, depending on how interested you are in plants, it is also very low maintenance, only really needing a hose down semi-regularly to prevent the build-up of anything unsavoury.
If you have a smaller garden space, paving can also be a very practical choice, as it is usable all year, getting you the most out of what space you have.