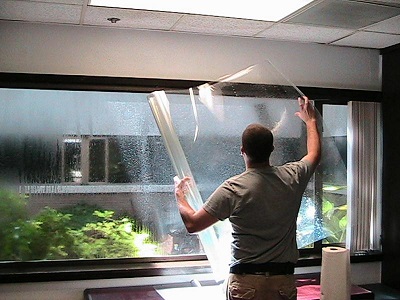 Has your Denver home or business been vandalized? Have criminals broken into your home or business through a broken window? If you answered yes to either or both of these questions, then chances are you know all too well the costs to victims of these crimes. You're not alone. The city of Denver spent almost $1.5 million in 2013 removing graffiti from private and commercial properties. This figure only represents reported graffiti cases. When you take into consideration all of the unreported graffiti and add to that the value of property damage from vandalism and theft costs are astronomical.To help protect businesses and homes,window film manufacturers have developed products to combat these destructive and costly crimes.
Anti-Graffiti Window Film
Graffiti is a growing problem in the Denver area and all too often a sign of bigger problems within a city. While many of us are unable to make sense of most graffiti, Denver graffiti detectives are specially trained to decipher graffiti and over the last year have seen a significant increase in gang violence linked graffiti. Although the city of Denver offers a free graffiti removal service to residents and businesses, this often involves painting over the graffiti. This may work well for paintable surfaces, but when graffiti is painted on or etched into window glass, it's a different story and in most cases, the glass must be replaced. Window film manufacturers now offer special anti-graffiti films for windows and other surfaces that not only prevent glass from being scratched or etched, but also can be peeled off and replaced if they are tagged with paint or markers.
Security Window Film
In addition to graffiti, vandalism and theft are also a growing concern in the Denver area. According to the 2013 crime statistics released by the Denver police, there were nearly 24,000 reported cases of property crimes including property damage and theft. Often vandals and thieves will break windows in businesses and homes for fun or in order to gain access to the valuables inside. Replacing a shattered window can be very expensive and time consuming, and often must be replaced quickly to prevent additional theft and keep out the elements. Security window films are designed to prevent windows from shattering in the event of breakage. There are a wide variety of security films.Thin films are designed hold glass together and prevent shattering in the event of a break-in.Higher end security films are not only able to withstand a small explosion; they can also prevent thieves from breaking in entirely in some cases.
Impact Protection Window Film
The ultimate window film protection available today is impact protection window film. When bonded to a special security frame or window attachment system,these window films are strong enough to protect occupants against a medium sized bomb blast. Against vandals and thieves these window systems are the ultimate protection, as they not only hold the glass together, but they also hold the glass in the window frame creating an impenetrable barrier.
Author Bio:
Technical Tinting & Clear Bra, Ltd. is a veteran-owned and operated window tinting company serving the Denver area, specializing in residential, commercial and automotive window tinting. Technical Tinting & Clear Bra, Ltd. believes customer service is of the utmost importance and strives to ensure their work is not only correct but also outstanding.