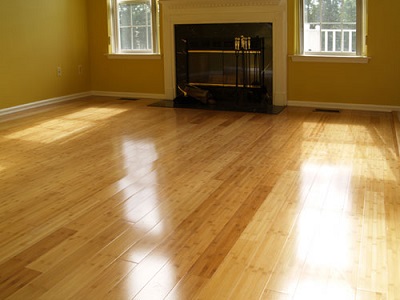 Flooring is one of the most important design aspects of a house which can add beauty to its overall look. Nowadays, interior designers recommend bamboo flooring for its unique and aesthetic appeal. Bamboo is the tallest and the most sturdy grass plant that is known to originate in China. Bamboo products are very popular not only in this country, but also to other East Asian countries such as the Philippines, Cambodia, Japan and Thailand is commonly found in homes in these areas which gives it an oriental look.
Modern interior designers have realized the potential of bamboo in contemporary design and are now adapting it for use in the home. Bamboo flooring adds aesthetic value to a home.
Advantages of Bamboo Flooring
Using bamboo as flooring not only provides a modern look, but it is also environmentally friendly. Since bamboo is a type of grass, it is considered to be a sustainable resource making it friendlier to the environment as compared to a widely used hardwood which is a constructed material.
Bamboo plants only take about 3-5 years to become mature and ready as a raw material for flooring. On the other hand, timber takes about 15-20 years before it matures for use for flooring material. As a result timber resources are hard to sustain and may cause harm to the environment.
The bamboo plant is a strong and sturdy material that can last a long time even carrying loads that are many times heavier its weight. Bamboo also gets better with age, making it look more aesthetically pleasing as it changes in colors and tones.
Compared to the price of timber flooring bamboo flooring are more prices stable. There is a desire to make bamboo more affordable than other flooring materials. Using bamboo flooring is practical and affordable and many Western countries are starting to adapt the use of bamboo flooring in their houses.
Provides comfort for different temperature
Aside from the timeless beauty of bamboo flooring, it is also more functional. In the summertime, houses in Asian countries stay reasonably comfortable to live in because bamboo allows cool air to breath inside the house. Bamboo flooring also adapts to variations in temperature, making it more resilient from warping than other flooring materials.
Bamboo flooring can be processed and installed depending on the desired outcome. First, producing bamboo flooring is not as expensive as other flooring materials, giving it a price advantage.
Second, there are three different techniques for installing bamboo flooring. First, bamboo flooring can be nailed to a sub-floor, which is usually made of wood; second, bamboo flooring can be installed by gluing the material on to a sub-floor; and finally bamboo flooring can be installed as a floating floor by either nailing it or gluing it on to underlay structures.
Various Types of Bamboo Flooring
Aside from the advantages of using bamboo flooring in the house, there are also various types of bamboo that you can use depending on the design you prefer. These types will also have also undergone processes to make them polished and sturdier. Bamboo flooring can also be laminated if preferred. Here are some of the kinds of bamboo flooring:
Compressed bamboo flooring
This type of bamboo flooring is compacted and polished for a woven effect on the floor.
This type of flooring provides big nodal patterns on the board.
This type of flooring produces smaller nodal patterns on the floor.
No matter how you want your floor to look using bamboo flooring is a great way to achieve a modern yet a timeless beauty quality in your home. The true essence of bamboo flooring is the tremendous quality, great functionality and durability at competitive prices.
The author James M. Bell has interest in floor designing who loves to read and write on custom floor design solutions. He also reviews and follows web sites such as Bamboo & Timber Brisbane Specialist Bamboobrisbane.com – bamboo floors and many other sites for updating his knowledge on it.