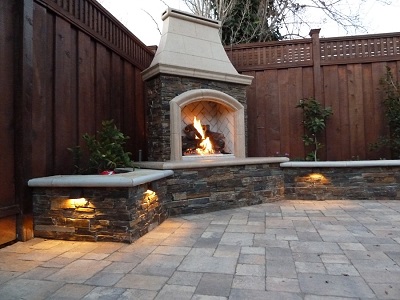 An outdoor fireplace can be a valuable addition to any home. It provides a warm and beautiful focal point for entertaining friends and family. Outdoor fireplaces help enhance the visual appeal of a home significantly. As outdoor fireplaces can be constructed in a variety of styles, one can choose any design and style that complements one's home décor needs to add an enchanting touch to one's outdoor area. For those who wish to add value to their property, outdoor fireplace is a wise investment. Most people enjoy having a beautifully constructed fireplace in the outdoors and by building one you can impress prospective buyers when trying to sell your home.
Outdoor fireplace construction tips and ideas
Are you interested in building an outdoor fireplace? Use these tips and ideas for getting the most out of it.
Before you construct your fireplace, consider what purpose you want your outdoor fireplace to serve. Do you want the fireplace to add to the curb appeal of your home or do you want it to serve the functional purpose. An open hearth can be used for creating an intimate setting for small groups of friends and family. You can have your outdoor fireplace serve as a barbeque or pizza oven but the design would be complex in that case.
Decide what kind of look you want to achieve. If you want to get a traditional look, you should use brick for constructing your fireplace. For a more contemporary look, stone or stucco should be used.
Next you need to consider the size of the outdoor fireplace. The size of the fireplace should be in accordance to its surroundings. The fireplace should neither over shadow the size of your house nor should it by dwarfed by your home. The fireplace can be the focal point of your patio or backyard or it can be made to complement the beautiful backyard or pool deck area of your home.
What type of fireplace would you like to have? Outdoor fireplaces can be wood burning or they can be made to run on gas. The very sight, sound, and smell that wood burning fireplaces have helps create a rustic ambience. It creates a special aura, adding a magical touch to ordinary evenings and parties. But wood fireplace produce smoke so they require a proper chimney.
Gas fireplaces do not produce any smoke and therefore they do not require any chimney. Gas however is expensive compared to wood fireplaces.
To enhance the aesthetic appeal of your outdoor fireplace you can have inbuilt seats constructed as an extension of the fireplace. It is not only a real treat sitting by the heat of the heart, but it also adds a lot of charm to the outdoor area.
Look for a reliable company to help you with outdoor fireplace construction and enhance the visual appeal and functionality of your outdoor space.