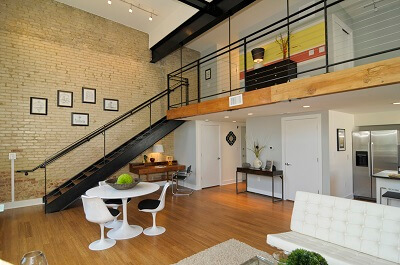 Loft as a term in architecture didn't exist with a purpose for housing. It is a space in the roof of an objects (any purpose), that has the purpose of storing and accommodation. Lofts are, freely said, an artificial creation of the skill of housing.
"By using the same elements, I created spaces with a completely different spirit" – Federico Delrosso, architect
The appearance of the loft, as a space that is located in the zone between the floor and the roof, happens with the beginning of modern building in 1900. The major start of the creation of this new hybrid marked the year 1960. when artists populated abandoned industrial areas, in an area in Manhattan, (South Houston). Lofts have gotten the category of apartments in the 80's of the last century. Thanks to artists, a new way of thinking was created. The experience of a free, uninterrupted space, that has the potential to be designed as much as the imagination allows. Abandoned halls are offered to the marginalized layer of society that brought prestige as some sort of rebellion, changing every space with a lot of creativity. From then on, till today, many want lofts for themselves. The message that is sent by decorating lofts today is that art has fought for it's place in architecture, that it is lived, felt and used in everyday life.
 Federico Delrosso, the Italian architect, by redecorating space, has made a conversion of the industrial object in Milano, into two lofts. Light – darkness, light – heavy, metal and glass, are in a way an imperative for creating a personal attitude. The first loft, "Home Studio A", is actually the home and private studio of the author, architect Federico, while the other "Home Studio B", is placed as in a mirror in space and it represents a residential living of a modern designer. The architect has brought freshness into the space, using light colors as a basis (furniture, blinds, walls, etc.), while dark shades, like the floors, are used as a neutral element. The staircase represents an element that speeds up the energy so in every loft a special attention is dedicated.
A simple form of created open space, set in four zones, that entangle and function as a whole, and yet again clearly every corner and purpose is clearly set by functional divisions for using the ambiance.
The architect uses materials like metal, steel and the completely opposite, glass. The details it creates in both lofts, the transparent floor, is like upgrading the space and it's visual identity. The designer plays with the ideas of opposites that if they are balanced make perfection. In some moments, it appears as if one loft is in a negative, because according to the complexion of the function is identical to the other, and in the style of the furniture an identity is created for every loft. Exactly that combination of complex and simple makes these two lofts sophisticated and with that comfortable.