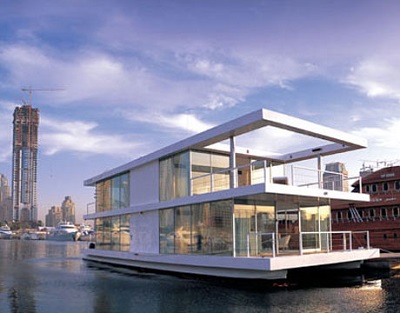 Is it a house? Is it a boat? No, it's a houseboat! Houseboats possess a quirky but cool charm that makes them a popular choice for homeowners wanting to put a twist on tradition. The 1958 film Houseboat with Cary Grant and Sophia Loren romanticised the notion of living afloat and helped dispel the stereotype of  rambunctious, backwoods folk ordinarily associated with houseboat and pontoon living.
The beauty of the houseboat is in the simplicity of its design, it looks like a house and floats like a boat. This means, instead of settling for riverside and lakeside properties, water enthusiasts can live on the water. The houseboat is a beautiful and beloved hybrid of two very different ways of life, allowing people to explore their more eccentric sides and indulge themselves in a domestic adventure. Unfortunately, the downside of this hybridity is the identity crisis the houseboat is left with, how it should be treated – as a house or as a boat?
There are so many practical considerations to take into account when you think about residences, onshore or afloat. Here are some of the main issues the modern homeowner faces that are further complicated by living on a houseboat:
Utilities
Fresh water will be piped to a houseboat, normally by a marina, but if you are moored independently you will need to put a system into place. So they get mains water supplied but unlike land residences, it's not "on tap" per se. Sewage is a slightly different matter as waste will either be pumped to a communal waste tank and removed regularly by a truck or your bathroom will be fitted with a macerator which will purify and liquidise waste matter before releasing it into the tide – both very different to onshore sewage.
Gas, fuel and electricity are available but will not be piped as they are in houses; electricity will be provided but there may be limits on the voltage, and gas or fuel will be provided by canisters rather than via mains.
Facilities such as post, council tax, electoral role and phone or television lines will all be available to those living in houseboats. The post will be delivered to your residential mooring or left at the marina office, bills and council tax will still apply which means you will still register on the electoral roll.
Going Green
Going Green is a huge concern for homeowners at the moment and that doesn't stop when they decide to relocate to a houseboat. Bills will still need to be paid and the environment will still need protecting so energy efficiency will be just as beneficial to life afloat as it is to life on land.
Houseboats tend to be well insulated and conserve heat (and therefore energy) very well. It is important, however, to seek expert advice so you can distinguish if houseboats require domestic insulation or marine insulation, remember it is neither house nor boat so many other lines will be blurred.
The macerator waste disposal is an environmentally friendly method and there is also ample opportunity to go green by saving energy with the limited voltage and combo boilers so typical of houseboats.
There are projects all over the world working on bringing environmentally friendly houseboats to the forefront, trying to bridge the gap between green eccentricity and green traditionalism in residences. (https://www.thedailygreen.com/environmental-news/community-news/floating-green-houses-460809#slide-2)
Maintenance
All homes need to be kept clean and tidy, with certain improvements and maintenance work needing to be done at intervals. A houseboat however needs much more upkeep to prevent rust and ensure waterproofing. You will still have to do the household chores, but you will need to be aware of the extra work living afloat entails.
All homeowners need to consider utilities, maintenance and sustainability.A houseboat is no different in that respect, though there may be more restrictions or slightly different methods employed for certain ways of life. The important thing to remember is that just because a houseboat looks like a house and acts like a house, it is in fact a boat and will need specialist knowledge, care and attention if it is going to be a long term residence.