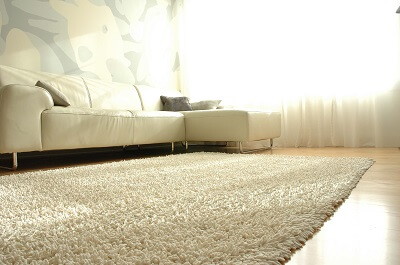 Shag rugs were super fashionable years ago and now the are making a comeback. They are luxurious, plush and super comfortable to lie on. They make a wonderful place for relaxing and create a very cosy atmosphere. However, when it comes to taking care of and cleaning a shag rug, there are a few things that have to be taken into account. Proper maintenance is important and it usually depends on a rug's thickness and its exact type. There are several ways to care for your shag rugs. Here are our suggestions on how to clean and take care of a shag rug without damaging it.
General Care
When it comes to general care, shag rugs don't really differ from other rugs. They need to be vacuumed about twice a week and more often in high-traffic periods. In case of a spill, don't let it sit on the rug long but rather clean it immediately. The longer the stain sits on your shag rug, the more complicated it is to clean it.
Loosen Dirt
One way to take good care of your shag rug is to hang it over a railing and beat it in order to loosen dirt, that is stuck in it. Use the handle of a mop or the side of a broom to do it. Then let the shag rug sit in sun for a few hours, so that the heat kills most bacteria and dust mites.
Vacuum Your Shag Rug
Vacuum your shag rug in the traditional way but make sure you don't use the powder head or beater bar on it, otherwise you might damage it. Then flip the rug over an vacuum its back side, using the beater bar in order to remove more dirt and dust.
Dry-Shampoo Your Shag Rug
If your shag rug is stained or it's just time for it to get more deeply cleaned, you can apply the dry-shampoo method on it or you can use the services of Shiny carpet cleaners. Sprinkle the shag rug with absorbent granules and work them into the rug, using the bristles of your vacuum machine's head, without turning it on. You can also use a brush with soft bristles. Let the dry shampoo sit for as long as it's written in the instructions of the detergent and then vacuum the rug thoroughly. In case your shag rug is antique or very expensive, it's better to bring it to a professional cleaning service.
Steam-Clean Your Shag Rug
If you don't have a steam cleaner, you can rent one. This method of cleaning your rug thoroughly is suitable to do twice a year. Put tap water in the steam cleaners, as instructed, and a detergent that doesn't create foam. Then dry the rug using a fan. Shag rugs absorb a lot of water, so you should make sure you dry it well.
Spills
In case of an occasional spill, clean it immediately. Use paper towel or absorbent cloth to absorb as much of the substance as possible. Then damp a cloth in warm water and washing detergent and use to gently scrub the stain. If the stain is too tough, damp the cloth in hot water and place it on the stained area. Let it sit there for a few minutes and then scrub again.