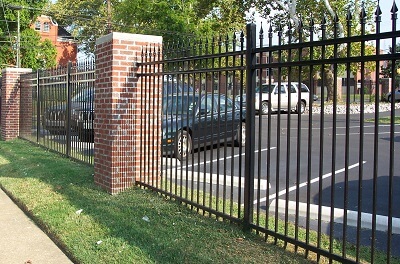 One of the best ways to spruce up the look of your business is by investing in quality commercial fencing. More than just a security feature, commercial fencing adds curb appeal and aesthetic value to your business, making it more pleasing to the eye of your potential customers. When it comes to commercial fencing, you have lots of options and lots of things to consider before making a purchase. These are some things to think about before making your final decision.
Commercial Fencing Materials
The type of fencing material you choose will depend on several factors, including budget and the purpose of the fence. Common choices include vinyl fencing, wooden fencing, iron fencing, and chain link fencing. All of these materials have distinct advantages and disadvantages, which are outlined below.
Vinyl Fencing
The advantage to vinyl fencing is the fact that it is sturdy, durable, and virtually maintenance free, saving you both time and money in the long run. Vinyl fences come in a wide variety of colors, styles, and textures, making them a very versatile option for almost any commercial fencing need. The main disadvantage to a vinyl fence is the fact that it comes with a rather large price tag up front, so it will require more money out of pocket to purchase and install.
Wooden Fencing
Wooden commercial fences are fantastic for privacy as well as decorative purposes. These fences are among the most affordable and come in several different styles. Unfortunately, wooden fences require quite a bit of maintenance, including repair and refinishing, in order to look their best. They also tend to rot, break, and weather over time. Wood fences are great for business owners who do not want to spend a lot of extra money putting up their fences and who are prepared to maintain them.
Metal Fencing
Nothing says sophistication and elegance quite like an iron bar fence. Although these fences are quite expensive up front and require professional installation, they are relatively easy to maintain aside from occasional refinishing and damage checks. Metal fences are very resistant to damage and discourage intruders because of the fact that the bars are thin and often pointed at the top.
Chain Link Fencing
Chain link fences are very affordable and widely available, making them a popular choice for some commercial fencing, particularly in industrial areas. These fences are easy to maintain, not prone to graffiti, and they are cheap and easy to install. The disadvantages to chain link fences is that they are easy to climb (unless topped with razor wire), not particularly attractive, and prone to bending and pushing in.
There are quite a few options when it comes to commercial fencing, so you should carefully consider your needs and budget before making a final decision. Are you looking for something attractive or merely protective? How much space do you need to cover? What are you willing to spend initially and for yearly repairs? All of these factors are very important when choosing a commercial fence.