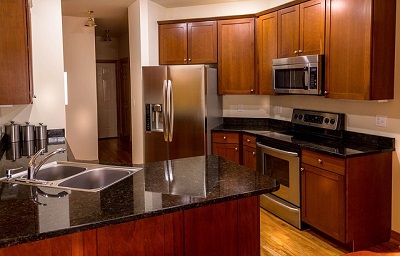 When it comes to renovating your kitchen, one of the most important elements is your countertop. Homeowners that are interested in designing a modern and contemporary kitchen may look at various materials such as granite and quartz, though many interior decorators suggest that quartz is your best option for creating a seamless modern appeal.
What is Quartz?
As a type of engineered stone, quartz is quite different from marble and granite as the opposing two materials occur naturally and are mined from natural resources. Quartz gives you the durability that a kitchen counter should have and it is equally as useful for hard working areas. Since quartz countertops are engineered, they include a blend of 94% quartz and polyester resins. This blend is essential for making the material resilient against scratching and stains.
Choosing the Right Colors
When you start looking into quartz countertops you will find that they come in a wide variety of different colors and it can be difficult to choose the right one. Simply by picking the right color, you can surely achieve the modern appeal that your kitchen deserves. Here are some of the most popular colors that you should take into consideration:
Beige and Brown
"Canvas" is the type of color that you should be looking into if you're interested in staying away from the stark contrasts that are generally associated with your "typical modern" room. Choosing a beige or brown color can help to make your kitchen warm but still modern at the same time. Choosing a similarly colored tile and natural wood cabinets can really help to tie the whole room together.
Stark White
When you think of a typical modern room, especially in a kitchen, most people immediately gravitate towards a stark white countertop. By choosing white quartz countertops you will be able to create a clean and sleek look that accentuates all of the best features of your kitchen. It's also a great choice for bathrooms as it can make them feel larger and more comfortable. One interesting aspect of white quartz countertops is the fact that you can find colors that are plain white, others that have specks of silver and grey, and more. They're quite adaptable to a variety of different modern design plans.
Shades of Grey
Grey is the great middleman between stark white and a dark black countertop and it can sincerely help to contribute to a modern appeal. Grey is relatively easy to work with as it can be paired with natural wood cabinets, light wood cabinets, and even dark wood. There is a unique sense of depth that you'll receive from this color and it can tie in perfectly with a variety of different backsplashes. Another reason as to why many homeowners choose grey quartz countertops is because it relates back to the natural earthy appeal that you would get from other materials such as slate or granite but by using a strong, resistant, and reliable material such as quartz.