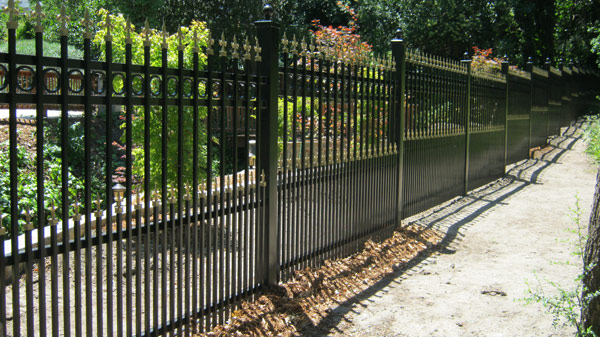 For thousands of years iron has been used to decorate living spaces. It has decorated palaces from the great Chinese Dynasties to small homes throughout the centuries.Ornamental iron plays an important roll in the history of home decor. This is a brief article informing you about the past uses of iron to decorate and the current options you have with iron in and around your home. Here is a quick list of some well known iron made home decor items.
1. The famous suit of armor that was found in castle hallways during the middle ages.
2. Family crests were often made from iron, insuring that they would endure for a long time.
3. The famous french door was often accompanied by artistic ornamental iron.
4. Metal planting pots.
5. A more current iron decor item would be metal plate sayings. This "metal writing" is often done by high power machines that cut precise designs, in this case words, into metal.
These are just a few of the many ways iron has been used to decorate a living space.
Other Home Items Made From Iron
If it can be made with wood, it can also be made with iron. Iron furniture is really common for patios and decks but it doesn't stop there. Because iron provides such a strong stability it is great to use for dining room tables. Often times dining room ornamental iron tables are accented with a solid piece of glass that sits on the top.
Other types of tables that are very popular for ornamental iron are coffee tables, night stands, end tables, and other small tables used for lamps, books, and other odds and ends.
Do you have some hanging lights that need some extra style? If so, then a custom ornamental light fixture is a great choice. Don't think that you need to have large vaulted sealing to feature a beautiful ornamental iron light fixture. Iron fixtures come in all sizes and shapes and if you don't find what you are looking for at a local retail outlet you can also have one custom made for your home.
When it comes time to choose a fence there are many different options to choose from. Some of the most common are wood, metal, and vinyl. Each of these choices comes with their own pluses and minuses.
Ornamental iron fences or metal fences have many benefits that the other two most common choices do not.
1st: A fence is a major purchase that homeowners don't want to make twice. For this reason it is important to get the best quality of fence the first time so that you don't have to fix your fence or buy a completely new one. Metal fences are sturdy. They last a long time and since they are powder coated their color will last much longer as well. This means that they are little to no upkeep and they are reliable.
2nd: A fence around a yard or a piece of railing on a house is noticeable. It changes the look of the home and this can be either bad or good. All homeowners want their homes to look great. Ornamental Iron has the ability to be customized to look as fancy or as plain as one wishes. There are thousands of different variations and styles to choose from. All of these design options make metal fencing a great choice for matching or bettering the look of a home.
3rd: Metal fences are strong. There is very little chance of a metal fence falling down or breaking. One of the most common reasons for getting a fence is security and a strong fence is a secure fence.
Ornamental Iron Will Always Be In Style
Unlike other home decor trends, ornamental iron will be in style for a long time. It has already been used in homes for hundreds of years and isn't about to disappear. I hope that this brief article on ornamental iron uses for the home has helped you be better informed in deciding how to decorate your home.