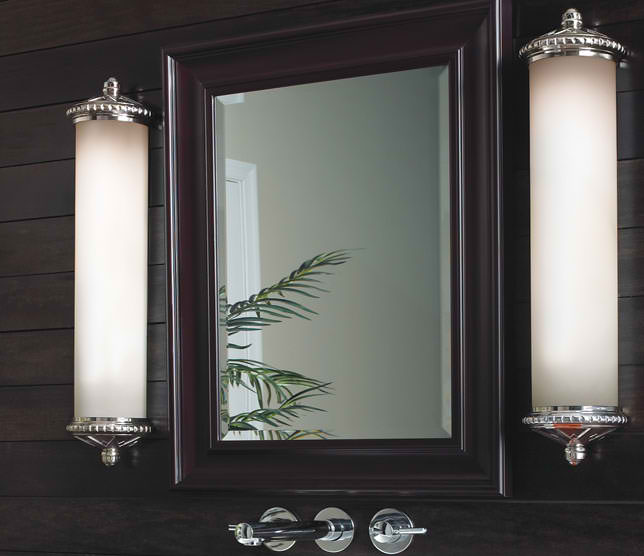 Decorating styles come and go, but since its inception in the 1920's, bits and pieces of Art Deco design have always stayed in fashion. Wall decoration and furnishings that mimic the geometric patterns and design that make the style famous; timeless, elegant perfume bottles and, of course, Art Deco lighting fixtures are just a few of the more popular items.
That Familiar Feeling
Art Deco lighting fixtures and other designs are immediately recognizable — even if the viewer is not sure what they are recognizing. The bold colors and geometric motifs that pattern many of the pieces are familiar to many fans of noir films, while their descriptions permeate novels and stories that want to invoke a certain era or atmosphere. In like manner, people decorating their homes or offices often look to Art Deco when they are seeking a retro, yet modern look.
Perfect for Large and Small Spaces
Art Deco lighting design is so varied that it's possible to find the designs in something as small as a night light, and as large as a floor-to-ceiling lamp. For small spaces, the compact style of the chandeliers creates a perfect designer look without the overwhelming presence that a full-sized chandelier would bring. This is truly a style appreciated by people who are decorating apartments, office space and any other place where the goal is unobtrusive elegance.
Does Art Deco Lighting Work in Any Decor
Some decorating or artistic styles do not go well with others. It's better to simply stick with that style throughout the decorating project. This is not the case with Art Deco. Art Deco lighting, for instance, goes well with a modern look, whatever that look is at any particular point in time. At the same time, it nestles in nicely with Victorian-era decor, 1960's retro, the Roaring 20's and almost any other decorating era that can be imagined. This is part of what makes streamlined, timeless and ageless elegance of Art Deco such a smart purchase. Its look lasts, even when the room's look changes.
Lighting is Important
Lighting is important not only to the look of the decor, but also to the atmosphere of the room. Very bright lighting can make even the most comfortable home seem a little clinical, while lighting that is too dim can be depressing. Art Deco lighting, in its many varieties of styles, offers options that produce different feelings in rooms, depending on how they are used. Effective decorators, professional or amateur, know to look at a particular room at various times of the day, and in the evenings, to get a true idea of how much lighting it needs. Perhaps a simple chandelier will do; or maybe lamps scattered around the room would be better. Too many lighting options are better than not enough.
Decorators considering the use of Art Deco lighting for their rooms should not be afraid to mix and match styles and eras. Smooth, understated and elegant designs are just as much a part of the art period as the bold, brilliantly-colored geometric designs Art Deco is known for. The perfect fit for the room is simply a matter of choice and appeal.