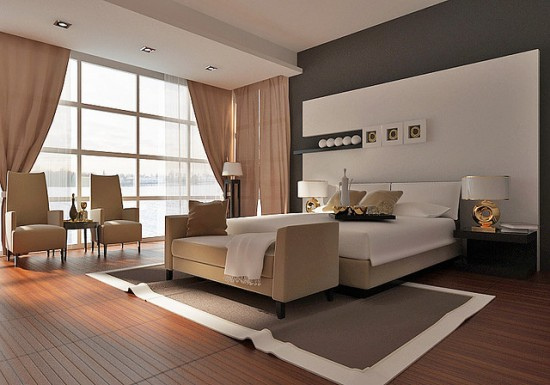 A stunning and serene environment to come home to after a long day of work and demands of everyday life can be so welcoming! Imagine light peach natural stone tiles made out of sleek marble gracing the living and dining room floors. How beautifully contemporary that would look in any home! Tiles are so much easier to clean and don't hold allergy triggers like dust mites, pollen and dust like carpeting will do. For individuals that have sensitivities like asthma and allergies, a pristine clean environment is essential and can lessen the amounts of those awful days of congestion, running nose and itchy eyes.
For those individuals that are interested in keeping their books free of dust and particles, an enclosed bookcase would be a great needed investment. These very affordable containments are ideal and neatly encase materials that are often used. They also give the room a very solid and stable look along with a classy touch without much effort at all. These can also protect precious glassware as well as trophies and sensitive items that need protection from everyday elements.
Natural stone tiles come in great varieties of styles and colour combinations. Granite is one of the top performing and also the most chosen when it comes to counter-tops along with matching tile floors. This winning combination for any kitchen makes it one of the most requested from elite homeowners as its endurance tests the lengths of time. Other natural tile stones that are also very popular choices would be marble, slate, limestone and travertine.
Home improvement can be done in so many ways. One can very easily attain 'uplift' for any home by tending to both their exterior gardens as well as adding plants to the interior rooms as well. Lush greenery can go a very long way when it comes to putting a home on the market. Many potential buyers rate the exterior grounds and use this as an example of how well the property has been maintained. Banks who own foreclosed homes are the first ones to spiffy up the lawns as well as repair the interior areas of the home.

Redecorating any room in a home can be enhanced by adding the right pieces. A new bright coloured sectional couch can really lighten up the living room and is a great place to start. Adding mirrors is also a decorator's secret tip that is very effective in making the room larger, more elegant and also adds a chic look at a very affordable price.
Lighting is also very important to set the 'tone' of the room and can change its environment in an instant. Some love floor lamps that go over one's favourite lounge chair by the fireplace for reading while others prefer table lamps behind a couch. The use of different types of lighting to highlight multiple areas can be a very attractive setting as well.
Chandeliers are often a centerpiece in a hallway or in a dining room. These sparkly and eye catching pieces can be extremely large or small and very effective in creating a dramatic entrance to any room. Most have dimmer switches which can help create a very soft and romantic mood for everyday or anniversaries and any kind of special occasion. These are famously used for New Year's Eve and Christmas parties in hotels, casinos, restaurants as well as private residences.