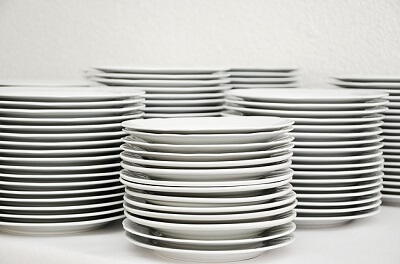 Melamine plates are very 70s to many people. They are the stuff of childhood picnics, sand in the sandwiches and flies in the fruit juice. But, for others, melamine plates are very useful, easy care and essential to the lifestyle they lead.
Melamine resin and formaldehyde combined form the lightweight, hardwearing plastic used to make picnic sets and children's plates as well as dry wipe board surfaces and even laminate flooring. I remember a gold coloured picnic set from my childhood; indestructible, lasting through almost 20 years of beach and caravan holidays before some of it ended up being used as cat food dishes. The plastic cutlery came and went every year, but the plates, cups and bowls remained almost stubbornly intact no matter what happened to them. Melamine is shatterproof and crack resistant, and therefore long lasting and good value for money. It is also heat and chill resistant, making it safer to handle than china.
Melamine plates are dishwasher safe but should not be used in the microwave, nor in convection, gas or electric ovens. However they are considered suitable for any of the following purposes when used correctly:
Dishes for babies and children
If your toddler is prone to throwing their food plate on the floor, melamine plates are pretty indestructible, so all you will end up cleaning up is the food, not shards of broken china. They are also lightweight so eating with a tablecloth-tugger is less damaging than if a china set ended up on the floor. Similarly, melamine plates are often found in school cafeterias, where their light weight and unbreakable nature make them popular choices for these high traffic, high wear locations.
Melamine plates are ideal for professional childcare facilities, again, because they are durable and hard wearing. Care should be taken to replace any which are showing signs of wear, however.
For caravanning and camping fans, a set of melamine plates is a much better idea than using china. They're lighter to carry in a rucksack and will cope better with any rough surfaces encountered on the way to the caravan pitch.
Wedding buffets, parties and other celebrations
There is a reason why many caterers will use melamine plates rather than the paper equivalents. Melamine plates are a bit more classy, and much more solid, but they can still be washed in the dishwasher. Plus, they cope well with being dropped in the grass.
Disabled or elderly food presentation
If you have a family member who struggles to control their muscles or has very little grip, a melamine plate is a good way to present their meals. If an unwary muscle twitch from Parkinson's or similar sends the whole lot onto the floor, the damage will be restricted to clearing up the dropped food. For those who are losing their strength and grip through arthritis, a melamine plate is easier and lighter to lift and hold than a china one.
Melamine plates are heat resistant so a popular choice for use as spoon rests.
Melamine has had some bad press over the years. The compound certainly isn't safe when added directly to food, as it is known to cause kidney damage, and there have been concerns about its use in kitchenware and plates. The US Food and Drug Agency considers melamine plates are safe in their own right, but some researchers caution against long term use of melamine products pending the results of lengthy studies. As with many things, if used correctly and in moderation, no long term issues should occur.