Whether you're selling your house and looking for small ways to increase curb appeal, or if you're just hoping to freshen and liven your personal living space, these projects can be completed on a budget and without a great time commitment.
Paint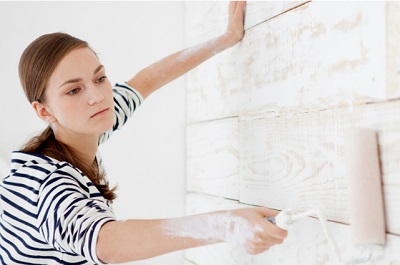 A fresh coat of paint will brighten a room and remove old scuff marks from the wall, giving the impression of cleanliness and newness. This home improvement project usually takes approximately half a day or less, depending on the size of the room. To paint your entire house, you will likely need a week or more. As you choose colours, remember that darker colours can make small rooms seem claustrophobic, while lighter colours may wash out a large room. Once the walls have been painted, consider replacing fabrics like curtains and blankets so that everything in the room will match.
Clean Carpet
Dirty carpets can make a bad impression, and distract from more pleasing features in a room. Cleaning your carpets annually or semi-annually should keep them looking fresh and beautiful for many years. Don't want to hire a professional? Save money by doing this project yourself. Carpet cleaning machines are usually available to rent at supermarkets or DIY stores for a reasonable price. If you're feeling more ambitious, consider tearing out the carpet and refinishing the floor underneath.
Landscaping
Curb appeal is crucial when trying to sell a house. Cut the grass, pull up the weeds, and buy whatever seasonal flowers may be available at your local nursery or garden centre. A weekend spent sprucing up the garden can go a long way toward making a positive first impression. Maybe the fence could use a coat of paint, and the flower beds would benefit from a row of decorative stones lining the perimeter. While you're sprucing up the yard, jet wash your walkway and replace the address numbers on your house. As a finishing touch, install lighting along pathways.
Replace Taps and Fixtures
Old light fixtures and grimy, mildew-covered Taps make a room look dingy and worn. Luckily, replacements can be purchased inexpensively and installed within a few hours or less. In most cases, this can be done without the help of a professional. Taps and fixtures are sold at a range of prices, so you can keep costs for this project down by purchasing lower priced items and replacing only a few at a time, over a longer period of time.
Reface or Repaint Cabinets
Installing new kitchen cabinets can be very costly, but replacing the doors and drawers can be done for a more reasonable price. If this seems too expensive, repaint your cabinets instead. This is a time consuming project that can take an entire weekend, but has a big impact on the overall look of the kitchen.
Repaint the Front Door
Repairing and repainting your scratched and scuffed front door might take only an afternoon, but this project can radically change the appearance of your house. Before you paint the door, take it off the hinges and use wood filler to repair any cracks in the wood. For an inviting and cheerful front door, paint it a bright colour like red or blue.
Organise the Wardrobes
Make space and reduce mess. Use modular wardrobes organisers to store clutter and get it out of the public spaces in your home. With a few shelves, tubs and baskets, your messy wardrobes and closets can hold much more than they do now, and you'll be able to find it all more quickly. Upon organising the wardrobes, you might also like to tackle bigger storage spaces, like your loft, garage or shed.
Replace the Lamp Shades
Lamp shades have a way of becoming cracked and yellowed over many years, but most people simply don't notice because the changes happen very gradually. Your old light fixtures can look new again if you simply swap one shade for another. Lamp shades are usually available for purchase at DIY and specialist lighting stores.
Article written by Freddie Richardson on behalf of Domex UK – the leaders in appliance repair services.