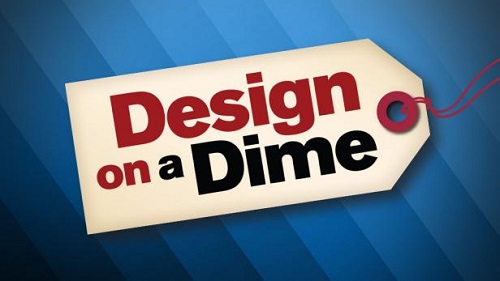 Home-improvement programs on television have long been a trusted resource for decorating, construction, and crafting ideas. The abundance of programming available – with shows broadcast on public, network, and cable TV channels – makes it easy to find something to suit any taste – and that isn't forgetting real events you can actually visit. A viewer's interest in these programs is driven by their own individual needs, with some shows offering basic, simple solutions and others providing in-depth knowledge that serves to educate as well as inspire.
Design on a Dime
Design on a Dime is a home decorating show that features a single room and a small budget. A variety of hosts and design team members have made this show a favorite of home-improvement television viewers for many years. Practical tips and unique techniques take center stage, with crafts and DIY home improvement projects that help make plain items into chic, contemporary designs. Simple home remodeling along with many sewing, furniture and painting projects go a long way towards freshening up tired home decor.
Property Brothers
Property Brothers is a Canadian program that's become wildly popular in the US as well. Broadcast frequently on a number of cable channels (check here for local listings) it is a design and remodeling renovation show that cashes in on the charm of two brothers: one a real estate agent, the other a contractor. Jonathan and Drew Scott work together to purchase and renovate a fixer-upper home, and they create an end result that delights the homeowners. The show features a light-hearted humor and a great deal of banter between the brothers that is engaging to audiences, and it is successful in featuring small, unimpressive houses and turning them into opulent, comfortable homes within a reasonable budget.
Extreme Makeover Home Edition
Extreme Makeover Home Edition was an extremely successful primetime home improvement program for nine years. In each episode, a group of designers was assisted by the community to quickly construct a luxurious custom home for a deserving family. The home went up within the span of a few days and was then revealed to the homeowners in a dramatic finale. Showcasing high-end finishes and functional customizations, it always brought everything together at the end to fabulous feel-good results. Extreme Makeover Home Edition was one of the first places television took notice of new tech and home automation tools, such as smart thermostats, security systems and lighting.

This Old House
This Old House is a long-time staple program of public television. The Emmy-winning series even boasts an impressive website and a magazine as well. Having seen over 900 episodes go live since 1979, the show has featured a variety of hosts, woodworkers and home renovation experts. The program features historic renovation of elegant homes with unusual features and customized renovation techniques. It does not focus on DIY projects but shares the in-depth work of professional craftsmen. This Old House often focuses on sustainable solutions and recycling along with topics of technology and eco-friendly renovation – such as going "off the grid" or bringing home a new electric car.
Fixer Upper
Fixer Upper features a husband-and-wife team: he is a contractor, she is a designer and realtor. Chip and Joanna Gaines live in Waco, Texas where they assist new homeowners with purchasing a home, renovating it to meet their taste and decorating it with style. The couple is credited with helping to renovate neighborhoods throughout Texas. This is a newer show which debuted on television in the spring of 2014. The show often features severely dilapidated homes and homeowners who aren't always convinced of the Gaines' vision and ability to turn a mess into magic.
The Bed Show
This is the UK's largest event, held at Telford International Centre. The body responsible for the event is National Bed Federation (NBF). It is a great place to visit for those looking to buy a bed. You'll get advice whether you're looking for a storage bed all the way to unique offerings such as L-shaped bunk beds. If you wish to visit then put this event in your calendar, it is held this year between 19-20 September 2017.
These shows run the gamut of home topics – some projects are simple for the homeowner to replicate, others may require a professional contractor. For ideas both big and small, just by tuning into the TV homeowners can gain valuable new insights into home improvement projects that will last a lifetime.