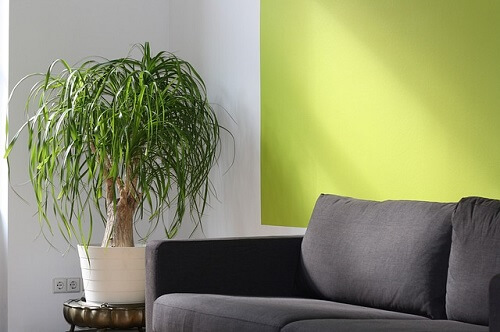 What do you mean spray paint a sofa? Before we discuss spray painting a sofa with Simply Spray Fabric Paint, we will take a look at other methods of updating or repairing a sofa and why.
Methods of Updating an Upholstered Sofa
Have a professional reupholster it – This will cost you due to the process of taking apart the sofa, reupholstering it with new fabric, and putting it back together.
DIY reupholstering – This is not the best project for those who aren't avid DIYers or professionals. Too many mistakes can be made and it's time-consuming and expensive.
Use furniture covers – This is a quick and easy way to cover up an otherwise ugly sofa, but covers, even those that are high-quality and expensive, will not stay put. You'll constantly be tucking the wrinkles after you sit on the sofa.
Spray paint with Simply Spray Upholstery Paint – Simply Spray Upholstery Paint is the least expensive and easiest way to transform a sofa.
If you're anything like me, you can't stand stains, flaws, and ugly-looking sofas. Ugly is all in the perception, but you get my meaning. That brings me to my next point before we get into examples I've found across the World Wide Web.
Reasons to Spray Paint Your Sofa
Someone gave you an old sofa that's still in good condition, but shows some wear and tear.
You bought an amazing vintage sofa (worth much more than you paid for it) that's seen better days, but is sturdy and usable.
You have an old sofa that needs a facelift.
You don't like the color of a sofa given to you or bought at a yard sale, thrift store, or flea market.
These are the most common reasons people want to update their sofa. Simply Spray Upholstery Paint gives you the best option and best coverage for your money, in my experience and opinion.
Results of Simply Spray Upholstery Paint on a Sofa
Here is a couch (sofa) with a stain on the arm.  It doesn't look bad, but that stain is unsightly. It's easier to cover it with upholstery paint than to try to clean it. I've tried and failed many times. Some stains just scream "Cover me".  You can see the couch (sofa) is originally a cream color. The Simply Spray Fabric paint transformed it into another neutral color, light gray, and covered the stain as if it never existed.
This bigger couch started out as a medium brown color and was transformed into a charcoal gray color (the picture makes it seem like dark brown, but it's charcoal gray). It doesn't seem as if there is anything "wrong" with the sofa from the start, but this shows that it doesn't have to be defective to change the color.
The Benefits of Simply Spray Upholstery Paint
Simply Spray Upholstery Paint features:
Fast-drying (dries in only 30 minutes)
Stays soft and won't leave uncomfortable bumps or a rigid texture
Easily washes off your hands with water and soap
Fade resistant
Machine washable after 72 hours (3 days)
Safe for kids to use
UV resistant
The only environmentally safe and suitable fabric spray paint
Do you have an old sofa that needs a facelift? I recommend Simply Spray Fabric Spray to dye it whatever color you want.