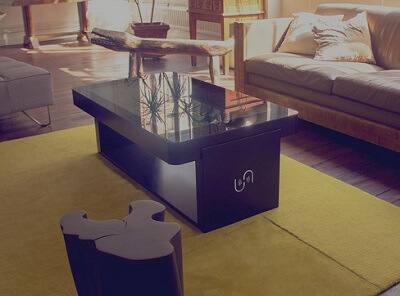 Zytronic is known for its touch solutions and PCT (Projected Capacitive Technology). For this reason, Humelab has partnered with Zytronic for its TABATA touch table. This is an interactive furniture with touch-enabled screen in large format. Hence, it allows users to play multi-user games, order food in restaurants or even get in touch with friends through social media. The touch table also comes in 22, 32 and 42 inches, to cater to different personal or business needs.
"This table offers diverse purposes. Currently, we are planning to supply hundreds of this furniture to European showrooms. Among these are major car brands which allows them to use this furniture to market their product by allowing their customers to browse the selections and choose their options", Ian Crosby; US sales and marketing director wrote.
Since Tabata is also a table, much concern has been raised on whether the touch screen feature will be affected once the table's surface gets in contact with leaning users and static plate or coffee mug. Tabata table comes with ZXY200 multi-touch technology controller. This means it rejects or ignores any large touch points that come in contact with it.
"What I love about Tabata is its customized print borders which comes with polished sleek edges and bezel less design." Nick Brown; one of Tabata table users said.
This table works well in restaurants, hotels, corporate offices and any retail stores. Its horizontal interactive display format can be mounted on walls, making it appear more collaborative and social. And because of its size, it allows more people to use this device simultaneously.
"Using interactive signage can still be rare in unit terms. When used for a particular marketing campaign, such technology may only be installed to be used for several days and then removed when done", Julien Happich of EE Times Europe wrote. "This can be because interactive campaigns are expensive and requires an interactive software before it can be used", she added.
"Interactive displays can beneficial when looking at the energy consumption side too. In contrast to paper poster's CCFL lamps, they have dynamic brightness control which can be dimmed during night time to save power. They can even be switched off in the absence of anyone near through its IR detection feature" Crosby said.
For now, what we commonly see are smaller touchscreen displays like ticket and ATM machines in public. It benefits the owners by renting them and gives advantage to advertisers by finding a good venue of their ads through pre-installed screens that are set-up in busy public places. However, the public is always fascinated when discovering new products built with interesting features. That is why using touch screens as a furniture and advertising tool can be a great hit in the market. And if businesses find this very useful in increasing their sales, they will surely invest on the product no matter how much it costs. Hence, it will not be surprising to find big interactive technologies and furniture around us in the days to come.