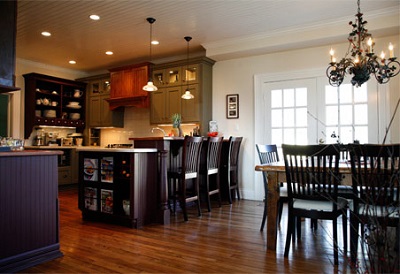 Trends in home design do not move fast. Some of the trends that have been permeating in the last couple of years are expected to improve and change. Appliances will perhaps become invisible as makers entertain the idea of the open concept kitchen. Overall, there are a number of home design trends to expect in 2014 and beyond.
Growth of the Open Concept
Over the last two and half decades, there has been a huge shift in home design, especially in the area of open concept kitchen. The traditional way was having the kitchen relegated to a disconnected single room, mostly at the end of the home. Today, kitchens are now opening up in various places in a home, a trend expected to continue growing. This is because the modern client is looking for a kitchen that makes the most of the available space. This concept is being embraced across the board, prompting appliance designers to begin making appliances capable of blending seamlessly into a family room or the kitchen. Different concepts and finishes are being incorporated, for instance the microwave drawer, as homeowners try to hide the obvious parts identified as a kitchen.
Neutral Hues for Bright Colors
The modern home is expected to use more neutral palates. Painted cabinets might seem popular, but white is still being painted, whether it is arctic or antique white. Gray and sandy tones are very popular too.  Bold colors have continued to materialize in small details like lighting, throw pillows and back splash. Other homeowners are turning towards a restrained glamour such as dazzling details on neutral palettes.
Universal Design Across the House
As early as the 1960s, the concept of a universal design was clearly known where living spaces were being designed with a particular person in mind, for instance an aging couple. Aging homeowners want to know the places they call home are capable of accommodating various needs that come with age. Homes today are being built to meet this important need. Design elements vary a lot like having the aging couple's bedroom on the first floor or changing the levers on door handles and knobs for door opening.
The new trend also has drawer appliances incorporated in a universal design so that they can be accessible with ease. Warming drawers and microwave drawers are today designed to hide beneath counterparts and in cabinets, while still functioning just like the normal counterpart products. Essentially, they do not have to hang above the countertop or hot stove so that individuals with little mobility or using wheelchairs can reach them with no difficulty. Refrigerator and dishwasher drawers can be accessed easily by individuals with restricted mobility.
Quartz for Granite
Quartz is expected to continue replacing granite in 2014 and beyond. Bathroom and kitchen countertops are now being engineered using quartz. Granite might have a popular material for countertops over the years, but quartz has started overtaking it. Apart from being more practical, quartz has the same feel and look just like granite amidst being more durable because of its chipping and cracking resistance. Being a non-porous product, it resists staining and can be cleaned effortlessly.
Gina is a lifestlyle blogger who writes amazing articles on lifestyle industry. Recently she reviewed and wrote about some inspiring home design concepts by SS Homes Ltd and was amazed to see the unique concepts and ideas in home design.