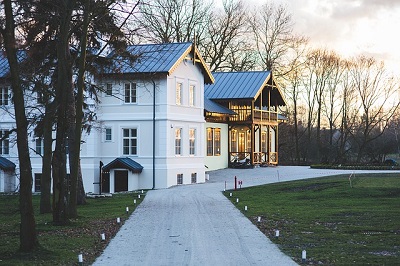 Everyone wants a beautiful home, somewhere they can be proud to live and proud to show off to their friends, family and neighbours. While everyone knows that a great remodel or interior designer can give an amazing feel inside a house, it is easy to forget that the outside is the first impression everyone gets of your home. That is why we are here to share these three secrets to a beautiful home…that no one ever told you! Creating that stunning first impression is easier and cheaper than you think. These three secrets will transform your house from drab to fab.
First Impressions Count
The first is the most obvious, but also the most easily overlooked. We spend all day on and off it, but rarely think much about it. This is the driveway, of course. While it often takes up a big portion of your front yard we usually just park in it and forget about it. However, this practical element of your home can also become one of its most beautiful. When people see your house what does it say when their first impression is cracked old cement driveway with weeds growing out of it? No matter how beautiful your new kitchen is, that driveway will be hard for them to forget.
That is where driveway resurfacing comes in. We might be inclined to call the cheapest tradie, but rather than just having that basic cement installation you can go for something beautiful. From stone pavers to coloured cement there is something to match everyone's home and style. Resurfacing your driveway is often easier than you would imagine and will make you happy to pull into your home with your friends and family every day of the year.
Surround Yourself With Beauty
Creating a great first impression when it comes to the externals of your home is about more than just the driveway. Have you ever noticed how beautiful it is when you arrive at a resort for vacation? That is because they have amazing landscaping. The resort has put a lot of thought into making that great impression, whether you think about it or not those plants have set the tone for your whole stay. In fact, the whole atmosphere can be defined by the landscaping around a home. That means that the old bush and overgrown weeds are not going to cut it after that beautiful refinish of your home's interior.
Having a great exterior takes a little more work than just making the driveway look good. A beautiful garden landscape in the front yard will take into account your home, style and the local environment. To landscape your yard you can go two ways, hire a professional or put your own green thumb to work. A professional landscape designer will already know so much about the local environment, all the available plants and have a great aesthetic for creating a look you might never have imagined alone. A professional landscaper can certainly set your home apart. For those on a budget or more inclined to the plant world it is more than possible to create a beautiful garden yourself. Start off by walking in your neighbourhood and flipping through pictures in design home magazines. Once you have some inspiration head down to your local nursery to see what plants are available and suitable to your home. The experts there should be able to guide and help you to getting your landscape planted and healthy. Whether professional or personal, your new landscape will help to give the outside of your home the same beauty as its interior.
Light The Night
When the lights go out at night, don't let your stunning home exterior be lost to the darkness. A beautiful landscape and driveway do nothing for your home at night if they can't be seen. That is where outdoor lighting comes in to highlight and showcase all the beautiful work you have done to your house. Why is it that professional photographers always take such beautiful shots? It is because they know how to use lighting to make their subjects stand out. Take advantage of the same effects on your home with the lighting you choose. Make your driveway stand out with side lighting or highlight the plants you chose with under lighting. However you choose to create your lighting, you can make sure that even when it is dark all of your exterior is presented in the most beautiful light.
Creating the best impression of your home is everyone's priority, and with these three tips for improving the often forgotten exterior of your home, your house will give that great impression from the moment anyone sets their eyes on it, day or night.